Ever noticed how dull a kitchen with scrappy cabinets looks?
Well, the first thing you see when stepping into a kitchen is its cabinets. And if they do not look as good as the rest of your house, you are not doing justice to yourself.
That's why you must read my Thomasville vs. KraftMaidreview.
These are the two best cabinet manufacturers in the USA. Here I will show you the features of these kitchen cabinets and compare them with each other. Eventually, you can decide which one is the best choice for you.
So, let's get into it.
A Quick Comparison Table
Here is a quick comparison table between Thomasville and KraftMaid. It will help you understand the in-depth comparison later.
| | | |
| --- | --- | --- |
| Aspects | Thomasville | KraftMaid |
| Product Line | 4 | 3 |
| Special Feature | QuietClose Closing Mechanism | Six-Way Adjustable Hinges |
| Quality | High Quality | Higher Than Thomasville |
| Material | Woods and Sandwich Panels | Woods |
| Finishes | 13 | 7 |
| Available Colors | Less Available Colors |  Significantly More Than Thomasville |
| Longevity | 20 Years | 20-25 Years |
| Warranty | Limited Lifetime Warranty | Limited Lifetime Warranty |
In-Depth Differences Between Thomasville And KraftMaid
You got some idea about these cabinets from the above comparison table. But it's not enough.
You need more information to decide on one cabinet. Here is a detailed comparison between these two kitchen cabinets: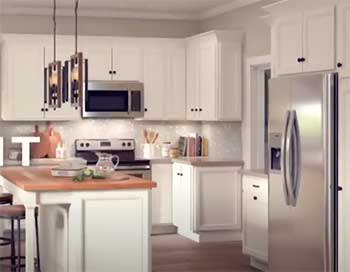 Thomasville provides four product lines for its cabinets: Studio 1904 Collection represents popular styling with essential design elements.
The Classic Collection is inspired by quality and storage options enhanced by elevated design.
Artisan Collection offers the highest level of craftsmanship, color choice, and design.
Lastly, Noveau Collection is inspired by European design with frameless construction.
On the contrary, KraftMaid has 3 product lines for its cabinets. Painted Cabinets, Stains Cabinets, and Specialty Finishes Cabinets are the three lines based on paint color and finishes. The first one is the cheapest option, and the last one is the most expensive.
Looking at the features, I can say both cabinets are full of it. They are often compared because of their superior features and higher quality. All these good things have made them industry leaders.
Thomasville cabinets feature a QuietClose closing mechanism for their cabinet doors, drawers, roll trays, and pullout features. You will find its no-slam closing feature quite comfortable and satisfying.
Besides, all Thomasville cabinets are made from environmentally responsible materials and low emission coating. Moreover,
With six-way adjustable hinges, you can open and close cabinet doors very softly and quietly. On top of that, all cabinet drawers are made from ¾ inches of solid wood dovetail.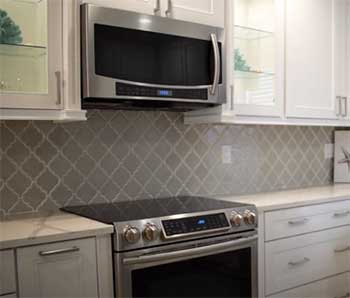 When it comes to quality, both Thomasville and KraftMaid top their class. But the thing is, one of them offers better quality than the other.
Beauty, Strength, Function, and Performance are the four keywords for Thomasville cabinets.
You will get beautiful finishes covered by durability when you purchase Thomasville cabinets.
The drawers and spaces offer innovative organization to improve your kitchen's function.
In contrast, you will not get any pre-assembled or pre-finished cabinets from KraftMaid. All of them are customized based on buyers' design, color, materials, and finish selection.
Together with superb craftsmanship and trained artisans, high-quality materials make them a true industry leader.
Thomasville has both wood and sandwich panel kitchen cabinets. Here are all the materials it uses to make them: Maple, Rustic Alder, Cherry, Oak, Rustic Hickory MDF, and Specialty Laminated boards.
On the contrary, KraftMaid makes kitchen cabinets with various woods only. Some of them include Maple, Cherry, Evercore, Oak, Hickory, Rustic Alder, Foil, Rustic Maple, High Gloss, etc.
Because KraftMaid only uses wood for making cabinets, their overall longevity is higher than that of Thomasville.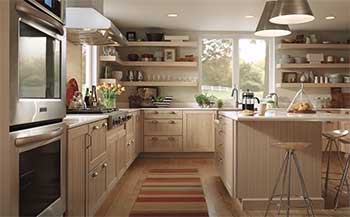 The number of finishes for Thomasville cabinets depends on the product line.
Some lines offer more finishes and some less. In total, there are 13 finishes you can choose from. 
They are Natural, Macaroon, Fox, Clove, Barrel, Trestle, Chocolate, Jute, Hawk, Heather Grey, Fieldstone, Moccasin, and Graphite.
In contrast, you will find only 7 finishes for KraftMaid cabinets. They are Standard Topcoat, Suede Topcoat, Weathered, Aged, Distressed, Vintage, and Vintage Suede.
Thomasville offers a fewer color options for its cabinets than KraftMaid. When it's time to choose colors, you can choose from White, Cotton, Swan, Dover, Marlin, Sterling, Niagara, Neptune, Bali, Fossil, Cayman, Nautical, Blue Slate, Black, etc., depending on the product line.
On the contrary, KraftMaid cabinets have much more color options. Some of them are Ash Brown, Autumn Blush, Baltic, Barley Bonsai, Bourbon, Burmese, Camel, Cannon Grey, Canvas, etc.
Longevity is something all customers look forward to. A long-lasting kitchen cabinet will always stay miles ahead of others.
According to customer reviews, Thomasville kitchen cabinets last for about 20 years, which is less than KraftMaid cabinets. Because customer reviews say that KraftMaid cabinets last for 20 to 25 years without any wear and tear.
In fact, they look exactly like new even after a decade. So, KraftMaid is clearly a winner here.
Warranty is an important issue when choosing any product. It puts a heavyweight when it comes to kitchen cabinets. You can differentiate between two products based on this factor. 
But when it comes to Thomasville and KraftMaid kitchen cabinets, you will get the same warranty duration from both manufacturers. You'll get a Limited Lifetime Warranty from both cabinets.
Thomasville Cabinet Key Features and Benefits
Thomasville kitchen cabinets have been a top choice for quality and value for over a century. Here are some standout features that make Thomasville an excellent cabinet option.
Quality Construction
Solid wood frames – Cabinet boxes and faces use solid oak, maple, or birch wood rather than veneers for durability.
Furniture-grade plywood – Plywood interiors and cabinet backs resist warping better than particleboard.
Dovetail joinery – Dovetail joints securely fasten drawers and avoid loosening over time.
Soft-close doors – Doors and drawers close slowly and silently with self-closing hinges.
Lifetime warranty – Thomasville provides a limited lifetime warranty on their cabinetry for peace of mind.
Thomasville's careful construction with premium materials ensures your cabinets withstand years of regular use.
Extensive Customization
Wood types – Choose from oak, maple, cherry, or hickory wood species to match your style.
Door designs – Select from over 25 door styles from traditional Shaker to modern slab.
Finish options – Stains, paints, glazes and unique finishes like cracked ice customize the look.
Modifications – Adjust cabinet sizes, add windows or trim, and modify designs to your needs.
Hardware – Coordinate cabinet knobs, pulls, and hinges from style to finish.
Thomasville allows you to perfectly tailor your kitchen aesthetic down to the smallest details.
Storage Solutions
Roll-out trays – Full extension drawers smoothly roll out for ergonomic access.
Specialty pull-outs – Built-in racks for spices, pans, and other items simplify organizing.
Adjustable shelves – Shelves can be arranged at multiple heights to accommodate different storage needs.
Lazy susans – Spinning corner cabinets create easy access for blind spots.
Interior storage – Extra dividers, pegs, and cubbies keep cabinet interiors neatly organized.
Thomasville's storage-focused features keep your most-used items handy while maximizing every inch of space.
With their trademark quality, customization, and convenience, Thomasville cabinets make it easier than ever to create your dream kitchen. Paying attention to key features ensures you select cabinets tailored to your needs and style.
Notable Features of KraftMaid Cabinets
As one of the largest cabinet manufacturers in the U.S., KraftMaid is known for reliable quality and a range of well-designed options that allow you to customize your kitchen.
Durable Construction
KraftMaid uses top-notch materials and techniques for lasting performance:
3/4" solid wood door frames add strength and stability to cabinet fronts.
Furniture-grade plywood composed of strong wood veneers makes up box components.
Dovetail joinery and full-extension drawer guides create sturdy, smoothly operating drawers.
Soft-close door hinges are standard for smooth, quiet operation.
Meeting or surpassing ANSI standards, KraftMaid's sturdy construction will withstand decades of regular kitchen use.
Range of Door Designs
KraftMaid offers approximately 25 standard door designs spanning traditional to contemporary styles.
Popular options include recessed panel, Shaker, slab, mission, and raised panel designs. Distressing creates vintage appeal.
For more customization, their Deluxe lines offer unique layouts like inverted panels and sloped cathedral styling.
A Spectrum of Color and Finish Options
From deep ebony stains to bright white paint and every finish in between, KraftMaid allows you to match your perfect kitchen aesthetic.
Specialty glazing and antiquing finishes provide extra depth and dimension. Durable top coats protect your finish selection for the long haul.
Hardware in finishes like polished chrome, oil rubbed bronze and satin nickel complete your desired style.
Clever Storage Solutions
Beyond standard cabinets, KraftMaid products optimize your kitchen's workspace through features like:
Roll-out trays and tiered pull-out shelves for easy access.
Spice racks, knife blocks, and other inserts to organize contents.
Coordinating cabinetry like towers, pantries and banquettes.
Wastebasket and appliance garage cabinetry for concealed function.
By maximizing every inch, KraftMaid's storage keeps kitchen essentials handy while clearing clutter.
With their quality, style, innovation and customization, it's easy to create your ideal kitchen design with KraftMaid.
Which Kitchen Cabinet Is Best For You?
As the above discussion shows, both cabinets are great in terms of design, color, and finishes. But one of them offers better quality.
So, it should not be challenging if you want to choose your cabinets based on quality.
In that case, you must choose KraftMaid cabinets. Because their cabinets are unmatched in quality. They are the most durable kitchen cabinets you will find in the marketplace.  
But if you want to choose from a wide variety of design lines and finishes, you should go for Thomasville, as it offers more finishes. I should warn you that you will get 5 years less longevity than its counterpart with Thomasville.
Frequently Asked Question (FAQ)             
Which is better Kraftmaid or Thomasville?
When it comes to quality, KraftMaid is better than Thomasville. Their kitchen cabinets are made from high-quality wood and last significantly longer. But Thomasville offers more finishes.
What cabinets are comparable to Kraftmaid?
KraftMaid is considered to be the best kitchen cabinet manufacturer. But there is some close competition. Some of the closest calls are Thomasville, Dura Supreme, Merillat, Semi-Custom Cabinetry from Ideal Cabinetry, Snaidero USA, etc.
Are Thomasville cabinets made in the USA?
Yes, Thomasville cabinets are made in the USA. MasterBrand Cabinets, Inc. manufacturers Thomasville cabinets. It is the largest cabinet manufacturer in size in entire North America. 
Who makes Thomasville kitchen cabinets?
Thomasville is an American kitchen cabinet brand. It is owned by MasterBrand Cabinet, Inc., the largest cabinet manufacturer in North America. These cabinets are exclusively sold at Home Depot stores. 
Final Thoughts
The cabinet is an essential element that stretches your entire kitchen. It can be a deal-breaker or maker when it comes to the looks of your kitchen.
So, you cannot fail to choose the right one.
I hope with my Thomasville vs. KraftMaid review; now, you can make the best choice. Just remember, quality and durability should be your first priority.