Are you sick and tired of your old kitchen cabinets? Then it's time to give your kitchen space a nice makeover. What else can make it look attractive other than a handcrafted, beautifully finished kitchen cabinet?
Check out my Dura Supreme vs. KraftMaidreview to find out the best one.
These are handcrafted, American-style kitchen cabinets made by two giant manufacturers. Here I will show you the features of these cabinets and compare them with one another.
At the end of this article, you will leave with a clear decision for your cabinetry project. So, let's take this show on the road.
A Quick Comparison Table
Here is a quick comparison table between Dura Supreme and KraftMaid for your better understanding.
| | | |
| --- | --- | --- |
| Aspects | Dura Supreme | KraftMaid |
| Product Line | 2 | 3 |
| Special Feature | Frame Construction with 3/4 X 1-1/2 Inches Solid Hardwood | Six-Way Adjustable Hinges |
| Quality | High Quality | Superior to Dura Supreme |
| Material | Woods and Panels | Woods |
| Finishes | Various | 7 |
| Available Colors | Many Colors | Many Colors |
| Longevity | 15-20 Years | 20-25 Years |
| Warranty | Limited Lifetime Warranty | Limited Lifetime Warranty |
In-Depth Differences Between Dura Supreme And KraftMaid
You have gathered some basic knowledge from the comparison table above. But you need more information to make up your mind. Here, I'll give you a detailed comparison between these two kitchen cabinets. So, let's dive in.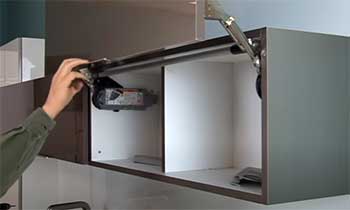 Dura Supreme comes with two types of product lines for kitchen cabinets. One is called Crestwood Cabinetry.
These are traditional American-style framed construction cabinets.
The other is called Bria Cabinetry, which offers more luxurious frameless construction blending high-tech with high fashion together.
On the other hand, KraftMaid offers 3 product lines based on paint and finishes. They are- Painted Cabinets, Stains Cabinets, and Specialty Finishes Cabinets. The Latter one is more luxurious than the previous two.
Both Dura Supreme and KraftMaid cabinets are packed with features. Because of higher standards and superior features, they are top of their class. Let's see what they have to offer.
Dura Supreme framed construction cabinets come with ¾ inches x 1-1/2 inches solid hardwood. You can choose your end panel between ½ inches thick furniture board and plywood.
Besides, they offer ½ inches of furniture board or plywood as a top/ bottom option. Plus, all the shelves are adjustable.
On the contrary, KraftMaid has a DURAKRAFT PLUS finishing system for their cabinets. You'll find 1/2″ panels on the top and bottom of all wall cabinets. Besides, all shelves are ¾ inches in size and are fully adjustable.
Their six-way adjustable hinges engage very softly and quietly when you open and close the doors. On top of that, the cabinets are made with ¾ inches of solid wood dovetail drawers.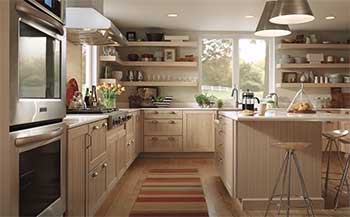 When it comes to quality, Dura Supreme offers Exotic Veneer options for their frameless contemporary cabinets.
With handcrafted and solid design, their cabinets create a high visual impact every time you look at them.
Besides, they have soft-close doors with no-slamming features allowing your space to flow beautifully and quietly.
In contrast, KraftMaid does not have any pre-assembled or pre-finished cabinets. You will get a hand-made customized design in woodworking techniques. High-quality wood and finishes complement its trained artisans and master finishers.
Dura Supreme uses various woods and wood panels to make kitchen cabinets. Some of them are Cherry, Knotty Alder, Maple, Quarter-Sawn White Oak, Hickory + Rustic Hickory, Textured TFL, Matte Foil, Acrylic High Gloss, Laminated, Acrylic Ultra Matte, Wired Gloss Foil.
On the contrary, KraftMaid kitchen cabinets are made from various woods, including Maple, Cherry, EverCore, Oak, Hickory, Rustic Alder, Foil, Rustic Maple, High Gloss, etc.
The catch is that Dura Supreme uses both wood and artificial boards to make its cabinets. But KraftMaid only uses wood to make their cabinets.
You can choose from hundreds of finishes for Dura Supreme cabinets. Coriander, Natural, Cashew, Sesame, Heather, Harbor, Clove, Cider, Various Painted Finishes, etc., are just the tip of an iceberg.
By contrast, KraftMaid offers 7 finishes for its cabinets. They are Standard Topcoat, Suede Topcoat, Weathered, Aged, Distressed, Vintage, and Vintage Suede.
Dura Supreme and KraftMaid offer hundreds of color options for their kitchen cabinets. For Dura Comfort, their color and their finishes are the same. That means they offer the same colors and finishes for their cabinets.
On the other hand, you will literally have hundreds of colors for KraftMaid cabinets. Ash Brown, Autumn Blush, Baltic, Barley Bonsai, Bourbon, Burmese, Camel, Cannon Grey, Canvas, etc., are just a pinch of them.
Longevity is an essential factor for kitchen cabinets. As you cannot keep changing your kitchen cabinets very often, you should choose one that goes a couple of decades without any issue.
Many customer reviews show that Dura Supreme kitchen cabinets remain intact for 15 to 20 years. After that, they started aging and start having wear and tear.
On the contrary, according to customer reviews, KraftMaid kitchen cabinets look like new until 20 to 25 years. As we can see, KraftMaid cabinets are more durable than Dura Supreme cabinets.  
Warranty plays a vital role in any product selection. A customer always prefers a product with a better warranty. It definitely makes one product superior to the other.
But for Dura Supreme and KraftMaid cabinets, both manufacturers offer the same type of warranty. Both cabinets come with a Limited Lifetime Warranty. So, there is nothing much difference here.
Which Kitchen Cabinet Is Best For You?
From the above discussion, we can see both cabinets are full of features and designs. It can be a little intimidating for you to choose the best one. No worries, I'm going to reveal the best one for you.
Because of the quality and design, KraftMaid kitchen cabinets are superior to Dura Supreme. Although Dura Supreme offers more material and finishes options, they are not superior in quality.
KraftMaid cabinets are made with high-quality wood and last significantly longer than its competitor. So, you definitely should go for KraftMaid cabinets.
Frequently Asked Question (FAQ)             
Who makes Dura Supreme cabinets?
Dura Supreme was founded in 1954. They have been making American-style cabinets since then. But in 2019, GHK Capital acquired Dura Supreme with the vision of retaining the legacy and making finely crafted cabinetry.
What are the highest quality cabinets?
KraftMaid Cabinets are considered to be the highest quality kitchen cabinets. They offer handcrafted cabinets with excellent craftsmanship and design. Not to mention the high-quality materials and beautiful colors and finishes that come with it.
What is the finish on KraftMaid cabinets?
KraftMaid uses Translucent Cabinet Finishes for their kitchen cabinets. At the final stage, they replace the standard DuraKraft topcoat with a Suede DuraKraft topcoat to make the cabinets softer with a matte sheen finish.
Are KraftMaid cabinets made in China?
KraftMaid produces American-style kitchen cabinets, and they are not made in China. Their facility is located in Middlefield, Ohio. So they are purely American-made cabinets.
Final Thoughts
Your kitchen cabinet is not something you change once a year. It goes for years after years. So, if you do not choose the right one, you will have to be stuck in that.
But with my Dura Supreme vs. KraftMaid review, no need to worry about that anymore. Because you just found out the best cabinet for your kitchen.