Kitchen cabinets are one of the most important elements in any kitchen remodel or new construction project. They define the aesthetic of the space and provide essential storage and functionality.
When it comes to premium kitchen cabinets, two big names stand out: Thomasville and American Woodmark. But which one offers better quality and value for your kitchen?
We'll compare the pros and cons of Thomasville vs American Woodmark cabinets to help you decide.
A Brief Comparison Table
| | | |
| --- | --- | --- |
| Feature | Thomasville | American Woodmark |
| Construction | Solid wood frames, furniture grade plywood boxes. Meets or exceeds ANSI standards. | Furniture grade plywood boxes, solid wood doors. Meets ANSI standards. |
| Styles | Over 25 door designs from traditional to modern. Lots of customization. More glass door options. | 30+ door options from Shaker to contemporary. Timberlake line has unique distressed looks. |
| Finishes | Wide range of stains, paints, glazes available. Consistent, durable finishes. | Offer full customization with stains, paints, glazing. Durable top coats. |
| Storage | Soft-close hinges and drawers standard. Full extension drawers. Excellent specialty storage options. | Soft-close standard on some lines. Good range of specialty storage solutions. |
| Quality Reputation | Frequently top-rated for consistent quality cabinetry. | Known for outstanding value and quality especially for the price. |
| Price | $300+ per linear foot installed. Upper-midlevel pricing. | Around $200 per linear foot installed. Mid-level pricing. |
| Warranty | Limited lifetime warranty. Industry standard. | Limited lifetime warranty with extensive coverage. |
| Availability | Through exclusive Thomasville dealers. | Widely available through major retailers. |
Overview of Thomasville Cabinets
Thomasville cabinets are manufactured by MasterBrand Cabinets, the largest cabinetry manufacturer in the United States. Thomasville has been around since 1904 and offers a wide selection of custom and stock cabinetry lines. Here are some key things to know about Thomasville kitchen cabinets: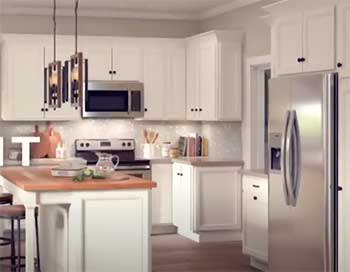 Construction: Thomasville uses solid wood frames and doors on most of its cabinet lines. Options include oak, maple, cherry, and hickory. Construction quality meets or exceeds industry standards.
Styles: From traditional to contemporary, Thomasville has over 25 door styles to choose from. Custom options allow you to modify designs to match your vision.
Finishes: Stains, glazes, paints, and unique finishes like cracked ice give Thomasville cabinets highly customizable looks. Expect consistent coloring and durable polished finishes.
Storage solutions: Features like full-extension drawers, pull-out shelves, spice racks, and lazy susans optimize storage in Thomasville cabinetry.
Quality: Thomasville is known for consistent quality backed by a limited lifetime warranty. Cabinets are CARB 2 compliant and meet or exceed ANSI standards.
Price: Thomasville is considered an upper-midlevel brand. Pricing starts around $300 per linear foot installed. More custom designs can run $800-$1200 per linear foot.
Overall, Thomasville offers versatile styling, excellent materials, sturdy construction, and robust customization for a premium but still reasonably priced cabinet option.
Overview of American Woodmark Cabinets
American Woodmark is the second largest cabinet manufacturer in the United States. Their products are available through home centers, independent dealers, and home builders. Here are some key American Woodmark cabinet features: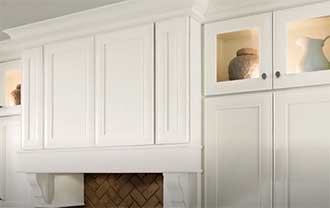 Construction: American Woodmark uses furniture-grade plywood boxes with hardwood doors and drawers. Dovetail joinery and quality materials deliver durability.
Styles: American Woodmark has 30+ door designs from traditional Shaker to modern and textured looks. Their Timberlake line offers added customization.
Finishes: Stain, paint, glaze, and distressing options allow total customization of your cabinet finish. Durable top coats protect from wear.
Storage: Spice pull outs, cookie trays, and other specialized storage solutions make the most of your space. Soft-close doors and drawers are standard.
Quality: American Woodmark has a good reputation for quality and provides a limited lifetime warranty on products. SCS Global Services verifies cabinet production sustainably sources over 80% of materials.
Price: This brand is considered a mid-priced cabinet option, starting around $200 per linear foot installed. More exotic styles and finishes raise costs.
Overall, American Woodmark offers strong construction, expansive customization, and environmentally responsible processes at an affordable mid-tier price point.
Now that we've covered the basics on each brand, let's compare them head-to-head.
Key Differences Between Thomasville And American Woodmark Cabinet
Here is how Thomasville and American Woodmark kitchen cabinets stack up against each other in key categories:
Construction and Materials
Both brands construct cabinets to meet or exceed industry standards using solid wood and plywood. Thomasville offers a few more standard upgrades like full-extension drawers and soft-close hinges.
American Woodmark has more eco-friendly construction. Overall construction quality is excellent for both.
Thomasville wins out slightly on style options with more door profiles and specialty items like glass cabinet doors. Both allow total customization of finishes. American Woodmark's Timberlake line has unique distressed styles. Both brands can create almost any aesthetic you want.
Thomasville and American Woodmark take kitchen storage seriously. They offer every specialty pull-out, rack, and organizational tool you could want. Thomasville probably has a few more baseline storage upgrades like soft-close drawers standard, giving them a slight edge.
Both brands rate highly on quality and durability. Thomasville frequently makes "best kitchen cabinet" lists for their reliable construction. American Woodmark is a Consumer Report top pick known for outstanding value. You can't go wrong with either for quality.
American Woodmark is more budget-friendly, starting around $200 per linear foot installed compared to $300+ per foot for Thomasville. But Thomasville's pricing is still reasonable for custom cabinetry. Sales can bring the prices closer together. Overall, American Woodmark wins for affordability.
You get a limited lifetime warranty on cabinetry from both brands, though American Woodmark's is a bit more extensive. Thomasville's warranty is more representative of the industry standard. Either warranty will sufficiently cover defects.
Thomasville cabinets are sold through exclusive dealers nationwide. American Woodmark products are more widely available through home centers and independent retailers. American Woodmark has a slight edge for accessibility.
Which Is Better For You?
Choosing between Thomasville vs American Woodmark cabinets comes down to your budget, design taste, and buying preferences. Here are some final recommendations:
For a wide breadth of traditional styles on a moderate budget, Thomasville is an excellent choice valued for quality.
If you want unique distressed or contemporary options at the best price, lean towards American Woodmark.
For absolute customization and high-end features with a premium price tag, Thomasville cabinets are ideal.
If you need great quality for less from an eco-friendly brand, choose American Woodmark.
If you have access to exclusive Thomasville dealers, their cabinets may make the most sense. Otherwise, American Woodmark's broader availability gives them an edge for accessibility.
Both brands create beautiful, functional kitchens that will last. Think about your kitchen's style, budget, and workflow to decide if the quality and pricing of Thomasville or the unique styles and value of American Woodmark are a better match. Consult with in-store designers or kitchen professionals to nail down the details. With some thoughtful planning, you can end up with your dream kitchen whether you pick Thomasville, American Woodmark, or another top cabinet brand.
Frequently Asked Questions (FAQ)
Still trying to choose between Thomasville and American Woodmark cabinets? Here are answers to some frequently asked questions:
What company makes Thomasville cabinets?
Thomasville cabinets are manufactured by MasterBrand Cabinets, the largest cabinet producer in the United States. Their factories build Thomasville, Kemper, Diamond, and Martha Stewart cabinets.
Is KraftMaid better than American Woodmark?
KraftMaid and American Woodmark cabinets are comparable mid-priced cabinet options. KraftMaid offers more traditional styling, while American Woodmark has more contemporary and unique distressed door designs. Construction and warranties are similar. Overall quality and value are equivalent.
Are Thomasville cabinets real wood?
Most Thomasville cabinet boxes use furniture-grade plywood while doors, frames, and drawer fronts are solid wood. Their top-end Gallery Series features show-wood cabinet interiors. Hardware and accessories contain some non-wood materials. Overall, Thomasville cabinets primarily use real hardwoods.
Who are the best kitchen cabinet makers?
According to kitchen designers and consumer reviews, the highest quality kitchen cabinet brands include Thomasville, KraftMaid, Wellborn, Semihandmade, Canyon Creek, and Brookhaven. All provide custom and stock options with superb craftsmanship and materials. Prices range from mid-level to ultra-premium.
Final Thoughts
Thomasville and American Woodmark offer comparable advantages. Choose the one that best fits your kitchen design, budget, and style preferences.
With quality construction and materials from either brand, you can look forward to years of functional beauty from your new kitchen cabinets.