When it comes to designing your dream kitchen, choosing the right cabinets is one of the most important decisions you'll make.
Not only do cabinets represent a significant investment, but they also have a huge impact on the look, feel, and functionality of your space. Two popular cabinet brands on the market are St. Martin and KraftMaid. But which one is right for your kitchen remodel or new construction project?
In this comprehensive guide, we'll compare the pros, cons, costs, and key features of St. Martin and KraftMaid cabinets to help you determine which brand is the best fit for your needs and budget.
We'll provide an unbiased look at cabinet construction, materials, hardware, warranties, styles and accessories so you can make an informed decision.
A Brief Comparison Table
| | | |
| --- | --- | --- |
| Feature | St. Martin | KraftMaid |
| Pricing | Mid-range | Premium |
| Construction Quality | Dovetail drawers, soft-close hinges, quality finishes | Dovetail drawers, soft-close hinges, quality finishes |
| Materials | Maple, oak, cherry, hickory, thermofoil | Maple, oak, cherry, hickory, thermofoil |
| Warranty | Limited lifetime warranty | Limited lifetime warranty |
| Hardware Selection | Smaller selection of upgrades | Wide selection of upgrades |
| Storage Solutions | Good selection | Excellent selection |
| Accessories | Less variety | Extensive variety |
| Styles | Traditional, transitional, contemporary | Traditional to ultra contemporary |
Overview of St. Martin Cabinets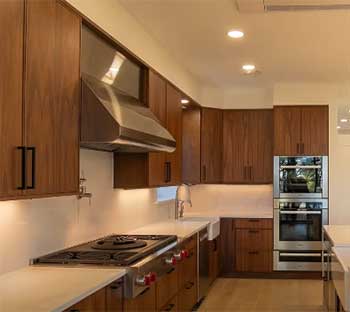 St. Martin cabinets are manufactured by MasterBrand Cabinets, one of the leading cabinet makers in the United States.
MasterBrand also owns brands like Diamond and Aristokraft.
St. Martin cabinets are considered mid-priced to upper-mid priced, making them an attractive choice for homeowners looking for quality wood cabinets without the premium designer price tag.
Here's an overview of the St. Martin cabinet line:
Types of Cabinets Offered: Stock, semi-custom, and custom cabinets
Materials: Maple, cherry, oak, hickory, thermofoil
Warranty: Limited lifetime warranty
Key Features: Dovetail drawers, soft-close hinges, durable finishes, storage accessories
St. Martin offers plenty of options to customize your space while keeping cabinets affordable. They have a wide spectrum of styles from traditional to contemporary in an array of wood types and stain colors. St. Martin is especially known for their high-quality finishes that bring out the natural wood grain.
Overview of KraftMaid Cabinets
KraftMaid is another leading cabinet manufacturer in the U.S. Known for durability and craftsmanship, KraftMaid specializes in semi-custom and custom cabinetry with excellent warranties.
Here are the key details about KraftMaid: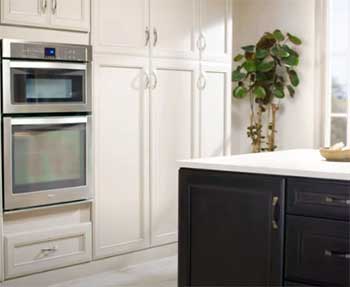 Types of Cabinets: Stock, semi-custom, custom
Materials: Maple, oak, cherry, hickory, thermofoil
Warranty: Limited lifetime warranty
Key Features: DoveTail drawers, soft-close door hinges, wide range of finishes, storage solutions
KraftMaid has been around for decades and offers timeless styling from traditional to contemporary.
While they have ready-to-assemble stock cabinets, their cabinetry can also be fully customized with premium materials and hardware upgrades.
KraftMaid has a reputation for solid wood construction and durability.
Key Differences Between St. Martin And KraftMaid Cabinets
Now that we've provided an overview of each brand, let's compare them across some key factors:
The quality of construction is key when evaluating kitchen cabinets since it impacts durability and longevity. Both KraftMaid and St. Martin use advanced construction techniques and solid materials to ensure years of use.
Frames
The cabinet frames provide structural stability and need to stand up to constant opening/closing of doors and drawers. Both brands use kiln-dried hardwood frames for durability. KraftMaid offers oak, maple and hickory while St. Martin crafts frames from oak, maple, hickory and cherry.
Drawers
Look for drawers with dovetail joinery – it's the hallmark of quality construction. Both KraftMaid and St. Martin incorporate dovetail joinery on their drawers across all lines. They also both come equipped with soft-close glides so drawers close slowly and silently.
Doors
St. Martin and KraftMaid use mortise and tenon joinery on their cabinet doors for superior strength. You'll also find adjustable hinges for proper door alignment. Soft-close door hinges are standard, preventing slamming.
Finishes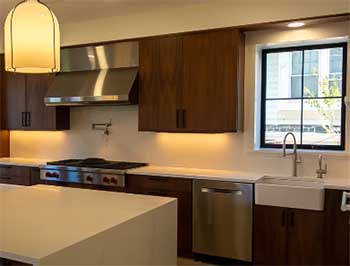 The finishing process is extremely important for beauty and durability.
Both brands use multi-step finishing processes to ensure a smooth, consistent stain application.
KraftMaid offers over 50 finish options while St. Martin has 30+ finishes across a variety of styles.
Verdict: Draw for Quality Construction
It's a draw when comparing the construction methods of St. Martin and KraftMaid. Both utilize industry-leading practices like mortise and tenon joinery and soft-close hardware.
The styles, wood types, and finish options vary slightly between brands but they are comparable in terms of quality.
The wood species and materials used impact aesthetics, durability, ease of cleaning and pricing. Here's an overview of materials available:
Wood Species
St. Martin: Maple, oak, cherry, hickory
KraftMaid: Maple, oak, cherry, hickory
Both provide commonly used wood species loved for kitchen cabinets. Oak brings rugged beauty, maple offers timeless versatility, cherry gives a refined look, and hickory provides rustic charm.
Thermofoil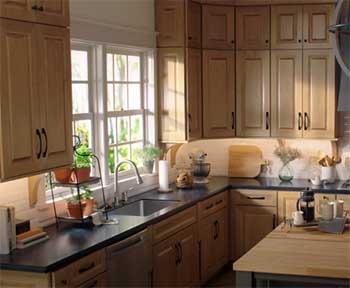 St. Martin: Yes
KraftMaid: Yes
Both brands offer thermofoil cabinets, which have laminate exteriors fused to a wood substrate.
Thermofoil resists chipping and stands up well to moisture. Provides a budget-friendly option.
Stains and Finishes
St. Martin: 30+ finishes across traditional, transitional and modern styles
KraftMaid: 50+ finish options across wide range of door styles
Plenty of finishes to match any kitchen design aesthetic. Both brands allow for custom color matching.
Verdict: Draw for Cabinet Materials
It's another draw when comparing materials – St. Martin and KraftMaid are quite similar in wood species, thermofoil offering and finish options. The finishes do vary slightly in terms of the number of choices but both provide excellent selection.
Details like hardware and storage amenities make a big impact on functionality. Here's how St. Martin and KraftMaid compare:
Hardware
KraftMaid offers upgraded hardware options from soft-close hinges to decorative knobs and pulls. St. Martin has a smaller but high-quality selection of hardware upgrades. Both allow you to customize with your own hardware selections.
Storage Solutions
Both brands provide specialized storage solutions like lazy susans, pull-out shelving, spice racks and more. KraftMaid partners with Knape & Vogt to offer advanced storage amenities not found with other brands. This gives them a slight edge over St. Martin.
Accessories
St. Martin and KraftMaid have accessories like fillers, trim and molding to complete the cabinetry design. St. Martin's lower price point does mean fewer optional accessories versus KraftMaid's more extensive lineup.
Verdict: Slight edge to KraftMaid for storage and accessories
For specialty hardware, optimized storage solutions and accessory options, KraftMaid comes out just slightly ahead. But both brands meet the needs for most kitchens.
Let's look at the cost differences between St. Martin vs KraftMaid using a typical medium-sized kitchen as an example:
St. Martin
10 cabinets at $300 each = $3,000
5 cabinets at $500 each = $2,500
Total = $5,500
KraftMaid
10 cabinets at $400 each = $4,000
5 cabinets at $600 each = $3,000
Total = $7,000
This illustrates that St. Martin provides nice savings over KraftMaid. Exact costs vary based on kitchen size, customizations and materials selected but St. Martin consistently prices lower. Their mid-tier products compete favorably with KraftMaid's options that are towards the higher end.
Verdict: St. Martin is the value winner
St. Martin cabinets offer beautiful styling and excellent quality at mid-range price points. KraftMaid certainly wins for premium features and storage but comes at a higher cost. For budget-conscious homeowners, St. Martin provides value without sacrificing style or quality construction.
It's important to understand what kind of protections or guarantees come with cabinet purchases. Here's how the warranties compare:
St. Martin: Limited lifetime warranty covering defects in materials and workmanship.
KraftMaid: Limited lifetime warranty on materials and workmanship. An additional 5-year warranty covers finishes and door hinges.
The warranties are quite similar and both cover approximately the same parameters. KraftMaid extends the door and finish coverage slightly longer but otherwise the same. Neither cover normal wear and tear or improper installation/care.
Verdict: Too close to call on warranties!
St. Martin and KraftMaid are equal when it comes to their respective warranties and provide that peace of mind that your investment is covered.
Style preferences often come down to personal taste but here's an overview of what both brands offer:
St. Martin Styles: Traditional, transitional, contemporary
KraftMaid Styles: From traditional to modern with up to date door styles
St. Martin covers all the bases from traditional to contemporary with plenty of selection. KraftMaid also spans traditional to current with a huge array of door styles.
Both brands can work for almost any kitchen aesthetic. KraftMaid probably has a slight edge when it comes to ultra modern and contemporary styles.
Verdict: KraftMaid edge in contemporary styles
While St. Martin offers a wide range, KraftMaid goes a little further into contemporary and modern designs. But for typical kitchen designs, St. Martin styles will suffice.
Pros and Cons Summary
St. Martin Pros:
Affordable pricing for style and quality
Dovetail drawer construction
Wide range of finishes
Traditional to contemporary styles
St. Martin Cons:
Less storage and accessory options
Smaller hardware selection
Limited ultra modern styles
KraftMaid Pros:
Leading reputation for quality
Amazing storage solutions and accessories
Huge finish selection
Styling from traditional to cutting edge
KraftMaid Cons:
Premium pricing
Over 50 styles can make selection overwhelming
Frequently Asked Questions (FAQ)
Are KraftMaid cabinets considered high end?
Yes, KraftMaid is widely considered a premium or high-end cabinet brand. Their products are priced accordingly and compete with other top manufacturers. You'll get features like solid wood doors and frames, soft-close hardware, dovetail drawers and excellent warranties.
Are KraftMaid kitchen cabinets good quality?
KraftMaid has an excellent reputation for kitchen cabinet quality thanks to their durable construction, wide array of materials/finishes, and optimized storage solutions. Attention to detail and craftsmanship are hallmarks of KraftMaid. They may cost more but deliver exceptional quality.
Which quality is best for kitchen cabinets?
Look for cabinets constructed with solid wood frames, plywood boxes, and dovetail joinery. Soft-close hardware, sealed cabinets, quality finishes and functional storage amenities also define quality kitchen cabinets. KraftMaid and St. Martin include these desirable features.
What are the longest lasting kitchen cabinets?
Opt for all-wood cabinet boxes instead of particle board and avoid lower quality materials like thermally fused melamine. Look for thick face frames, sturdy drawers and doors, and quality hardware. Hinges, slides, and tracks should be rated for frequent use. With proper care, solid wood cabinets from reputable brands like KraftMaid and St. Martin can last 30+ years.
The Bottom Line
While KraftMaid edged out St. Martin in some categories like storage solutions and contemporary styles, St. Martin prevailed as the value option. Their quality rivals KraftMaid for hundreds less per cabinet.
Ultimately, choosing between St. Martin vs KraftMaid comes down to your budget, style preferences and how you plan to use your kitchen. KraftMaid satisfies those wanting high-end customization, flawless finishes and premium storage accessories.
St. Martin impresses with beautiful styling, smooth function and mid-range pricing. Either brand delivers a kitchen you'll enjoy for decades to come.
In closing, investing in well-made cabinets from trusted manufacturers gives you the most bang for your buck. Understanding the pros, cons and key differentiators allows you to select the ideal cabinets to match your taste, lifestyle and budget.
We hope this detailed comparison of St. Martin vs KraftMaid proves helpful as you embark on your kitchen cabinet research and planning. happy designing!