Updating your kitchen with new cabinets can make a huge difference in the look and feel of the space. But with so many cabinet brands on the market, deciding between quality manufacturers like Shenandoah and Diamond can be a real head-scratcher.
Both companies produce popular cabinet lines that come packed with features and have stellar reputations. Still, there are some key differences between the two that might make one a better fit for your particular kitchen vision and budget.
In this detailed comparison guide, we'll break down the pros, cons, prices, and other need-to-know details on Shenandoah and Diamond cabinetry. Read on to learn which brand offers the best value and quality for your next kitchen refresh or remodel.
A Brief Comparison Table
| | | |
| --- | --- | --- |
| Category | Shenandoah | Diamond |
| Pricing | $150 – $650 per linear foot installed | $75 – $400 per linear foot installed |
| Materials | Real wood like oak, maple, cherry | Engineered woods, composites, some solid wood |
| Warranty | Lifetime limited on all cabinets | Lifetime limited on boxes and doors |
| Manufacturing | Made in USA | Some overseas, some domestic |
| Product Lines | Good, Better, Best model | Value, Standard, Premium, Designer |
| Quality Reputation | High-end, luxury | Budget to middle price tiers |
| Customization Options | 500+ door styles, abundant upgrades | 200+ door styles, varied upgrades |
| Overall Focus | Specialization in upper end market | Broad appeal from value to luxury |
Shenandoah Cabinet Overview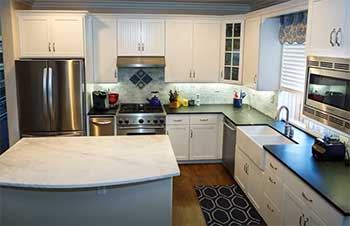 Shenandoah Cabinetry first opened for business in 1976 in the heart of Virginia's Shenandoah Valley.
In the decades since, it has grown into one of the largest cabinet manufacturers in the U.S.
While not as widely known as brands like KraftMaid or Thomasville, Shenandoah has cultivated a devoted following for its quality craftsmanship and wide spectrum of stylish designs.
Some key facts and features of Shenandoah cabinets:
Real wood cabinets made from oak, maple, cherry, and other lumber
Broad selection includes over 500 door styles and colors
Products sold exclusively through kitchen designers and authorized dealers, not big box stores
Higher price points, competing with mid to high-end cabinet brands
Made in the USA with domestic and imported materials
Lifetime warranty on all cabinetry
Shenandoah places a strong emphasis on customization options, allowing you to tailor everything from door style to finish to storage solutions. They offer accessories like glass cabinet inserts, roll outs, and designer hardware to create a truly bespoke kitchen.
Performance upgrades like soft-closing doors and drawers are also available.
Diamond Cabinet Overview
Diamond Cabinetry dates back to the 1940s, though the company underwent a major reboot in 2014 after being purchased by MasterBrand Cabinets.
This able cabinet manufacturer outfits millions of kitchens every year with smartly designed, dependable cabinetry backed by excellent warranties.
Here are some fast facts on Diamond's cabinets:
Construction uses real wood combined with plywood and composites
200+ door styles and colors covering traditional to contemporary
Sold at home improvement stores like Home Depot and through authorized dealers nationwide
Lower and moderately priced product tiers to suit different budgets
Some manufacturing takes place overseas
Lifetime limited warranty on cabinets; 5 years on drawers
Like Shenandoah, Diamond allows for heavy customization of door styles, finishes, storage and hardware. Where they differ is that Diamond anchors their line with more affordable, value-priced options. But they still offer upgrades like soft-close mechanisms and organizer inserts to personalize your configuration.
Key Differences Between Shenandoah And Diamond Cabinets
Now that we've covered the key facts on each brand, let's compare them across some important categories for cabinet buyers.
Cost and Price Differences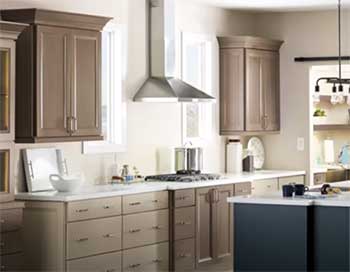 Shenandoah cabinets are sold in a good-better-best assortment that places them squarely in the middle to upper price spectrum.
Their products can cost anywhere from $150 up to $650 per linear foot installed. This positions them as a premium, luxury manufacturer.
Diamond offers a wider range of price points. Their Value series starts as low as $75 per linear foot.
Moving up the line, their Standard and Premium collections land more in the $200 to $400 per foot installed range. This puts Diamond's core selection in the budget to middle price tiers suitable for most kitchens.
There is definitely overlap in the mid-range costs between these manufacturers. But Shenandoah's higher-end custom designs handily outprice Diamond's priciest options. Ultimately, Shenandoah offers greater prestige and luxury, while Diamond serves up excellent quality with more budget flexibility.
Wood Materials and Construction
Shenandoah proudly uses real hardwoods like oak, maple and cherry sourced from American forests. Finishes and door styles are also built to highlight the natural wood grains. Combining quality lumber with durable plywood boxes and framing results in heirloom-quality cabinets.
While Diamond offers wood cabinet lines, they also manufacture with engineered woods, thermally fused laminates and polyurethane materials. These composites allow them to construct long-lasting cabinets at lower price points.
But most product series do incorporate some solid lumber components where it counts for structure and durability.
For green builders or those looking for truly sustainably sourced materials, Shenandoah would be the better call here. But for budget leeway, Diamond offers lots of family-friendly options combining performance, value and just enough real wood for aesthetic.
The lifetime limited warranty included with Shenandoah cabinets is hard to beat. It applies to all main cabinet components and promises repair or replacement of defective items for as long as you own your Shenandoah kitchen.
Most other materials and workmanship are covered for 5 years. This extensive warranty reveals how confident Shenandoah is in its construction and finishing.
Diamond's cabinet warranty extends for the lifetime of the original purchaser. The company will replace defective doors, drawer fronts, and cabinet boxes. A more limited 5-year warranty applies to things like hardware, accessories and delivery damages.
So while not as far reaching as Shenandoah's, Diamond still provides excellent reassurance against defects or failure.
When it comes to warranties for cabinetry, both Shenandoah and Diamond are ahead of the competition. For sheer coverage length, Shenandoah excels. But Diamond still offers a solid lifetime guarantee on critical components.
Shenandoah groups its cabinets into good (Select/Value), better (Standard), best (Designer/Custom) collections. Across these tiers you'll find over 500 door styles and finishes to create exactly the look you crave. Traditional oak, contemporary thermofoil, cozy cottage white paints – they offer it all.
Styles range from transitional simplicty to ornate, hand-carved works of art. With abundant customization options, Shenandoah lets you go to town outfitting your dream kitchen.
Diamond divides its products across Value, Standard, Premium and Designer lines. Their Value series makes up the bulk of Diamond's affordable offerings with hundreds of combinations of materials, finishes and storage options.
Moving up the Standard and Premium collections add more luxe door styles, decorative hardware choices, built-in conveniences and wood species. Diamond's Designer reserve features hand-crafted, bespoke cabinetry.
What it comes down to is Diamond casts a slightly wider net by directly offering budget-friendly designs alongside its custom elite offerings. Shenandoah focuses more exclusively on the middle to high end of craftsmanship. But overall, both companies enable you to configure your kitchen across a good range of prices.
It's clear from their warranties, materials and manufacturing approach that both Diamond and Shenandoah build excellent, durable cabinetry. Beyond just materials, these brands exhibit quality in their: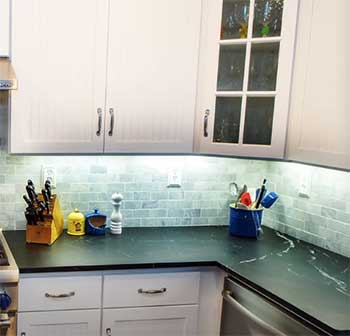 Solid plywood boxes reinforced with hardwood frames
Furniture-quality finishing and staining
Dovetail and strong joint construction
Smooth operating, quiet doors and drawers
Carefully engineered hardware and storage accessories
Furthermore, Shenandoah's made-in-America production allows for exacting quality control.
And both brands can provide dealer references so you can see their cabinetry quality first-hand.
When it comes to construction, neither company cuts big corners. Even Diamond's Value priced offerings perform admirably. These top-notch craftsmen deliver kitchens built to last.
Which Brand Is Right For You?
Now for the big question – which of these cabinet giants is the better choice for your upcoming kitchen project?
Here are a few rules of thumb:
If budget is critical, start your search with Diamond. Their Value series provides the best bang for the buck.
Seeking made in USA and the utmost in wood species selection? Shenandoah is your brand.
Prioritizing unique custom designs and statement styles? Shenandoah excels here too.
For clean, classic to contemporary design on a moderate budget, Diamond hits the sweet spot. Their Premium and Designer lines offer lots of flexibility too.
If you want luxury touches and performance upgrades, either brand can deck out your kitchen into a showstopper. Shenandoah just offers a few more ultra-high-end options.
The bottom line? Both Shenandoah and Diamond create kitchens that will stand the test of time. Your taste, budget and how fancy you want to go will determine the right cabinet partner. Connecting with a knowledgeable kitchen designer can provide expert guidance as you compare these two outstanding manufacturers.
Frequently Asked Questions (FAQ)
Are Shenandoah cabinets real wood?
Yes, Shenandoah uses real hardwoods like oak, maple, and cherry for their cabinet boxes, doors and face frames. They combine solid lumber cores with plywood and composites to add durability and stability.
Who makes Shenandoah kitchen cabinets?
Shenandoah Cabinetry operates their own manufacturing facilities in Virginia and West Virginia under the umbrella of their parent company, Ideal Wood Products. Skilled American craftsmen fabricate their cabinet lines from start to finish.
What is the quality of Diamond Now cabinets?
Diamond Now makes up the Value tier of Diamond's offerings. They use engineered and thermofoil materials plus some solid wood to create durable, affordable cabinets. Drawer glides, hinges and storage accessories bring functionality and conveniences missing from other discount brands.
Is KraftMaid good quality cabinets?
Yes, KraftMaid is known for making kitchen cabinets that last. They construct cabinet boxes from solid lumber frames and plywood. Door styles range from simple to ornate in wood species and finishes to suit tastes. Their mid-level price points and excellent warranties make them a brand to compare with Diamond or Shenandoah.
Final Thoughts
So there you have it – a comprehensive comparison of cabinet giants Shenandoah and Diamond. Whether you choose one brand over the other, you can be confident you'll gain beautifully made, long-lasting kitchen storage.
And armed with the details above, you can more easily determine which manufacturer aligns best to your budget, design dreams and cooking needs. With some smart planning upfront, you'll enjoy a kitchen you love coming home to for decades to come.