Searching for the best cabinet choices between Shiloh and Kraftmaid? Here is a detailed comparison of Shiloh vs Kraftmaid cabinets for you to choose wisely.
We have tried to include comparisons between the two on every aspect that matters for your buying decision. Go through the article to know which one is better between the two.
Without further ado, let's see who wins the battle!
Quick Comparison Between Two Cabinets
| | | |
| --- | --- | --- |
| Specification | Shiloh | Kraftmaid |
| Material | Maple laminate | Natural birch wood grain laminate |
| Quality | Above Average | Excellent |
| Product Variation | Variation in finishes | Variation in colors and designs |
| Durability | Good | Better |
| Cost     | Medium | Expensive |
| Availability   | Medium | High |
| Service | Good | Better |
Key Differences Between Shiloh And Kraftmaid Cabinets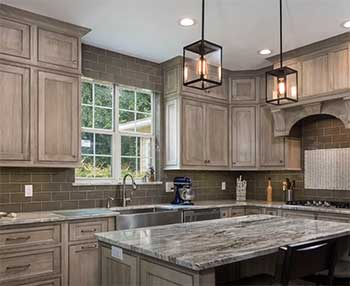 Both Shiloh cabinets and Kraftmaid cabinets are made of the same material: plywood. However, Kraftmaid has 3/4th of solid wood as well.
Both brands have different options and upgrades available from where you can choose which option would be best for you or which one you prefer.
Starting with Kraftmaid cabinets. They are made of plywood and have natural birch wood grain laminate in their standard construction.
There are also upgrade options that add variety to how cabinets will be constructed. The options include a matching laminate interior and a matching veneer interior. From here on, you can choose anyone you prefer.
Now coming to Shiloh cabinets, aside from plywood as its main construction material, it comes with a maple laminate. This kind of laminate is considered one the best for durability.
It also lasts for generations after generations.
Both the cabinets are of good qualities and designs but there remain some factors or variations which make them different from each other. Let us see the variations one by one with clear descriptions.
Kraftmaid cabinets have been in existence for a very long time. They are always in vogue. People seem to like their semi-customizable options.
Kraftmaid cabinets come in different styles for people with different tastes. They have classic and contemporary, traditional and luxury, and simple and light designs. People of any taste can choose and buy something they like.
Coming Shiloh cabinets, they also come with a variety of options. They can be customized and have many ranges of customization options.
These cabinets are also famous for their huge collection and options of finishes available. As finishes are a very important part of the furniture, customers tend to focus on them as well.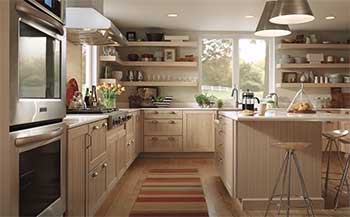 Now comes variations of products.
Shiloh cabinets might have a less number of options for designs of cabinets but they are really good when it comes to finishes.
They have different types of finishes for different types of furniture available at their shop.
Standard paints and stain collections, aged technique, custom paint program, etc. options are available at the Shiloh website or any outlet of Shiloh.
Kraftmaid has a huge variety of color palettes and designs. They also have this feature of visualizing your cabinets and consulting with professionals before buying the cabinets.
You won't have to do the extra job of finding the perfect cabinet from a thousand options. The experts will help you choose and filter out some of the options for you. It makes your task easier.
Both the cabinets are durable but Kraftmaid cabinets can be called a bit more durable than that of the Shiloh cabinets.
This is because the Kraftmaid cabinets are made of 3/4th of solid wood besides plywood. That is why it is more durable than Shiloh cabinets.
Most cabinets are usually made of solid wood, but Shiloh cabinets are made of all Plywood which gives it a weightless feature.
However, it has a bit less strength, longevity, and durability than the Kraftmaid cabinets because of the 3/4th part solid wood used in them.
Both the brands have different offerings and their price ranges are also different from each other. The Shiloh cabinets range from around $7k up to $25k or more.
This depends on what things you are including. The cabinet prices will definitely range according to their specifications.
The price range of Kraftmaid is a bit higher than the Shiloh cabinets. These range from $15k to $30k or even more. This too depends on the specifications you choose for your cabinet. Because their cabinets can be of many types.
Both the brands are available in the market, but Kraftmaid is more easily available than Shiloh.
Although worldwide shipping is not as popular for either brand, they ship to many states in the US and also a few countries. Kraftmaid ships to more countries than Shiloh.
Kraftmaid also has the benefit of launching before Shiloh. However, Shiloh is doing a great job in expanding its business to a greater extent. Both brands have a good and loyal customer base to sell their cabinets to.
Both brands are doing really well in the market and have retained a good number of loyal customers. Their service is the most important thing which attracts their customers.
Although both brands are doing well, reviews are higher for Kraftmaid than that of Shiloh. Shiloh started from a small family business and now earning millions.
So, it took a good amount of time to grab a major portion of the market and it is still improving.
Which One Will Be the Best Fit for Your House?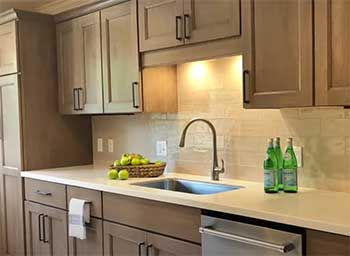 Honestly, there is no correct answer to this question.
Although the differences and comparisons might make you inclined toward Kraftmaid more you never know which designs would meet your preferences.
Both brands are very good to use and have good reviews as well. So, we would suggest you explore both options before purchasing your cabinets.
Because, at the end of the day, it is your house which would look good or bad depending on your decisions.
Apart from these, if you really have to get an answer then we would suggest different ones for different suggestions. If you are low on your budget and want to look for some minimalistic cabinets for your house, go for Shiloh.
Again, if you want insets then Shiloh is definitely better than Kraftmaid. Its finishes are also good. But if you want more durability, color variations, and great service and availability, then choose Kraftmaid.
Frequently Asked Questions (FAQs)
Here are a few frequently asked questions about Kraftmaid and Shiloh cabinets.
Is Kraftmaid costlier than Shiloh?
The costings would depend on what type of cabinet you are purchasing. It would depend on what design, color, finish are you wanting to buy.
Which one among Shiloh and Kraftmaid cabinets look good?
Both have an amazing collection of designs. You just need to explore and find the one which suits your preference and taste.
Which one is stronger among the Kraftmaid cabinet and Shiloh cabinet?
Usually, Kraftmaid cabinets are known to be stronger because of their use of solid wood along with plywood. Solid woods says for a longer period than plywoods but plywoods are also light-weighted.
How much does it cost to install Kraftmaid cabinets?
The installation costings for Kraftmaid cabinets would cost between $100-$300. Some costs might add up due to location and the number of laborers needed to install it.
Final Words
In the end, there is no actual winner in the battle of Shiloh cabinets vs Kraftmaid because it entirely depends on your situation and preferences to choose between one of these.
Now that you know how to judge your situations and match your preferences, choose wisely between these two.