It's no secret that a good flooring can make your home look exceptionally beautiful. But for that, you need the best quality floor. Kromitex is one such plank floor.
And you will agree with me at the end of reading this review of Kromitex flooring.
Here I'll show the pros and cons of Kromitex plank floorings. By reading through this article, you will know why so many people use it in their homes and offices.
Eventually, you can decide whether you should install it in your home. So, without further ado, let's get this show on the road.   
Features of Kromitex Plank Floors

Superior features make a product distinct from others. You will find many unique products for Kromitex flooring. Knowing them will help you understand the product better.
So, here are some key features of Kromitex floor planks:
A High-Quality Plank Floor
Kronitex Floor is an excellent quality SPC flooring with wear and scratch-resistant. This luxurious plank flooring from Kromitex is entirely waterproof.
Besides, it comes with a 0.5 mm wear layer. With a 6.5 mm thickness, it is very strong and durable.  
In addition, this high-quality flooring is safe for your kids, pets, and environment. Plus, you can install it in any moisture-prone area without worrying.
A Robust & Durable Plank Floor
We already know that Kromitex is a thick plank floor. Because of its 6.6 mm thickness, it has a thick core and will last for a long duration.
It comes with a core thickness of 5 mm and a 1.5 mm IXPE underlayment. So, the total thickness is 6.5 mm.
Kromitex can tolerate extreme foot traffic and static loads with a thicker core. In addition, the wear layer makes it even more comfortable to walk on it.
Because of the underlayment, you will be able to walk quietly on the floor. In total, Kromitex flooring is durable, has excellent design, and is strong.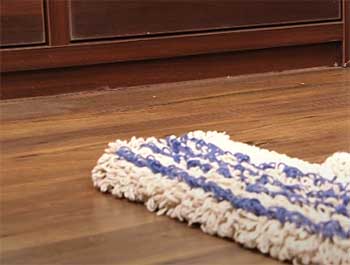 Color plays a vital role in choosing a plank floor. You can match your plank floor with your house interior if many colors are available.
No doubt, a unique color combination will make your house eye-catching.
You will find 6 different color and texture options with the Kromitex floor. All these colors come with different designs.
Those 6 colors are Acacia, Balsa Gray, Harmony, Fog, Arena, and Rustic White. These beautiful colors are well equipped to make your entire house look fabulous.
You will have to choose one that goes with your style and house interior.
Easy Installation & Maintain        
Kromitex plank floors are pretty easy to install. You won't need a lot of tools and expertise for it. Most importantly, you can do it yourself.
So, no need to hire a professional. There is an instruction manual, follow it, and you will be fine.
Because of a floating installation system, it takes less time to install this floor. The locking system firmly attaches your floor to the surface. Plus, the floating system makes the installation process glueless. 
Maintaining this floor is very easy as well. Because of the anti-corrosive materials, you won't have to invest much time and energy to clean and cure this plan floor.
Plus, the plank floor is made from wholly virgin PVC, and PVC products require less maintenance.
You will find many great benefits from this high-quality SPC plank floor made of virgin PVC. These benefits will make you understand why you should go for this product.
Kromitex SPC flooring is 100% waterproof. So it won't soak and shrink in moisture-prone areas.
There are no toxic and harmful elements on this floor. Elements like Methanol, Formaldehyde, Heavy Metals, etc., are missing from its formula.
That's why Kromitex floor planks are entirely safe for kids and pets. Plus, they are eco-friendly as well.
In addition, they are wear-resistant, anti-corrosive, and can adapt to the climate pretty soon.
Plank Dimension & Coverage     
A Kromitex floor plank box comes with 10 pieces of floor planks. The width and length of a plank are 7.09 inches and 48.03 inches, respectively.
Plus, it offers a 6.5 mm thickness with a core thickness of 4.5 mm and an IXPE underlayment of 1.5 mm.
Besides, it has a 0.5 mm wear layer for a quiet and comfortable walk. A box of 10-piece Kromitex flooring plank will cover up to 23.64 square feet of the area after correctly installed.
Warranty is a crucial element that indirectly shows the quality of a product. A good product always comes with a better warranty. A good thing about Kromitex SPC flooring is that it comes with an outstanding warranty.
You will get a 30 Year of Residential Warranty with a Kromitex Plank floor. That is an excellent warranty term by any means.
Price is another essential part of product selection. You should know the price of the Kromitex plank floor before making up your mind.
The price of Kromitex depends on the CT. However, you will have to spend about $95 for a box of Kromitex plank floors. 
What Could Have Been Better With Kromitex Flooring?
With many great features, there are some drawbacks to Kromitex SPC plank floors. These minor issues can be solved quite easily.
However, you should know them to make a decision. Here are the drawbacks of this plank floor brand:
The extended warranty term explains such a high price, but many people think lowering the price will be beneficial.
So, Kromitex should look at the price and reduce it if there is any chance because a lower price will attract many new customers.
Like every other plank floor, I think multiple size options will have their own added benefits. People can choose from more color options if available.
So, introducing more colors will win many hearts.
Final Thoughts
We are at the end of our journey. After reading my Kromitex flooring review, I hope you are now convinced that the Kromitex plank floor is worth your money and effort.
Although it has some cons, the good features win over with a high score.
So, you can consider Kromitex SPC plank floors for your upcoming renovation project. You won't regret it.