Among many other plank floorings available in the market, FirmFit is considered one of the strongest. It will make your house look insanely beautiful at the same time and will last for decades.
From this in-depth review of FirmFit flooring, you can find more about this excellent flooring.
If you think of remodeling your house or installing plank floors in your new house, you must consider FirmFit. But there's no need to believe my word; read this article, and you'll know why this can be a good choice.
So, let's fire away.
Features of FirmFit Flooring

Looking at the features, you will see many unique ones that are superior to other flooring planks. These features make FirmFit flooring an unbeatable product.
Without contemplating, let's see some of the key features of FirmFit: 
FirmFit is a luxury vinyl flooring with a clear vision. The main idea of this plank floor is to turn your home into a comfy place where you won't have to worry about little things.
You cannot distinguish between natural wood and FirmFit because they look exactly alike.
Its waterproofing feature, coupled with scratch-free and the ability to be exposed to more sunlight, make this flooring special from others. Plus, you can install this high-quality vinyl flooring in places where other LVTs can't go.
You won't get any transition moldings.
You will get many more collections from FirmFit. Each of them has its own design philosophy. With excellent design variation and distinct looks, you can choose your FirmFit plank floors from 5 different collections.
They are FirmFit Downtown, FirmFit Intown, FirmFit Planks, FirmFit Tiles, and FirmFit XXL. You will get many colors, designs, and texture variations from these collections.
Choose a collection, color, and design that fits your style and home interior.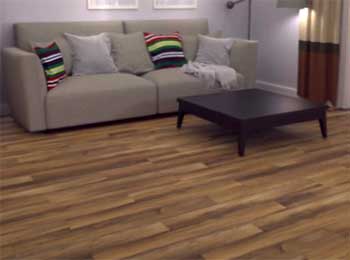 High temperature makes most regular LVT and WPC lose their sturdiness and become flexible.
But with two times more powerful than most other LVT, FirmFit can withstand high temperatures.
The planks have enough strength to remain flat even in direct sunlight exposure for a long time.
Besides, FirmFit is three times more rigid in the core than other LVT. You can use them in places like the sunroom where your floor is exposed to direct sunlight.
Rooms with multiple large windows also can have this plank flooring. Install them in a 3 season room and forget to worry about it.
Superior Impact Resistance
If you constantly have to worry about your floor, it's not worth it. You should do all the fun on your floor without thinking about it. FirmFit flooring planks are 100% waterproof and have the excellent impact-resistant capability.
It can resist any stain and scratch. With the Class 34 layer, you'll find this plank durable and surprisingly quiet. Plus, cleaning them is pretty straightforward.
A Limestone core is extra dense and 10 times more impact resistant than most other WPC.
FirmFit can resist any impacts, and dents, and tolerate heavy foot traffic and static loads. No other LVT and even WPC can compete with FirmFit in strength.
FirmFit flooring is completely safe for your kids and pets. Its extra rigid limestone base core makes it strong. But the Set+ Anti-Microbial Finish constantly protects your floor surface from harmful Microbes.
Besides, the flooring planks do not contain any Ortho-Phthalates and other harmful elements. It's also 100% recyclable, sustainable, and entirely safe for the environment.
On top of that, FirmFit has Greenguard Gold Certification from The Greenguard Environmental Institute.
A lot of color option makes FirmFit plank floors extremely popular among homeowners. You will get a lot of unique colors and textures from this brand. Here are all the available colors you will get from FirmFit:
Blue Ridge, Myrtle Beach, Virginia Beach, Navajo, Windsor, Saddle or Roanoke Valley, Corinth, Sunset, Basin, Laredo or Christiansburg, Autumn or Mountain Lake, Valley, Oasis, Dune, Castle, Bridge, Moonlight, Wilderness, Shadow, Blacksburg, Peaks of Otter, Smith Mountain, and Mabry's Mill.
A FirmFit plank is larger than many LVT planks available in the stores. And that's why you can install them in less time.
The width and height of a FirmFit plank are 6.92 inches and 47.75 inches, respectively. Its thickness is 5mm, like most other standard planks.
Besides, you will get 0.55 mm wear layer thickness and Hypoallergenic Cork backing with bevel style edge on 4 sides. You can cover a 25.27 square feet area with 11 piece FirmFit planks in a box.
Warranty is an essential aspect of any product, especially plank flooring, and a good warranty will give you confidence when buying flooring. You will get two types of warranty for a residential and commercial setting.
FirmFit flooring plank comes with a Lifetime Limited Warranty for residential usage. On the contrary, you will get 15 Years Commercial or Light Commercial Warranty with this superior floor.
Many users have expressed mixed feelings about the price of FirmFit flooring. FirmFit luxurious vinyl plank costs $3.76 per square foot. Many of its users have said that it's a bit overpriced.
But you are getting many outstanding features and benefits from this plank flooring solution.
What Could Have Been Better With FirmFit Flooring?

It's pretty difficult to find cons of luxurious vinyl flooring like FimrFit. But like every other, there are some downsides of FirmFit, which can be improved easily. Let's see some of the cons:
There is no question about FimFit's quality, but they can introduce more plank sizes for more convenient installation. It will allow customers to choose a size according to their house size and other factors.
So, the manufacturer should focus on the size and develop more possible sizes without compromising the quality and other benefits.
As I already said, people have mixed perceptions about its price. Although you will get many unique benefits, I think it's possible to lower the price a bit.
A little less price will bring a lot more customers. So, it's a win-win situation for both ends.
Frequently Asked Question (FAQ)
Where is Firmfit flooring made?
Creative Flooring Solution (CFL) is the manufacturer of FirmFit flooring and was launched in 2017. It is based in Jiashan, China. So, all FirmFit floorings are made in China.
How do you clean a Firmfit floor?
Cleaning FirmFit floorings are quite straightforward. You can clean it with a wet mop or cloth, and you can also steam the mop for better performance. But never use any abrasive cleaners, soaps, or cleaning agents.
What is the top brand of vinyl flooring?
FirmFit is one of the top brands of luxury vinyl flooring. Apart from it, other brands like Shaw, Mohawk, Karndean, Armstrong, etc., make high-quality LVT.
What are the disadvantages of vinyl plank flooring?
The worst disadvantage of a vinyl plank is that you can't repair them. Besides, they have a shorter lifespan than wood and can emit VOC.
Final Thoughts
My FirmFit flooring reviews have shown all the necessary aspects of this luxury flooring plank. So, I'm sure now you know why people choose FirmFit over other brands, although it's comparatively new.
You have seen both the pros and cons, and I think the pros are ahead of the cons in miles. So, go ahead and install this beautiful flooring in your home.