Are you looking for a thicker floor plank for your home or commercial place?
If so, you can look into Revotec floorings from Engineered Floors. I have written this review and it will help you to find more about this high-quality flooring plank.
Good quality flooring planks hold some characteristics which make them unique and stand out from others. Revotec flooring is one such product. I've written this article with many authentic customer reviews.
So, I can say you'll get authentic information here. I haven't overstated a bit. Let's get into more details.
Features of Revotec Flooring Planks

A good product is always known for its features. And as I have said, Revotec flooring is a high-quality product. So, you will find many unique and superior features of these plank floors.
Here are some of the key features of Revotec flooring:
An Excellent Engineered Floor Plank
Revotec Flooring is a natural stone-like luxurious vinyl plank flooring from Engineered Floors. With a 0.5 mm wear layer, this is a highly durable plank.
Besides, it has a ceramic bead finish with an embedded grout.
You can install this stunning flooring in your bathroom, kitchen, and kitchen. Most importantly, it is thicker than most other vinyl plank floorings.
As a thick plank, Revotec is a strong and sturdy plank that is durable and can take a lot of stress. It has a core thickness of 4.5 mm and a Vinyl layer thickness of 1.5 mm. In total, the thickness is 6mm.
As a result, your Revotec floor will withstand a lot of foot traffic and static load. Apart from that, the wear layer makes it comfortable to walk on simultaneously.
You can walk quietly on the floor. All in one, your Revotec flooring is more robust than any high-quality plank floor.
Color is always important when choosing a plank floor. It has to match your entire home. Besides, a unique color combination will make your floor look fabulous.
The good news is that Revotec floors come with 9 different color and texture options. They are:
Carrara, Granite Grey, Shale, Travertino, Jasper, Agate Ash, Sandstone, Alabaster, and Quarry. All of these colors will look excellent in your home. But choose from these color options that fit your style and house interior.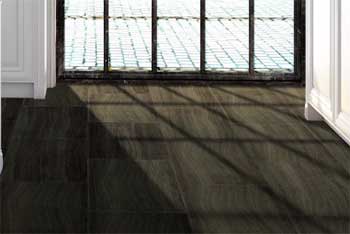 Installing Revotec flooring is pretty straightforward. You can do it yourself; no need to hire any professionals.
Engineered flooring has been designed for DIY enthusiasts so that they can easily lay those on their floors.
It comes with a floating installation system. Plus, the click locking system keeps the planks firmly in their place.
Because of the floating system, you won't need to glue them down to install. Embedded grout on the edges will keep your planks locked and make them look bold.
You will get many exquisite benefits from Revotec flooring. Because of these benefits, it feels utterly worthy of money, time, and energy. This high-quality plank is entirely waterproof.
Besides, you won't have to worry about stains and scratches as they are stain-resistant.
Besides, these planks are entirely safe for your kids, pets, and environment. You can also recycle them. As you can see, this plank flooring offers all the benefits a good floor does.
Plank Dimension & Coverage
Each box of Revotec plank floor holds 8 pieces of planks. The width of a plank is 12 inches, and the length is 24 inches. Plus, it has 6 mm of thickness.
We already know its core thickness is 4.5 mm, and it has a 1.55 mm vinyl layer.
It also has a 2 mm IXPE underlayment. A box of Revotec flooring with 8 planks can cover up to 16.02 square feet of area if you install it correctly.
Engineered Floors, the manufacturer of Revotec plank flooring, offers a Lifetime Limited offer with these luxury vinyl planks for residential use.
But for commercial use, you will get a 10 Year Warranty. Besides, this product is warranted for a Lifetime for pets and a waterproof warranty.
You will have to spend about $6.78 per square foot for Revotec flooring. Many people stated that it's quite a high price for an LVT. A thicker plank and easy installation only explain this high price.
What Could Have Been Better With REVOTEC Flooring?
With so many superior features, there are still some issues that I should address. Here we will see some of those cons that should be improved. But it is not related to product quality.
A Better Commercial Warranty
You will get a Lifetime Limited Residential Warranty with Revotec flooring, which is okay. But for commercial usage, you will only get a 10-year warranty, which could be better, especially at this price point.
So, they should consider changing it.
Inevitably the price comes up talking about Revotec flooring. A $6.78 price tag is relatively high for this product.
Engineered Floors must revise this price and set one that will attract more people. Because a lot of customers bounce back hearing the price.
Frequently Asked Question (FAQ)             
Who makes Revotec flooring?
Revotec is a luxury vinyl plank flooring that is very high in quality and durable. Engineered Floors is the manufacturing company of Revotec floors. 
What are the disadvantages of vinyl plank flooring?
There are many disadvantages of vinyl flooring. You cannot repair them, and they have zero resale value. Besides, it has a shorter lifespan than wooden floors and can emit VOC.
What is the top brand of vinyl flooring?
There are many vinyl plank floor manufacturer brands. Shaw, Karndean, Mohawk, COREtec, Armstrong, etc., are some of the best.
What is the difference between rigid core and luxury vinyl plank?
Rigid Core Luxury Vinyl Flooring has an extruded polymer-based core layer that makes the plank more rigid, which is missing in regular luxury vinyl plank.
Final Thoughts
Floors are highly responsible for making our home either look good or bad. Now that you have read my REVOTEC flooring reviews, I know you are already convinced about this floor plank.
It has both pros and cons, but the pros go a long way compared to the cons. So, you can use this flooring option to remodel your floor without any hesitation.