If you are on the lookout for a sliding table saw, it is safe to assume that you are a woodworking enthusiast. This sort of table saw can easily consume more than half of an average garage. In this case, it's important to choose a safe, fully functional model.
The table saw industry is humongous, to put it lightly. Felder K500 and Hammer K3 are two table saws that are frequently pinned against each other. Let's find out which is better.
A Quick Comparison Table
Check out the summarized differences between Hammer K3 and Felder K500 before moving on to the detailed descriptions!
| | | |
| --- | --- | --- |
| Specifications | Felder K500 Table Saw | Hammer K3 Table Saw |
| Rip Capacity and Fence | 700 mm to 800 mm, possible to stretch up to 1250 mm | 800 mm to 1200 mm |
| Sliding Table | Ball bearings – noisier; three sliding table variations | Linear guide rails – quieter; has "X-roll" sliding table |
| Outrigger Table and Crosscut Fence | Crosscut fence: 900 mm to 1300 mm; 3 mm outrigger table construction | Crosscut fence: 1300 mm; 5 mm outrigger table construction |
| Scoring Blade, Extensions, and Dado-Tooling | Can add dado tools | Can add Felder special dado tools |
Key Differences Between Felder K500 And Hammer K3
Every K3 machine in its standard package has an aluminum rip fence, a feature that offers 700mm rip capacity for the K3 Basic, and 800mm for the other ones.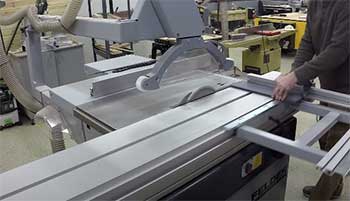 A round aluminum extrusion acts as the base for the movement of the rip fence while a knob is used to lock it into place.
The only exception here is the K3 Basic. That one uses a normal aluminum extrusion to roll over.
All upgrades mentioned below do not apply for the K3 Basic, except the fine-adjustment setting.
You can move the fence forward and backward. It can also be turned 90° so its final height is under a centimeter. As such, you can cut thin strips.
Numerous upgrades are available for this system. For starters, the round bar that facilitates the movement of the fence can be upgraded to an extended version, possibly stretching up to 1250mm.
A small extension table would be needed in this case as the bar would stretch past the table.
The locking mechanism is another fine upgrade. You can upgrade this to a cast-iron version with a quick-release handle (the standard one does not have this).
This allows you to move the fence quicker to the left or right. It's notable that this version is the one that comes standard on Felder K500.
Speaking of Felder K500, the standard rip capacity stands at 800 mm or 1200 mm (optional). The easy-to-read rip scale is integrated into the saw table seamlessly. The K500 and K500 Professional differ in their rip capacity and fence.
Naturally, the latter is more developer for challenging tasks.
A defining feature of any sliding table saw is its sliding table. Conventionally, they were mostly found on panel saws to assist with trimming big sheet goods.
However, they are good on table saws as well.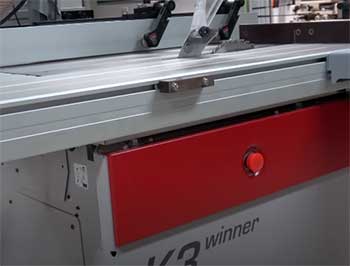 The sliding table is the segment where you will see the most significant differences between the Hammer K3 and the Felder K500.
Most Felder machines are equipped with linear guide rails, components that make very less sound when moving.
The K3s, on the other hand, rely on ball bearings.
Although not necessarily booming loud, their generated sound level is higher than the Felder's. You might also notice friction in this area.
That being said, they still move fine.
For the Hammer K3, you can select from three lengths of sliding tables:
K3 Basic: 865 mm
K3 Winner: 1300 mm,
K3 Winner Comfort: 2050 mm
You can upgrade the K3 Basic to1300 mm and a K3 Winner to 2050 mm.
The "X-Roll" sliding table of Felder K500 is an amazing and unique feature of Felder machines. It has a 10-year guarantee so you know you can rely on this machine for uninterrupted performance for years.
What is the "X-Roll" sliding table? This linear guiding system has been in development since 1990. It's a top-notch sliding table guiding technology that offers smooth operations and does not need much maintenance. 
The "X" design of the roller bearings' position makes sure they move nicely along stiff lines. 
Outrigger Table and Crosscut Fence
Apart from the sliding tables, crosscut fences and outrigger tables are two other important factors to consider. 
Both the K3 Basic and Winner come with a basic 900 mm crosscut fence whereas the Winner Comfort features a 1300 mm fence, particularly for the outrigger table.
The standard 900 mm fence is extendible using a 750 mm add-on. However, this does not equip it with any additional support, so if you want to cross-cut larger boards, think about the outrigger table. 
The outrigger table is mostly used in cutting bigger sheets, converting the K3 table saw into a little panel saw. We would like to mention that this consumes a lot of space but if you do not use it as often, feel free to fold the supporting piece and take it off the top.
The outrigger table serves as another example of the build quality difference between Felder K500 and Hammer K3. Felder K500's outrigger tables are constructed from 5 mm steel whereas the Hammer K3 features a 3 mm steel build.
Hammer K3 is not made for 9-to-5, 24/7 use and thus, we can expect it to be less abused. So, it should work in its system.
On the Felder K500, you get four rollers guiding the telescopic support arm. Equipped with an ergonomically designed scale and mounting system, the telescopic crosscut fence guarantees accurate crosscuts, and settings to a maximum of 2600 mm.
Scoring Blade, Extensions, and Dado-Tooling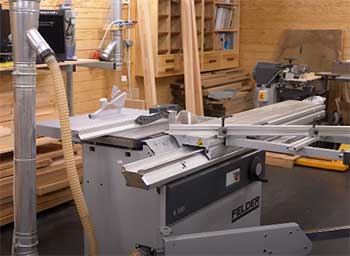 Optional extras are what make a machine a powerful tool to own. Let's be honest: selecting specific accessories is the fun bit of purchasing a new machine.
You can attach a Hammer K3 with a scoring blade. This extension will help reduce tear-out, particularly on fine veneer sheets.
We found that the cut quality of Hammer K3 is quite satisfactory, justifying the upgrade for individuals who regularly work with fine veneers.
Another pro of the Hammer K3 is that you can add dado blades, a feature not always open for European gadgets thanks to the EU rules.
The Felder 500 Series works with dado tooling. Due to its removable table flanges and insert, bespoke Felder dado-tooling can be used.
Numerous extension tables are available too, but not all of them are listed on Hammer or Felder's page. You can find them on their webshop. There are aluminum profile extensions for the back and front, sheet metal extensions, and also the chance of equipping a supporting leg.
Which One Is Better For You?
Now that you know the differences between the fence upgrades, sliding table, outrigger, and more, which machine reigns superior?
There is no one true answer to that question as it depends entirely on your situation and expectations. 
The Hammer K3 is a solid machine until you plan on using it for all-day professional tasks. You should think about which upgrades and specs are more important for you depending on the nature of materials you usually use, your budget, and available space to keep the machine.
If you want to use mostly sheet goods, we find the outrigger table to be a winner, but you have to have more space for it.
Don't forget that a sliding table entails more space in the back and front for the machine to move. The long sliding table and the outrigger table are considered pricier upgrades, so the budget has to be bigger too.
The Felder Series' sliding tables are undoubtedly superior. But they are pricier. Those tools are made for professionals so perhaps not invest in one if you are an amateur woodworker.
But if you do get the Felder, watch how to set it up!
Frequently Asked Questions (FAQs)
Are Sliding Table Saws Safer?
Yes, since the user has to stand parallel to this equipment instead of their blade line.
What is the advantage of a sliding table saw?
A sliding table saw allows you to stabilize the workpiece and turn the table, as a unit, rather than just the piece.
Is a panel saw better than a table saw?
Table saws can be used to cut smaller work planks and boards, but they do not really work with very big sheets, like plywood. In contrast, panel saws are specifically made for big materials like plywood sheets.
Where are Hammer woodworking machines made?
Hammer woodworking machines are made in Austria.
Bottom Line
Choosing from Felder K500 vs. Hammer K3 can be a lengthy decision because the investment is rather large. We find it best to consider your budget before making any decision.
Both sliding table saws are hits in the woodworking community; it's your skills that will decipher which is best suited for you.
Have Fun!