Having a good router table in your woodworking workshop is everything you need to make magic happen. However, it would help if you chose the right router table for your skill level.
For instance, beginner woodworkers would find operating a professional-level router table challenging. Mastergrip provides the best router table for beginners in the game. Curious about how this works?
Check out this review. We'll explore all you should know about it. Let's dig in.
Features of Mastergrip Router Table
This Router Table from Mastergrip is a delight to have. If you're a beginner, this tool has all the features you need to get started.
Keep reading to discover all the features at your fingertips so you'll make the best use of them.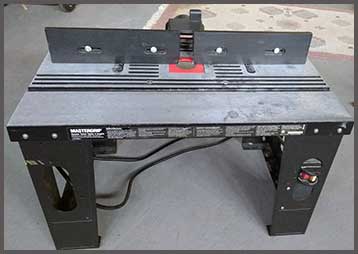 For starters, the Mastergrip table comes in the right size that is compatible with most routers on the market.
But of course, you must check the router table's size and inches before investing in it.
That's the only way to determine if it's right for your router or not.
Some Mastergrip router table models have a total dimension of 24inches in width, 14 1/8 inches in depth, and 17 7/8 inches in height.
You might think it doesn't have the required standard height of 22 inches. But it won't be a problem since it's a beginner and hobbyist router table. The Model 481007 is shorter as it is 13.5 inches tall.
Installing this router table is easy. Since it's for beginners, the installation process is a no-brainer. You might not need a third party to set it up for you. In fact, all you need is in the owner's manual.
Simply follow the instruction highlighted in the manual, and you're good to go. The set-up process is designed sequentially.
That is, you have to get the first stage right to mount the second stage. But that's not a problem. As long as you're careful and thorough with the instruction, you should get the table set for operation in no time.
The best part is that you won't struggle with understanding the manual. It's written in a simple, layman style- no ambiguous grammar.
Although you'll need to assemble the table, that part is easy. Some parts come pre-assembled, like the saw. Feel free to adjust it to your taste.
Most Mastergrip router table models are affordable. Whether you're buying it at Costco, a local store, or a friend, this table always sells at an affordable price.
At most, you might spend $50 on a Mastergrip router table. Since it's a beginner router table, it doesn't have all the complications of a professional-grade table.
Maintaining your Mastergrip router table is another easy part. First, you must understand that you can't maintain it like other brands.
There are some do and don'ts. For starters, you shouldn't use silicone-based lubricant or wax on your saw.
It'll ruin your work by leaving "fisheyes" in them. If you must apply any lubricant, use a dry one. Those are compatible with it.
What Needs Improvement With Mastergrip Router Table?
Although router tables from Mastergrip are useful for woodworking applications, they have minor flaws. Here, I'll show you some of the flaws you'll encounter with the Mastergrip brand and their router table.
Regardless of how great a product is, it's entirely useless if it's not available. For starters, the Mastergrip router table is unavailable on the company's website or Amazon for some reason.
As a result, you're left with buying this product from a neighbor, friend, or third-party vendor. Based on existing Mastergrip forums, there are a few downsides to this.
For starters, you might not get the product new but second-hand. While that's not entirely bad, you might not get the product with a user manual.
Or worse, you might get a Mastergrip router table imitation. As far as imitations go, they won't carry the same value initially carved into the router table.
For instance, you might find that the table won't be compatible with some routers from known brands.
But of course, you can get an original Mastergrip router table from a reliable third-party seller with guidance from a Mastergrip forum.  
When you need parts like the plates for the router attachment or inserts for this Mastergrip table, you might struggle to get them.
Again, since there's no official website for the product, you can't turn to the company for help.
So, you'll either be stranded or left to utilize the information you get from an active and reliable woodworking forum for Mastergrip.
Frequently Asked Question (FAQs)
What is a good size for a router table?
There are many good sizes for a router table. Generally, it would help if you considered router tables whose size runs from 22 inches in length with 16 inches in width to 36 inches in length with 24 inches in width.

You could get router table sizes that fall in between these standard sizes. This is because these router table sizes can conveniently cut boards that are 6 and 8ft in length.
Do router tables fit all routers?
Although some manufacturers mark some of their tables as "universal," it's not entirely the case. It's safe to ensure that your router would fit the router table you're thinking of buying.

If you get your router table right, it'll most likely be all you'll need to execute any woodworking task to your taste skillfully.
Is a router table useful?
If you're a woodworker or trying to get into woodworking, a router table is one of the crucial tools you'll need to create magic in your workshop. It adds speed and precision to cutting your moldings.

You might think having a router alone is good, but getting a router table would make all the difference.
What should I look for in a router table?
There are a couple of factors to look out for in a router table. But first, start with the price. Is it as budget-friendly as it is effective?

Can you afford it? Other features you shouldn't ignore is the size, top material, dust extraction, base, and fences and guards.
Should I buy a router or router table?
It depends on the nature of your woodworking and your professional level. If you work with larger materials that would be difficult for the router table to handle, you should opt for a hand-held router. But if you're a beginner, you should first start with those smaller materials.
Can you put a plunge router on a router table?
Yes, you can. However, some plunge routers are better than others regarding function. Nevertheless, putting a plunge router in a router table is safe, but you'll need to deploy the best safety practice that fits your mechanism.
Conclusion
With all the features explored in this Mastergrip Router Table review, beginners can make the best use of it. Trust me; you'll enjoy using every part of this router table.
It'll become an essential part of your woodworking activities.
The best part is that you won't regret investing in this table. It'll last you long enough to hand it down to a friend or neighbor who's thinking of trying out woodworking.
Have fun!