Cabinetry these days plays a pivotal role in making our kitchen and bathroom functional. There was a time when cabinetry was mainly about functionality.
But now, homeowners look for the perfect balance of style and functionality. Fabuwood cabinets and Kraftmaid are two of those handfuls of brands that have been successful in creating this balance.
While both manufacturers are top-rated in the cabinetry industry, quite a few differences set them apart fundamentally. Today, I'll discuss them in detail so that you can decide which brand will be the better choice for your home.
Quick Comparison Between The Two Cabinets
| | | |
| --- | --- | --- |
| Specifications | Fabuwood | Kraftmaid |
| Material | Plywood made of Oak, Maple, Cherry and Birch | Maple, Oak, Cherry, Alder, fiberwood, hardwood, and plywood |
| Variations | Less variation | More variation |
| Customization | Semi-custom cabinets | Custom, semi-custom and stock cabinets |
| Quality and performance | Good | Excellent |
| Cost | Reasonable | Expensive |
| Warranty | 5 years | Lifetime |
| Availability | Medium | High |
Key Differences Between Kraftmaid And Fabuwood Cabinets
Now that you have a primary idea about these two brands let's go into the details and discuss them from different perspectives.
Material is undoubtedly an important consideration when you purchase cabinetry. Some might say the material is all about durability.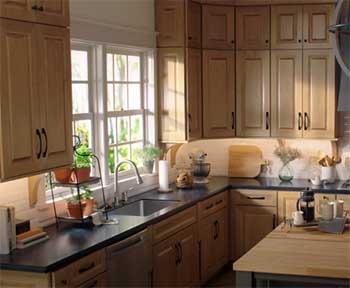 But in reality, the material determines much more than that. In the materials segment, both Fabuwood and
Kraftmaid comes toe to toe with wide variations of wood.
Both brands offer some common woods, like maple, oak, and cherry.
However, Kraftmaid seems to extend the variation by adding Alder and fiberwood.
This addition allows the user to have a new color shade and texture on their cabinets.
Aside from the number of options, every material offered by both brands is top-notch and makes the highest quality cabinets.
When you take a deeper look and figure out how famous or older a brand is, you get to know if it's okay to trust it or not.
By keeping the same thought in mind, Fabuwood is indeed a high-end brand, but it is not as much older as Kraftmaid is.
Fabuwood started its operations in 2009, and it is counted among some of the most affordable kitchen cabinet brands around the world.
They are selling some good quality cabinets at a very fair price. On the other hand, Kraftmaid is an older and more popular brand that came in 1969.
Since then, they have had thousands of happy customers, and their Cabinets are bought at a great deal. Yet, Kraftmaid is an expensive brand.
Variations allow the users to select different aspects of the cabinets individually. In that segment, Kraftmaid seems to get the upper hand over Fabuwood.
Whether on the Kraftmaid website or dealer shop, you can purchase by door style, color, kitchen style, accessories, and hardware.
You are allowed to decide upon each part of their cabinetry. This way, you get a better opportunity to make your dream cabinetry setup into reality.
On the other hand, Fabuwood offers less variation with options to select just door styles, accessories, and hoods. Fabuwood might not be the best choice for you if you plan to make your design.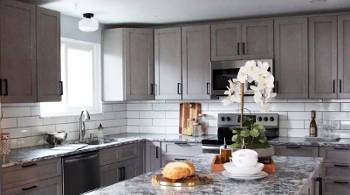 Installing cabinets in your bathroom and kitchen is not just about making the best use of your space.
It's also an opportunity to give these spaces a new look and put a personal touch on them.
That's why customization opportunities play a massive role when installing cabinets.
In the customization department, Kraftmaid offers better opportunities compared to Fabuwood. You can choose between fully customized, semi-custom or stock cabinet setups with Kraftmaid.
On the other hand, the opportunity is limited to semi-custom cabinets with Fabuwood. Even in the semi-custom department, Karftmaid offers custom options to dictate the look of your cabinet.
Both Fabuwood and Kraftmaid are very popular cabinetry solutions in the USA. Undoubtedly, their quality and performance have brought them here in the first place.
Though they performed pretty close in this segment, Kraftmaid still got a slight lead.
Fabuwood cabinets are made of plywood with all the high-end wood options. On top of that, there are exotic designs, stock options, a durable frame, soft-close drawers, premium hardware, and metal shelf clips.
All these features make Fabuwood cabinets an appealing choice on the market.
On the other hand, Kraftsmaid offers more practical solutions to make the user experience convenient. Sturdy construction, adjustable shelves, heavy-duty drawer slides, and lastly, DURAKRAFT PLUS finishing system.
Combined with these features, Kraftmaid offers slightly better quality and performance than Fabuwood.
We've seen some people complaining regarding the quality and durability of Fabuwood Cabinets, which is a sure thing for a brand like this.
However, their products are made to stand extra durable and can be used for longer needs. Yet, they are not as durable as Kraftmaid cabinets.
Kraftmaid cabinets are comparatively more solid and work for longer periods.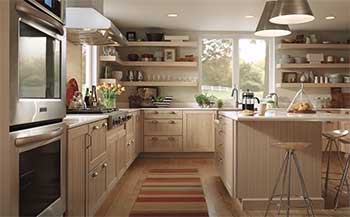 This is one aspect where Fabuwood has an undisputed win. As of now, Fabuwood seems to fall behind in every sector.
But in the pricing department, Fabuwood hits it out of the park with 15 – 30% less price than Kraftmaid.
If you want the exact number, you should contact both brands to get a quote free and see how much you can save.
If you are planning a massive project where your budget can get stretched, Fabuwood can be a lifesaver for you.
Both Fabuwood and Kraftmaid have made a name for themselves with reliability. However, the warranty from these brands adds an extra layer of security and ensures product quality.
It's proof of confidence from the brand in the product. From what it seems, Kraftmaid has more confidence with a limited lifetime warranty. On the other hand, Fabuwood offers a warranty of 5 years with their product.
Consistent availability is essential so that users around the country can get a taste of the product. In that regard, both brands offer online and offline purchases through their dealers and website.
However, Kraftmaid has a partnership with two of the biggest retailers, Lowe's and Home Depot, which helps it make the mark better on the map. On the other hand, Fabuwood has partnerships with regional and local dealers across the USA.
Which One do People recommend More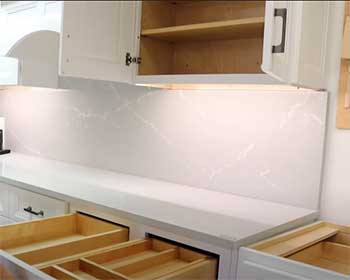 Fabuwood has a win over Kraftmaid when it comes to extra affordability.
The brand sells cabinets under your desired budget.
But even if it is this cheaper, it cannot win over the reputation that Kraftmaid has made over the years.
They say that Kraftmaid is one of those top sellers in the industry, providing some heavy-duty and premium cabinets for longer usage.
Therefore, we can say that Kraftmaid is highly recommended by people who love to have premium products in their homes. At the same time, Fabuwood has fewer recommendations, even if it's a cheaper brand.
Since Kraftmaid is a giant brand, you can expect some negligence, slow responses, or slow services from their customer support.
And that's true because I've seen people complaining about this thing. In contrast, Fabuwood wins when providing the most reliable customer service.
They are very quick and reply instantly. Plus, they are good at solving your problems related to your recent or earlier purchase.
Hence, both brands are completely different and have different customer values. So, it would be easier to consider which is right for your next purchase of Kitchen Cabinets.
Which One Will Be The Best Fit For Your House?
After the comparison, it's time to decide which brand will be the best for your house. The answer is pretty clear from the discussion above.
Cabinets are all about making the best use of your space and uplifting the beauty, and Kraftmaid is the better-qualified candidate from every aspect other than price.
Whether variations, customization, or warranty, Kratftmaid has the upper hand to make your dream cabinet setup a reality. Here is another comparison table between the two for you!
| | | |
| --- | --- | --- |
| Features | Fabuwood Cabinets | Kraftmaid Cabinets |
| Brand's Popularity | They have been operating since 2009 | They have been operating since 1969 |
| Which one is more recommended by people | Standard Recommendations | Higher Recommendations |
| Cabinets Durability | Standard | Excellent |
| Customer Service | Appealingly Greater | May face problems sometimes |
Frequently Asked Questions (FAQs)
Are Fabuwood cabinets suitable?
Fabuwood is one of the best cabinet manufacturers out there. Their quality and value for money speak for them. There are excellent designs in the lineup, and Fabuwood can be a considerable price cost saver if you plan a large project. However, don't let the cost fool you, as you'll appreciate the durability too once you get to use it.
What kind of wood does Fabuwood use?
Fabuwood cabinets are available in different designs, styles, and price ranges. If you are wondering how that's possible, it's because the manufacturer uses different types of wood from oak, maple walnut, birch, or even plywood too. This variety of wood allows Fabuwood to offer a wide price range.
What is the best kitchen cabinet brand?
There are no absolute best kitchen cabinet brands, to be honest. Different brands specialize in various factors. So, the best individual varies from man to man. However, if I have to pick a brand that comes close, it's Kraftmaid. Their semi-custom cabinets are available all over the USA in different colors and wood choices to suit everyone's preferences.
How expensive are Fabuwood cabinets?
It's hard to say a fixed price since there are a ton of factors that come into play to determine it. Typically, each brand estimates how much it'll cost to decorate your kitchen and bathroom, depending on your chosen design and finishes. If you compare it with other brands, Fabuwood's price can come as low as half of what other brands cost.
Final Thought
That's a wrap for today. Hopefully, my comparison between Fabuwood vs. Kraftmaid successfully points out the differences between these brands.
Don't get me wrong; both brands are immensely popular with a massive user base across the USA. However, you should purchase the best for you by comparing various aspects and your necessity.