When it's about the budget remodeling of your kitchen, Schuler cabinets vs. Kraftmaid is a debate you are bound to come across. The main difference between them is the pricing.
Kraftmaid cabinets tend to be a bit cheaper than Schuler cabinets. Another difference is that Schuler comes with a better finish on them compared to Kraftmaid.
Now, aside from these two crucial differences, there might also be some little differences you may want to consider. That's why it's best to dive deeper into the comparison to find out more about the two cabinet choices.
Let's not waste any more time and get straight into it.
A Quick Comparison Table
| | | |
| --- | --- | --- |
| Specifications | Schuler Cabinets | Kraftmaid Cabinets |
| Finish | Excellent | Decent |
| Pricing | Higher | Lower |
| Strength | Very strong | Reliable |
| Availability | Low | High |
| Longevity | Not the best | Excellent |
Key Differences Between Schuler And Kraftmaid Cabinets
One of the key considerations to getting cabinets for your kitchen has to be the final finish. The finish defines how good or bad the cabinet will look in your kitchen.
And trust me, looks matter a lot.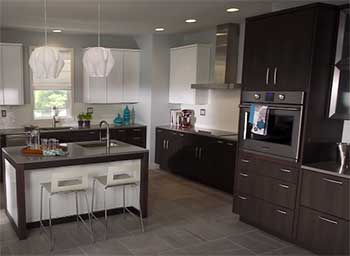 After going through plenty of discussions, I can say Schuler cabinets have the best finishes out of the two options.
They tend to have that premium vibe on their cabinet finish, giving off a pretty attractive appearance.
It just elevates the look of your kitchen a lot.
When you compare Kraftmaid finishes with that, you will surely notice the difference in finish quality.
I am not saying Kraftmaid's finishes are bad, but Schuler is a better option to pick for a finish.
You know which the perfect one is when you look at the cabinets in person.
Let's get real, and kitchen remodeling doesn't come cheap. You will have to spend a good amount of money on the whole thing to get satisfactory results.
But still, with the pricing factor in mind, you can save up some money when you go with one of the two choices here.
While Schuler cabinets take away the cake easily in terms of the finishing, Kraftmaids boast about their pricing. Kraftmaid cabinets come in at much cheaper pricing compared to Schuler.
But they don't compromise on the quality too much, either.
So, if you are thinking of saving up some bucks on your kitchen remodeling, then Kraftmaids is the way to go over Schuler. You won't even have to think twice about that.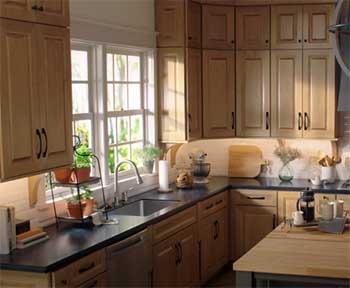 Well, cabinet strength surely means a lot when you are going for a remodel of your kitchen.
But this factor may be tough to consider regarding the two choices we are discussing here because both are quite strong.
For starters, Schuler provides a very strong construction with their pocket hole screw design.
As for Kraftmaids, they use pretty strong wood for making their cabinets.
The design they follow for the construction is also pretty impressive.
If I had to pick between the two, I would go with Schuler, as most people did. They have better rigidity and heavy-duty construction in comparison.
Availability Of The Cabinets On Store
Now, let's talk about the availability of these cabinets. However, it doesn't matter too much in terms of how the cabinets perform or what result you get from them.
But when buying the cabinets, the availability is surely a concern.
I have to say, when you think about the availability, Kraftmaid is a better pick. Because they are available in most of the physical stores, especially at Lowe's, but when you try to get Schuler, you might not find the options you want for your home.
So, you may sometimes struggle with finding the perfect choices or designs from Schuler when you look into the different stores. With Kraftmaid, you don't have to worry too much about that.
Don't confuse the longevity factor with the strength of the cabinets. Here, the longevity of the cabinets means how long does the finish last on the cabinets.
Do you already know that Schuler has a better-looking finish, but is it long-lasting? I am afraid the answer is no. Some Schuler cabinets will wear out after a few years of use.
On the other hand, this doesn't happen too often with Kraftmaid cabinets; even though they may not be as good-looking as Schuler, the finishes sometimes last way longer.
So, you can rely more on the finish of Kraftmaid compared to Schuler.
Which Cabinet Is A Better Pick For You?
The whole discussion boils down to only one factor, which one should you pick for your kitchen remodel? Well, it all depends on what you are looking to get out of the remodel.
If you plan to get the best look from remodeling, there is no better pick than Schuler. Also, they come with better strength than any other kitchen cabinets.
But if you are planning to get a remodel on a budget and want something easy to find, Kraftmaid might be the thing for you.
So, you must sort your priorities and find out what you want from the cabinets. Once you do that, you will find the perfect pick for your home.
Frequently Asked Question (FAQ)
Are Schuler cabinets solid wood?
Yes, Schuler cabinets are solid wood cabinets. That's a prime reason for getting a strong construction in these cabinets.
What are Schuler cabinets made of?
Most Schuler cabinets are made of solid wood, and some of the options you find are also plywood.
Which cabinet brand is best?
The best brand for kitchen cabinets is Kraftmaid when you consider pricing, quality, and durability.
Are Schuler cabinets made in the USA?
Yes, Schuler cabinets are made in the USA.
Conclusion
Wrapping things up with the comparison, Schuler cabinets vs. Kraftmaid will always take you down to the wire while choosing one. It's about the personal preferences you set for your kitchen cabinets.
Whether you are after the looks, the quality, or the price will determine the option you pick.
For looks, it's always going to be Schuler. But for overall quality and performance within a budget, pricing Kraftmaid tends to be the top choice.