Engage Inception 120 is a high-quality flooring option for residential and commercial use. Read my Engage Inception 120 flooring reviews and see why it is a pretty good option for your floor.
From installing new floors to remodeling, Engage Inception 120 flooring plank can be -your go-to option. Here, we will see the superior features and determine why people install these in their homes and commercial properties.
You'll see some cons as well. Let's take this show on the road.
Features of Engage Inception 120 Flooring

Great features make a product better. Engage Inception 120-floor planks to offer many superior features, making it an unavoidable option for flooring just like Engage Inception 200 flooring.
Knowing these features will help you determine why you should put your effort and money into it. Here are some features of Engage Inception 120 flooring:
A Great Choice of Flooring
Engage Inception 120 is a Solid Polymer Composite or SPC floor that incorporates the latest technology, innovation, and design. They are multi-layer, waterproof, and have rigid core flooring planks.
Most importantly, it is a durable yet value-for-money rigid core LVT flooring option for many people. You will get a solid and durable flooring solution at an affordable price.
Besides, they offer many additional benefits that you expect from any good brand.
Design versatility is one of the reasons you should choose Engage Inception flooring. A combination of beauty and durability makes it unparalleled to other floorings.
You will get the durability of an LVT and the raw beauty of hardwood together in this SPC flooring plank.
It is an excellent choice for multi-family installation. Besides, you can install them in wet areas like your bathroom, kitchen, basement, laundry rooms, etc.
The good thing about this flooring plank is that you won't need expansion gaps for large installations every 30 feet.
A Solid Core Flooring Technology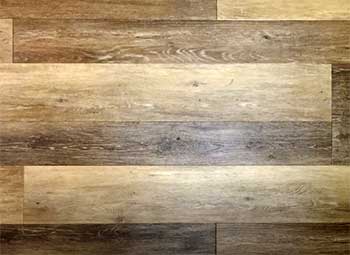 We already know Engage Inception 120 flooring comes with solid core flooring technology.
It is a sturdy and rigid flooring with a stable dimension.
You can install it on most hard surface floors like ceramic tiles and others. Besides, they are entirely waterproof.
You won't need to acquire any acclimation to install Engage Inception 120 flooring planks in your home.
Most importantly, you will not have any telegraphing because of minor subfloor issues.
Engage Inception 120 Flooring features an easy installation with Droplock 100 Locking system. You will get an easy, fast, and floating glueless installation.
Its superior locking technology will provide a tight lock fitting your planks perfectly on your flooring surface.
In addition, you can use it with subfloor radiant heat. So, you can see that installing this flooring plank is relatively easy.
You won't have to glue them on your surface. Set them on your floor with a floating installation.
An Ultimate Surface Protection & Low Maintenance
You will get excellent abrasion protection from Engage Inception 120 flooring planks. Their stain-repellent technology offers easy clean-up and simple maintenance and won't require surface treatment or waxing.
Dust, mop, and vacuum for daily cleaning. You can damp-mop them once in a while. Use a floor cleaner to damp clean your Inception 120 floor effectively. Using mats at the entrances can go a long way to keep your floors clean.
There are premium quality foams attached to underlayment for added benefits. They drastically improve sound absorption capability and offer a quieter environment inside your home. They also help reduce transmitted sound.
On top of that, you will get warm and comfortable flooring to walk on. Inception 120 floorings can take a lot of stress and foot traffic.
Besides, you won't feel any fatigue and stress while walking on these floors. It will also conceal and hide all subfloor imperfections. 
With many available color options, you can easily choose your desired Engage Inception 120 flooring planks. There are 13 colors available, to be precise. They are:
Armor, Bee Hive, Channel, Chinchilla, Gunstock Oak, Timber, Mercury, Metropolis, Oxidized, Ridgeback, River Bank, Sugar Wooden Maple, and Toasted Maple. Any one of these colors will make your entire house look lovely.
All Engage Inception 120 flooring planks are 7.08 inches in width and 47.64 inches in length. Besides, they offer 0.197 inches thickness with 4 mm SPC and 1 mm Pad.
Each case holds 10 pieces of planks. You can cover up to 23.44 square feet of surface per case. Because of angle locking and pre-attached underlayment, you can easily install them on your floor without the hassle of glue.
Watch more about this flooring in this video.
Metroflor Corporation, the Engage Inception 120 floors manufacturer, offers two types of warranty for these flooring planks. One is for residential use, and the other is for commercial use.
You will get 25 years Warranty for residential use and 10 years warranty for commercial use. In both cases, it's a pretty good warranty term to have with your flooring.
Price is another crucial aspect you should consider before buying any flooring option. Engage Inception 120 flooring planks to come with around a $3.19 price tag per square foot.
There are many cheaper price flooring options available in the market. But you have to consider the quality and benefits you will receive from this hardwood-like LVT flooring option.
What Could Have Been Better With Engage Inception 120 Flooring?
While Engage Inception Flooring has many superior benefits, there are some downsides. Here we will see some of the cons of these quality-full flooring planks that should be addressed and improved.
Perhaps size is a problem with most available flooring planks. Most flooring brands offer only one size of planks.
Metroflor Corporation can use it and turn it into a competitive advantage by introducing more plank sizes.
Multiple sizes will attract more people and allow them to buy a size according to their requirements. People will see through the benefits.
Although you get many good features and added benefits at this price point, many people think it's overpriced. So, lowering the price will bring many other customers looking for flooring planks at slightly lower prices.
Frequently Asked Question (FAQ)
Who makes Engage Inception?
Engage Inception is a high-quality LVT flooring plank with innovative design and superior quality. Metroflor Corporation manufactures and sells Engage Inception floorings. It has even launched a separate retail showroom for displaying Engage Inception SPC floorings.
Which brand is best for vinyl plank flooring?
A lot of brands produce vinyl plank flooring. Proximity Mills, Shaw, Mohawk, Armstrong, Karndean, COREtec, etc., are the most famous and provide the best.
How do I clean my engage floor in Inception?
Cleaning Engage Inception floor is easy. Simply dust it, wipe it and vacuum it to clean. You can also damp-wipe when necessary.
Which is better vinyl or SPC flooring?
SPC is better than vinyl because it has a stone and plastic composite core and can take a heavy traffic load.
Conclusion
Engage Inception flooring planks are a strong and durable option for your home. After reading my Engage Inception 120 flooring reviews, I hope you will completely agree with me.
After a comprehensive discussion, it's clear that Engage Inception planks are worthy of your chance, even though they have some cons too. But I hope you will ignore these cons and install Engage Inception for a better result.