Your house deserves a nice-looking floor that will be strong and durable. That's why you should try this in-depth Engage Inception 200 flooring reviews. Because here, I'll discuss everything about this excellent flooring plank.
In order to choose the right flooring, you need to know the ins and outs of that product. So, go through this article, and you'll know why I'm recommending it to you.
Features of Engage Inception 200 Flooring

Looking at the features of Inception 200 flooring, you'll find many unique ones. They make this flooring plank stand out from others. Here are some of the features of Inceptions 200 flooring:
An Excellent Flooring Option
As a multi-layer, waterproof LVT floor, Engage Inception 200 is a Solid Polymer Composite or SPC floor with the latest technology, innovation, and design.
Most importantly, it's an excellent value-for-money flooring option. Plus, it comes with many benefits you expect from high-quality flooring planks.
Engage Inception 200 flooring combines beauty and durability, making it an unbeatable LVT flooring option. Most importantly, it offers the durability of an LVT and the beauty of hardwood.
You can install it in multi-family buildings. Besides, they work excellently in wet areas like your bathroom, kitchen, laundry rooms, basement, etc. You won't need expansion gaps after 30 feet in larger installation areas.
A Rigid Flooring Technology
A solid core flooring technology offers sturdy and rigid flooring with a stable dimension for Engage Inception 200 flooring planks. Besides, this flooring is compatible with all types of hardwood and moisture-prone areas.
You won't get any telegraphing from minor subfloor issues—besides, no need to acquire any acclimation to install this plank in your home.
You will be able to install your Engage Inception 200 Flooring planks quite easily because of the Droplock 100 Locking system. It features a fast, easy, floating installation with a glueless operation.
You can perfectly fit Inception 200 flooring planks on your surface and lock them ideally using superior locking technology. Besides, you can use them with subfloor radiant heat.
Most importantly, you won't have to glue them to your floor.
Low Maintenance & Surface Protection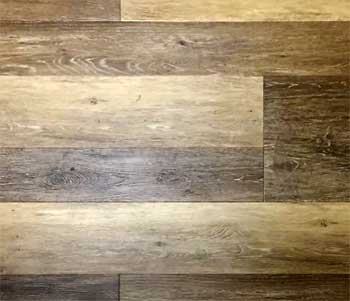 Engage Inception 200 flooring is easy maintenance. You can easily clean up because of its stain-repellent technology.
Plus, it offers excellent abrasion protection. With easy clean-up, it won't require surface treatment or waxing.
Just dust, mop, or vacuum them for regular cleaning. Use a damp mop for cleaning once in a while.
A floor cleaner will clean your Inception 200 floor efficiently.
Place some mats at your entrances to keep your floors clean.
You will get a lot of color options for Inception 200 floors. There are 11 available colors, to be precise. Choose one that goes with your house interior.
Here are the 11 colors available for the Inception 200 flooring:
White, Grey, Taupe, Neutral, Brown, Yellow or Gold, Multi-Tone, Green, Amber or Orange, Red, and Blue. Every one of them will make your house look eye-soothing.
If you need more, you should check out their Engage Inception 120 flooring as well!
An Engage Inception 200 flooring plank is 8.66 inches in width and 37.84 inches in length. Besides, they offer 0.205 inches thickness with 4.2 mm SPC and 1 mm Pad.
You will get 6 pieces of planks per box. A box can cover up to 21.45 square feet of area. Pre-attached underlayment and angle locking will allow you to quickly install this plank on your floor.
Metroflor Corporation is the manufacturer of Engage Inception 200 floorings. It offers two types of warranty for this flooring.
One is a residential warranty, and the other is a commercial warranty.  
Inception 200 flooring comes with a Lifetime Warranty for residential use. But you will get a 15 years' warranty for commercial use.
However, you can confidently purchase this flooring in both cases, knowing that they are covered well by warranties. 
Price always plays a vital role in product selection. That's why you must check prices before buying anything. Engage Inception 200 flooring plank comes at a price point of $3.38 per square foot.
There are mixed feelings about the price among most users. Some think it's a fair price, and some don't.
What Could Have Been Better With Engage Inception 200 Flooring?
With all those features and benefits, Engage Inception 200 flooring planks have some drawbacks that can be improved. So, let's check them out.
You might think that $3.38 per square foot is already lower enough, but other similar quality floorings are available at a lower price. Dropping the price will go a long way in winning many customers' hearts.
So, the manufacturer should allocate their focus on the price and lower them as much as possible.
Everybody wants to buy flooring with sumptuous textures and designs. Engage Inception offers natural wood-like textures. But offering a few extra textures will be appreciated by many people.
Metroflor Corporation should invest more resources to bring new and innovative designs for Inception 200 floors.
Frequently Asked Question (FAQ)
Who makes engage inception?
Engage Inception is a superior SPC flooring plank collection by Metroflor Corporation. It produces this LVT flooring collection with innovative design and superior quality. A retail showroom has been opened for displaying Engage Inception SPC floorings.
Which is better vinyl or SPC flooring?
SPC is better than vinyl in many ways. It has a stone-plastic composite core that takes heavy foot traffic load and lasts for a more extended period.
How long does vinyl click flooring last?
Vinyl click floorings are solid and durable. Install them properly, and they will last for 15 to 20 years.
Is luxury vinyl plank flooring a good investment?
Luxury vinyl plank flooring is a good investment because it looks excellent, lasts longer, and fulfills your expectations. 
Conclusion
After reading my Engage Inception 200 flooring reviews, I'm sure you are now convinced that this can be a pretty good option for your house.
Whether you want to remodel your floor or install a floor in your new home, it can be your go-to option. So, go ahead and install this floor in your house. In the future, you will be glad that you did.