If you're searching for new floors, you've probably come across two popular luxury vinyl plank (LVP) brands: COREtec and CoreLuxe. Both offer durable, waterproof flooring perfect for any room in your home. But what are the key differences and which is better?
In this guide, we'll compare COREtec vs CoreLuxe flooring to help you decide which fits your home and lifestyle. We'll cover the pros, cons, costs, styles, warranties and more so you can make an informed decision.
Let's dive in!
A Brief Comparison Table
| | | |
| --- | --- | --- |
| Feature | COREtec | CoreLuxe |
| Wear Layer Thickness | 12-20 mil | 30 mil |
| Visuals | Embossed-in-register | TruGrain layered imaging |
| Underlayment | 1mm EVA foam | 2mm cork |
| Warranty | Lifetime residential, 10-15 years commercial | Lifetime residential, 10 years commercial |
| Price | $2-$4 per sq. ft. materials, $3-$5 installed | $4-$6 per sq. ft. materials, $5-$7 installed |
| Styles | Wide variety of wood, stone and exotic visuals | Mainly oak and hickory wood looks |
| Durability | Durable and scratch resistant | Extremely durable, enhanced scratch resistance |
| Sound Insulation | Good | Excellent |
| Availability | Sold online and in home improvement stores | Primarily available through flooring retailers |
Overview of COREtec Flooring
COREtec flooring is manufactured by US Floors, the largest supplier of luxury vinyl flooring in the world. Their COREtec line features a dense composite core layer made of virgin vinyl and limestone. This core gives COREtec planks exceptional durability, stain, scratch and dent resistance.
COREtec comes in two main collections: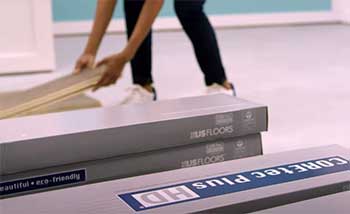 Original COREtec – Features a 12 mil wear layer and embossed-in-register texture. Comes in various wood looks like oak, hickory and exotic species.
COREtec Plus – Has an enhanced 20 mil wear layer for extra durability. Includes realistic stone and wood visuals like slate, maple and hickory.
COREtec vinyl planks are 100% waterproof, kid and pet-friendly and have attached underlayment for easy floating installation.
Planks click together easily thanks to the Uniclic locking system.
COREtec flooring is backed by a lifetime residential warranty and a 10-15 year light commercial warranty. It provides great value for the price.
Overview of CoreLuxe Flooring
CoreLuxe vinyl plank flooring is produced by US Floors as a premium line above COREtec. It features the same limestone composite core but with enhanced construction and visuals.
Some key features of CoreLuxe floors:
30 mil commercial-grade wear layer for heavy traffic areas
TruGrain layered imaging creating extremely realistic wood looks
V-beveled edges that replicate the look of authentic hardwood
Attached cork underlayment for noise reduction
Lifetime residential/10 year commercial warranty
CoreLuxe planks are waterproof, kid and pet friendly and offer easy floating click-lock installation. They come in popular wood species like oak, hickory, elm and exotic looks.
Overall, CoreLuxe provides a step up in durability, visuals and underfoot feel from standard COREtec floors. The premium construction makes it ideal for households with children or large pets.
Main Differences Between COREtec and CoreLuxe Flooring
While COREtec and CoreLuxe share similar construction, there are some notable differences: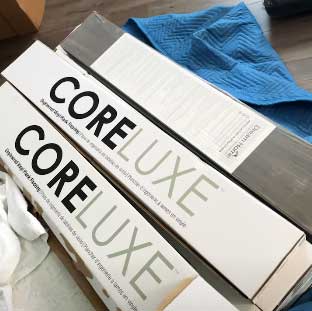 Wear Layer Thickness – CoreLuxe has an enhanced 30 mil wear layer, 50% thicker than COREtec's 20 mil layer. This adds to its durability.
Visuals – CoreLuxe uses layered TruGrain imaging for more realistic wood looks compared to COREtec's printed visuals.
Underlayment – CoreLuxe features 2mm cork underlayment while COREtec has 1mm EVA foam. Cork helps absorb sound better.
Warranty – CoreLuxe includes a lifetime residential and 10 year light commercial warranty. COREtec has 10-15 years light commercial coverage.
Price – As a premium line, CoreLuxe costs $1-3 more per square foot than COREtec on average.
So in summary, CoreLuxe is the upgraded option from COREtec with enhanced construction, visuals, underfoot feel and sound insulation. But COREtec provides great quality and value for budget-friendly projects.
COREtec Flooring Pros
COREtec floors offer homeowners many benefits:
Affordable – COREtec is very competitively priced, costing $2-5 per square foot installed depending on the product line. This makes it budget-friendly.
Durable – The limestone composite core and thick 12-20 mil top layer allow COREtec to withstand heavy foot traffic, rowdy pets and active kids.
Waterproof – COREtec vinyl won't swell or warp when exposed to spills or leaks. Excellent for kitchens, bathrooms and basements.
Easy Installation – COREtec click-locks together quickly thanks to the Uniclic system. No messy glue or nails required.
Comfortable – ATTIXA underlayment is pre-attached to COREtec planks for cushioned comfort underfoot.
Stylish Wood Looks – COREtec comes in realistic oak, hickory, exotic species and stone styles to match any décor.
For homeowners wanting durable, waterproof flooring on a budget, COREtec hits the mark on quality and affordability.
COREtec Flooring Cons
While very versatile, COREtec does have a few limitations to consider:
Prone to Scratches – The wear layer is susceptible to scratches from pet nails, furniture movement or abrasive dirt.
Limited Texture – The embossing mimics wood grain but has a smoother and more repetitive pattern than authentic hardwood.
Not Entirely Soundproof – Noise from upper floors can transmit through to some degree, though insulation helps.
VOCs during Initial Period – Some off-gassing occurs at first as with many vinyl floors. Open windows to ventilate.
Not for Moist Areas – COREtec isn't suitable for saunas, showers or outdoor use. Limit to indoor dry spaces only.
Overall though, COREtec provides excellent durability for the cost. Preventing scratches and using sound insulation can help overcome the main drawbacks.
CoreLuxe Flooring Pros
For those seeking ultra-premium vinyl plank flooring, CoreLuxe offers outstanding benefits:
Supreme Durability – The 30 mil commercial-grade wear layer prevents dents and can last decades even in heavy traffic.
TruGrain Imaging – CoreLuxe recreates realistic hardwood details better than embossing or printing alone can achieve.
Excellent Sound Insulation – 2mm cork underlayment and dense composition block noise transfer very effectively.
Resists Water, Stains, Scratches – CoreLuxe has top of the line waterproof protection and scratch resistance.
No Adhesives or Acclimation – CoreLuxe floats over floors and requires no glue. Installation is fast and easy.
Beautiful Finishes – From weathered paintbrush oak to natural hickory, CoreLuxe offers gorgeous luxury looks.
For those who want the very best in visuals, soundproofing, and durability, CoreLuxe is an outstanding choice.
CoreLuxe Flooring Cons
As a premium product, CoreLuxe does come with a few tradeoffs:
Higher Price Point – At $4-7 per square foot installed, CoreLuxe costs $1-3 more than COREtec on average. It's a meaningful upcharge.
Heavier Planks – The layered construction makes CoreLuxe planks thicker and heavier than standard LVP. Take care when lifting and moving them.
Unique Styles Only – CoreLuxe provides more limited style options compared to other vinyl plank brands. Most looks mimic oak or hickory only.
Uses Virgin Vinyl – Their planks don't contain recycled vinyl content, for those seeking eco-friendly materials.
Overall the higher cost of CoreLuxe may make it prohibitive for some budgets. But for those able to spend more, the enhanced features and phenomenal durability justify the investment.
Cost Comparison
How much more does CoreLuxe vinyl plank flooring cost versus COREtec? Here is a typical cost per square foot breakdown:
COREtec Planks – $2-$4 per square foot for materials. $3-$5 per square foot installed.
CoreLuxe Planks – $4-$6 per square foot for materials. $5-$7 installed.
So you can expect to spend around $1-3 more per square foot for CoreLuxe over comparable COREtec floors. Keep in mind regional labor rates impact total installed costs as well.
Of course, prices vary between product lines and styles too. You can find some overlap between premium COREtec and lower-end CoreLuxe options. Always compare specs between specific products of interest.
Overall CoreLuxe does demand a meaningful premium. But many homeowners find the bump in durability and performance worth the extra investment.
Ease of Installation
COREtec and CoreLuxe floors both feature user-friendly Uniclic click-lock mechanisms for DIY-friendly floating installation. Just follow these basic steps:
Thoroughly clean and level the subfloor. Fill any cracks or holes.
Roll out underlayment if not pre-attached.
Click the end joints of the first row together, aligning evenly. Use spacers along the walls.
Connect the short ends together for a tight seamless fit.
Continue row by row until covering the entire room.
Finish by swapping floor vents, trim and transitions.
The process is straightforward enough for homeowners to install COREtec or CoreLuxe themselves over a weekend. But for large rooms, many people still prefer to hire a professional installer for convenience.
Either way, COREtec and CoreLuxe provide an excellent floating floor solution that's much faster to install than glue-down products. Just take care lifting the planks to avoid back strain – CoreLuxe planks in particular can be heavy.
Style and Visual Options
When it comes to appearance, CoreLuxe wins out over COREtec for realism and detail. Here's an overview:
COREtec Styles
Realistic oak, exotic, and stone visuals
Embossed-in-register texture
Single print layer methods
CoreLuxe Styles
TruGrain layered imaging technology
Distressed paintbrush oak, weathered barnwood, sawn cut hickory
V-beveled edges for authenticity
While COREtec offers a wide array of wood and stone looks, the embossing lacks fine detail and repetition is noticeable. CoreLuxe recreates depth, grain variation and saw marks for extremely convincing hardwood mimics.
However, COREtec provides far more color options. CoreLuxe focuses mainly on traditional oak and hickory tones.
So weigh your priorities – CoreLuxe for maximum realism or COREtec for wider design flexibility.
Warranties
COREtec and CoreLuxe are backed by similar warranties but with slight differences in coverage duration:
COREtec Warranty
Lifetime limited residential
10-15 years light commercial
CoreLuxe Warranty
Lifetime limited residential
10 years light commercial
So CoreLuxe matches COREtec for residential but offers less years commercially – 10 versus 10-15 for COREtec.
Both warranties cover manufacturer defects but not improper installation or accidents. Contact the manufacturer for full terms and conditions.
Overall, both COREtec and CoreLuxe back their products against early failure or flaws as expected with premium vinyl plank flooring.
Frequently Asked Questions (FAQ)
Is CoreLuxe the same as COREtec?
No, CoreLuxe is a higher-end product line by USFloors above the standard COREtec offering. It has enhanced construction and more realistic visuals.
What flooring is similar to COREtec?
Some top vinyl plank brands comparable to COREtec are LifeProof, SmartCore Ultra and Mohawk RevWood. They offer similar composite cores and thick wear layers at lower price points.
What thickness of vinyl plank flooring is best?
For residential use, 5-6 mm (0.2-0.3 inches) provides ideal durability and authentic visuals. Go with 8 mm for commercial settings. Anything under 4 mm is lower quality and more likely to dent or warp.
What type of vinyl flooring is the most durable?
Luxury vinyl plank flooring offers the best durability thanks to the rigid composite core and thick urethane topcoat. Brands like COREtec and CoreLuxe last for decades even in high traffic when properly installed.
The Verdict
So which brand is better for your new floors?
For most homeowners, COREtec is the best overall value. COREtec provides excellent durability, easy installation and realistic wood looks at very affordable prices. There are more color choices too. It performs incredibly well for the cost.
However, if your budget allows, CoreLuxe is a smart investment. The upgraded construction offers even better scratch, dent and stain resistance. Noise insulation is top-notch.
And the unique TruGrain layered imaging recreates wood visuals with unparalleled realism.
Overall, you can't go wrong with either of these exceptional vinyl plank flooring options. Just be sure to compare the specs and features that matter most for your home and lifestyle.
Weigh the durability, sound insulation, appearance, warranty and pricing to make the ideal decision.
Hopefully this detailed COREtec vs CoreLuxe comparison gives you the insights you need to pick the perfect vinyl plank floors. For affordable durability, COREtec is hard to beat. But for the ultimate in luxury design and performance, CoreLuxe shines.