If you're in the market for new floors, you may be wondering whether to go with rigid HDPC (high density polymer composite) or flexible LVP (luxury vinyl plank). Both flooring options have their pros and cons when it comes to appearance, durability, comfort, maintenance, and cost.
This comprehensive guide examines the key differences between HDPC and LVP flooring to help you decide which is better suited for your home.
A Brief Comparison Table
| | | |
| --- | --- | --- |
| Feature | HDPC | LVP |
| Cost | $$$ Higher starting cost per sq.ft installed | $ More budget friendly, lower material costs |
| Durability | Very durable, highly scratch resistant | Moderate durability, more prone to scratching |
| Waterproofing | 100% waterproof through the core | Water-resistant, but seams can leak over time |
| Installation | Floats or glue-down | Easy floating click-together |
| Comfort | Hard, firm feel underfoot | Soft, bouncy, more comfortable |
| Noise | Noisy, amplifies footsteps | Quiet, absorbs impact noise |
| Repairs | Difficult, may need plank replacement | Easier to replace individual planks |
| Styles | Realistic wood looks | Extensive wood, tile, and stone visuals |
| Environmental | Limestone layer not as eco-friendly | Generally use more recycled materials |
HDPC Flooring Overview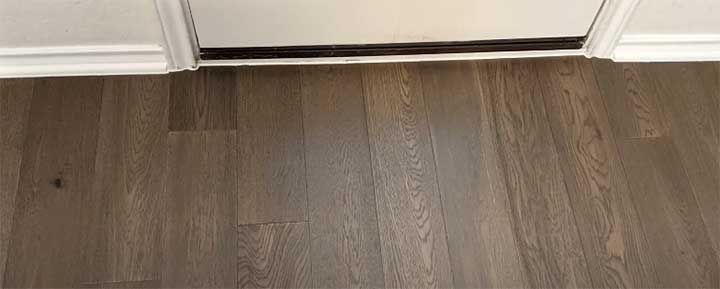 HDPC flooring, also known as rigid core flooring, is made using limestone composite layered over a waterproof core. It consists of three layers – a bottom balancing layer, a waterproof rigid core center layer, and a top transparent wear layer that protects the flooring.
Some standout features of HDPC flooring:
Extremely durable and scratch resistant surface
Completely waterproof through the core
Does not expand or contract like natural wood
Very stable, does not indent under furniture
Can be installed over existing floors
Realistic wood-like visual
Large variety of colors and styles
HDPC Pros
Highly durable and scratch resistant – The limestone composite top layer can withstand heavy foot traffic and is highly scratch, stain, and dent resistant. Great for pets and kids.
Completely waterproof – The rigid core makes HDPC waterproof through the entire thickness, an advantage over LVP. Good for bathrooms, basements, kitchens.
Dimensional stability – Doesn't expand or contract with changing humidity and temperature like solid wood. Keeps tight joints and prevents warping.
Easy installation – Can be installed as a floating floor or glued down. Easier DIY option compared to natural wood or laminate.
Looks like real wood – Textures and wood grain patterns mimic traditional hardwood very realistically. Wide variety of natural colors and styles.
HDPC Cons
Harder underfoot – The rigid core lacks the softness and bounce of LVP floors. Can cause fatigue when standing for long periods.
Noisy – Tends to amplify noise from walking and moving furniture. Not ideal for upper floor installations.
Prone to scratches – Though durable, the limestone surface can still get scratched by sharp objects. Darker finishes show scratches more.
Higher cost – HDPC floors are generally more expensive upfront compared to LVP options. Pricing starts around $4/sq.ft installed.
Difficult repairs – Scratches and dents in the rigid core are hard to repair. May require replacing planks.
LVP Flooring Overview
LVP flooring features a top vinyl layer over a solid plastic composite core layered with a foam or cork underlayment. The core layers make it flexible and comfortable.
Key benefits of LVP flooring:
Soft and comfortable underfoot
Warm and quiet – absorbs noise
Easy DIY click-together floating installation
Very affordable, lower cost than natural hardwood
Realistic wood looks and textures
Waterproof and durable
LVP Pros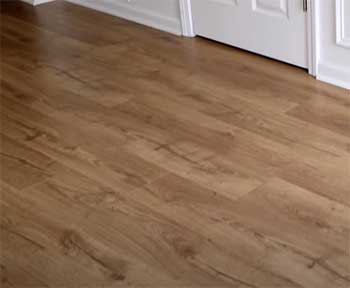 Comfortable and quiet – The foam/cork underlayment layer creates a softer, bouncier feel underfoot. Also absorbs noise from walking.
Warmer ambient temperature – Doesn't feel as cold underfoot as tile or rigid HDPC floors.
Easy floating installation – LVP panels click together easily without glue or nails. Quick DIY installation.
Very affordable – LVP offers stylish looks at a fraction of the cost of hardwood. Pricing from $2-$5 per sq.ft. installed.
Durable and waterproof – Top vinyl wear layer resists scratches, stains, and moisture. Ideal for kitchens, baths, basements.
Extensive style options – Huge variety of wood species looks and color tones. Tile or stone visuals also available.
LVP Cons
Not as scratch resistant – The vinyl surface can be prone to scratching, gouging and indenting compared to limestone HDPC.
Not inherently waterproof – The seams between planks can let moisture through if not properly sealed. HDPC is waterproof through the thickness.
Susceptible to damage – The flexible core is vulnerable to ripping and tears from moving heavy objects. Less durable than rigid core.
Limited repair options – Hard to spot-fix small areas of damaged LVP flooring. May need to replace the entire plank.
Off-gassing odors – Some LVP floors emit mild chemicals when new. Odors fade over time.
Which Is Better?
So should you go for rigid HDPC or flexible LVP for your home? Here are some guidelines:
For durability and waterproofing, choose HDPC – If you have rambunctious pets, kids, expect heavy traffic, or need waterproof flooring, HDPC is the better choice. The rigid core and limestone surface can handle abuse and moisture better long-term.
For comfort and noise reduction, LVP wins – LVP dampens noise from footsteps and offers a softer, warmer feel underfoot. Choose LVP for bedrooms, upper floors, or if you'll be standing a lot.
Consider HDPC for an authentic wood look – The texture and wood grain patterns of HDPC floors mimic real hardwood more convincingly than most LVP floors. Go with HDPC for a traditional wood aesthetic.
LVP offers more budget-friendly options – You can find quality LVP flooring for under $3/sq.ft. Very cost-effective for large family room or basement renovations.
Prefer LVP for easy DIY installation – LVP floors utilize easy floating click or peel-and-stick installation that's ideal for DIYers. HDPC may require professional glue-down for best results.
Frequently Asked Questions (FAQ)
Here are answers to some frequently asked questions about HDPC and LVP flooring:
Is HDPC good flooring?
Yes, HDPC is an excellent flooring choice due to its superior durability, scratch resistance, stability, and waterproof properties. It can withstand heavy residential traffic and resists indentation and damage. HDPC offers a great wood floor visual at a more affordable cost.
What is better than LVP?
For certain applications, HDPC is considered better than LVP. HDPC is completely rigid and waterproof through the core, whereas LVP seams can leak over time. HDPC also resists scratches, gouges, and dents better than vinyl plank. However, LVP is generally more comfortable underfoot.
Is there a difference between LVT and LVP?
The main difference is that LVT (luxury vinyl tile) comes in square or rectangular tile formats, while LVP (luxury vinyl plank) mimics the look of hardwood planks. LVT is commonly used for bathrooms, kitchens, and laundry rooms. LVP works better for spaces wanting a wood floor aesthetic.
Is rigid core better than LVP?
In terms of durability and waterproofing, rigid core (HDPC) is superior to flexible LVP floors. However, LVP is warmer and quieter underfoot, easier to install as a DIY project, and costs significantly less. There are pros and cons to both rigid and flexible vinyl flooring.
Is waterproof flooring really waterproof?
Quality vinyl rigid core flooring like HDPC is waterproof through the entire thickness of the plank. But with LVP floors, moisture can seep in between the seams over time, so they are water-resistant rather than fully waterproof. Proper installation and sealing is key for the best waterproof performance.
Final Thoughts
Both HDPC and LVP provide durable, attractive, and water-resistant flooring options. Assess your priorities – budget, comfort, sound, repairs – and match the flooring to your needs.
Consult with flooring specialists about how well each option suits your home's use cases. With proper care, both HDPC and LVP floors can provide lasting beauty for years to come.