Online furniture shopping would've sounded ridiculous a few years back. But quality sources like Coleman furniture and Ashley furniture have made it the most convenient option.
Coleman has a bigger product range, is more durable, has better shipping, and is more affordable. Ashley has a smaller product range, is less durable, has slower shipping, and is pricier.
Since you can't see online-bought furniture before they arrive, it is better to go for trusted sources like Coleman or Ashley furniture. Which one should you pick? Here is a comparison to help you choose.
A Quick Summary Of The Comparison
| | | |
| --- | --- | --- |
| Feature | Coleman Furniture | Ashley Furniture |
| Product range and build | Better range, modern and minimal build | Smaller range, mostly vintage and rustic build |
| Durability | Better durability, easier to assemble | Good durability, harder to assemble |
| Shipping | Faster and smoother | Slower shipping |
| Price | Lower price, fewer promotional offers | Higher price, more promotional offers |
And that's the gist of the whole thing. Keep reading below for the detailed breakdown.
Key Differences Between Coleman Furniture And Ashley Furniture
In all honesty, both brands are very close to each other in every category. But there are still some differences, and that's what makes both brands stand out.
Product range and build, durability, shipping, and price are the major differences between Coleman and Ashley.
Let's see how these differences work out in both brands.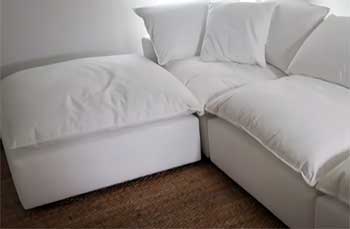 When it comes to furniture, a bigger product range is better because that will give you more options.
Coleman takes this seriously and offers a pretty big furniture range.
Most of them are modern and have a minimal design.
Ashley on the other hand has mostly vintage pieces and a smaller product range.
Coleman has a pretty big furniture range. Bedroom pieces, living room pieces- anything you want, you'll have a lot of options to choose from.
The best part is, their furniture is very modern and minimal in style. You can easily blend them with whatever type of interior look you're going for.
Ashley furniture is slightly behind in this department. Most of their pieces are vintage-inspired. They come in rustic looks. If that's something you're looking for, then Ashley is the best option.
Otherwise, you'll have some serious trouble blending these with your interior style.
Another problem is their product range. It is pretty big, but not big enough compared to Coleman.
This is the most important point of furniture, no one wants to get something that won't be able to handle a little roughness. Coleman furniture is pretty good in this, their pieces are pretty durable.
Ashley on the other hand is much less durable compared to Coleman. It is also harder to assemble.
Coleman furniture is popular for multiple reasons, but the biggest one has to be the furniture's durability. These furniture pieces can take pretty much anything from a chaotic toddler in the house to sneaky pets trying to get a bite in. They last pretty long and the material doesn't look worn until way long.
Another Coleman plus point is their furniture assembly. Their pieces come with very thorough instructions for assembly and maintenance. This makes putting the parts together very easy so you won't have to experience the universal IKEA experience.
Ashley furniture isn't bad by any means. Their pieces are also durable and last a long time. They just don't last as long as Coleman pieces. Ashley furniture pieces are also harder to assemble and don't come with thorough instructions like Coleman pieces.
The whole point of online shopping is convenience. And shipping makes the difference in this department. Coleman has a faster shipping timeframe compared to Ashley. They're also smoother in terms of policies.
Coleman furniture has one of the fastest fast shipping you'll experience. They ship out their products and deliver within 5-7 business days. For pre-order products, it can go 1-4 weeks. Coleman offers free shipping too which is a bonus.
Ashley has a much slower rollout rate. Their products take longer to arrive and they also charge for shipping. Even if you're picking them up from the outlets, you'll be charged for shipping. The positive side is, Ashley offers a free return policy, unlike Coleman.
This is the one thing that makes the biggest difference. Coleman pieces are more on the affordable end, but they rarely have promotional offers or coupons.
Ashley on the other hand is more expensive, but they hold sales pretty often. Plus they also have a price matching option so you can get the best deal.
Which Furniture Brand Should You Go For?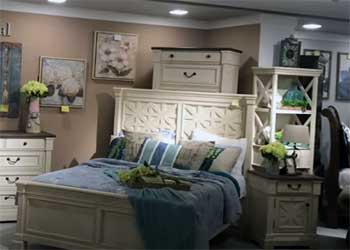 When it comes to online furniture sources, picking a name is already hard.
Coleman and Ashley- both brands have quality furniture and they're known for their longevity.
In pretty much every sense, these two brands are like twins. So comparing and picking one from them is even harder.
In the end, the decision depends on you.
So it is better to go with the option that resonates more with you. That's one way to do it. But if you want a more objective approach, you'll have to consider some other factors with your personal preference.
If you're looking for pieces that easily blend in and want more product options, Coleman furniture is the better choice for you. They have a pretty big range and their materials are top-notch. The furniture is in better shape and is more durable. So you won't have to worry about longevity much.
Coleman furniture is also easier to assemble and they ship super fast. The price range is affordable and they even have free shipping. The only problem is, they don't have many promotional offers going on and their return policy is a little stiff.
If you're looking for vintage furniture and don't mind a smaller product range, Ashley is a pretty good choice. Most of their pieces are rustic and vintage looking but they do have some rare modern designs.
Ashley has pretty good durability too. The best part is, their website has promotional offers pretty frequently.
The problem is, Ashley has slower shipping and it isn't free. Plus the price is more on the higher side. If you're okay with that, Ashley is a solid furniture option.
Overall, Coleman is the better choice in this case. But if you're specifically looking for vintage pieces and don't mind spending a little extra, Ashley furniture is as good as it gets.
Frequently Asked Questions (FAQ)
Here are a bunch of questions people usually ask about Coleman, Ashley, and online furniture outlets in general.
Who is Ashley Furniture competitor?
Ashley competes with some of the biggest furniture brands in the world. IKEA, Wayfair, Lovelight, and Stobag are the major competitors of Ashley furniture.
How long does it take to get a couch from Coleman Furniture?
If the piece is in stock, then you can get it within 5-7 business days. For pre-order pieces, the delivery time is usually 1-4 weeks.
What is the difference between Ashley Furniture and Ashley Furniture HomeStore?
Ashley is formerly known as Ashley HomeStore. Some countries also use the name Ashley Furniture HomeStore. Most Ashley HomeStores are operated by City furniture.
Is Ashley Furniture and City Furniture the same company?
No, they're different companies. But City furniture has acquired the rights to operate some of Ashley's HomeStore outlets.
Does Ashley make their own furniture?
Yes, Ashley manufactures all of its furniture itself.
Final Verdict
Furniture is a long-time investment. So it is better to know what you're getting into and go for trusted brands like Coleman and Ashley. Objectively speaking, Coleman is the better choice in the Coleman furniture and Ashley furniture debate.
But if you're specifically looking for vintage or rustic numbers, Ashley is your best option.