When it comes to buying furniture, two of the biggest names in the business are Furniture Row and Ashley Furniture. Both companies offer a wide selection of living room, bedroom, dining room and home office furniture.
But which retailer is ultimately better for your needs and budget?
This comprehensive guide examines the key differences between Furniture Row and Ashley Furniture when it comes to pricing, quality, selection, customization options and more.
A Brief Comparison Table
| | | |
| --- | --- | --- |
| Category | Furniture Row | Ashley Furniture |
| Quality | Decent quality at lower price points, engineered woods and veneers | Slightly higher quality with more solid woods, lifetime warranties |
| Selection | 150+ in-house and name brand collections | Over 2,500 furniture collections across all styles |
| Customization | Limited custom fabric/finish options by special order | Many collections are customizable with fabrics, finishes, configurations |
| Regular Pricing | 15-25% lower prices versus Ashley | Higher regular prices but frequent sales match Furniture Row pricing |
| Delivery | Free basic delivery and setup included | Delivery fees apply unless purchase is over minimum |
| Warranties | 1 year warranty on in-house brands | Limited lifetime warranties on most collections |
| Financing | Furniture Row credit card with 12-60 month financing | More options like Ashley Advantage card and Ashley Financial Services |
Overview Of Furniture Row

Furniture Row first opened its doors in Colorado in 1981. Since then, it has grown into one of the largest furniture retailers in the country with over 290 stores across 33 states.
Furniture Row primarily sells its own private-label brands such as Abbyson Living, Best Home Furnishings, Coast to Coast and Laurel Foundry Modern Farmhouse. However, you can also find a selection of name-brand furniture like Sealy, Tempur-Pedic, Serta and Ashley.
Some of the key benefits of shopping at Furniture Row include:
Affordable prices: Furniture Row focuses on providing low everyday prices rather than relying on sales and markdowns. Their in-house brands are very budget-friendly but still decent quality.
Huge selection: Each Furniture Row store carries a massive inventory with over 150 furniture collections on display. You'll find everything from basic affordable pieces to luxurious statement furniture.
Frequent sales: While Furniture Row has low everyday pricing, they still run plenty of promotions like 15% off or 0% interest for 60 months. These sales can make Furniture Row an even more wallet-friendly option.
In-store financing: Furniture Row offers flexible financing plans to help make purchases more affordable. Options include 12 to 60 months special financing or applying for a Furniture Row credit card.
Overview of Ashley Furniture
Ashley Furniture has been in business since 1945. Headquartered in Wisconsin, they now operate over 700 showrooms globally. In addition to operating Ashley Furniture HomeStore locations, they also manufacture and distribute furniture under licensed brands like Ashley Sleep and Design Originals.
Some benefits of shopping at Ashley Furniture include: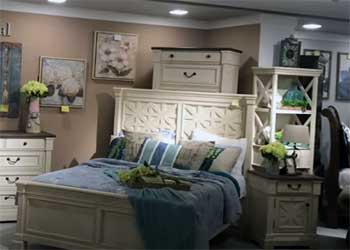 Massive selection: Ashley Furniture boasts an enormous catalog of over 2,500 furniture collections across all styles from traditional to contemporary. You're sure to find anything you need to furnish an entire home.
Regular sales: While Ashley Furniture may have higher regular pricing, they run frequent sales like their famous "Black Friday in July" event with up to 50% off. Signing up for email alerts will notify you of all upcoming promotions.
Customizable options: Many pieces can be customized with different fabrics and finishes so it's easy to get the exact look you want. Simply work with an in-store design consultant.
Nationwide locations: With hundreds of stores across the U.S. and Canada, Ashley Furniture has a much larger retail presence than Furniture Row. They're a reliable option no matter where you live.
Key Differences Between Furniture Row And Ashley Furniture
When comparing the quality of Furniture Row vs. Ashley Furniture, Ashley has a slight edge for using more solid wood construction. However, Furniture Row still offers decent quality furniture at lower price points.
The majority of Ashley Furniture pieces feature frames and bases made from kiln-dried hardwoods and engineered woods. Their upholstered items have thick, durable padding and supportive spring systems.
Most of their furniture has mortise and tenon joinery, corner blocking and other sturdy construction methods. The overall quality level ranges from good to excellent.
Furniture Row primarily uses engineered woods and select hardwood veneers rather than solid wood. But their products are still well-constructed and include corner blocks, cradles, dowels and other supports.
While not quite at the same level as Ashley, the quality is very respectable considering the lower costs. The upholstery uses ample foam padding with web suspension seating in chairs and sofas.
One advantage of Furniture Row is their furniture comes already assembled in the store. With Ashley, you'll typically have to do some assembly yourself or pay an additional charge for white glove delivery and setup.
So in summary, if your budget is more flexible, I'd choose Ashley Furniture for the best quality furniture built to last. But savvy shoppers can still get good value from Furniture Row's solid mid-tier construction at affordable price points.
Furniture Selection and Availability
When it comes to the variety of furniture available, Ashley Furniture wins again with over 2,500 collections to choose from across every style. Furniture Row still offers an ample selection of over 150 collections, but their catalog doesn't compare to Ashley's enormous range.
Ashley Furniture carries everything from traditional cherry wood bedroom sets and sectionals to modern leather sofas and even specialty Disney and NFL collections. You're guaranteed to find pretty much any type of furniture you're looking for. Their wide selection is ideal if you're furnishing an entire home or need hard-to-find pieces.
Furniture Row has a well-rounded assortment covering living rooms, dining rooms, bedrooms, home offices and accent furniture. They carry both in-house brands and name brands across varying price points.
The selection is still quite large compared to other regional chains. But inevitably Furniture Row's offerings pale in comparison to Ashley's vast scope of available furniture.
Availability can also be better at Ashley since they keep such a huge inventory across their hundreds of stores. Furniture Row may encounter occasional out-of-stocks if you want a less common piece.
With Ashley's nationwide distribution network, they can easily ship products between locations if your local store is out of stock.
Ashley Furniture pulls ahead again for having more customizable furniture options compared to Furniture Row. Many Ashley collections allow you to select the fabrics, finishes, hardware and configurations to create your own customized piece.
Simply schedule a consultation with an Ashley design consultant at your local store to start the process. Lead times range from 30 days up to 12 weeks once you place the custom order.
Furniture Row has fewer customizable options since most of their furniture comes ready-to-deliver in standard configurations. However, you may be able to request a custom fabric or finish on select pieces by special order.
The associate can check availability of customization and provide accurate lead times. Expect to pay an upcharge and wait additional time to receive any customized pieces from Furniture Row.
So if having your furniture built exactly to your specifications is a priority, Ashley Furniture is decidedly better for offering more furniture you can personalize to your taste.
Their massive manufacturing capabilities make it easy to accommodate a high volume of specialty orders. Furniture Row's leaner business model focuses more on ready-to-go furniture over customized pieces.
When it comes to regular pricing, Furniture Row consistently undercuts Ashley Furniture thanks to their low-cost overhead structure. However, Ashley's frequent sales and promotions can bring their prices more in line with Furniture Row's affordable offerings.
On an average day comparing similar style and quality pieces, you can expect to pay 15-25% less at Furniture Row. But Ashley runs major sales events fairly often, like their annual 4th of July "Black Friday in July" sale.
During these promos, Ashley discounts entire collections up to 50% off with financing incentives. Significant sales like this can suddenly make Ashley's prices very competitive with Furniture Row's everyday low prices.
The key takeaway is to avoid paying full retail price at Ashley Furniture. Sign up for their email alerts so you're notified of upcoming sales events and coupons. If you shop smart during the sales, you can actually snag Ashley Furniture for comparable prices versus bargain-priced Furniture Row. Just be aware Ashley's regular list pricing is higher.
Furniture Row also offers plenty of savings opportunities beyond their already low prices. Look for discounts like 15% your entire purchase or special financing offers like 60 months at 0% interest.
While Furniture Row's prices are affordable from the get-go, additional promos stack up the savings even more. Ultimately, timing your purchase right at either retailer can help maximize value.
Delivery, Setup and Warranties
Furniture Row stands out for including basic delivery at no extra cost on most purchases. At Ashley Furniture, you'll typically pay $99-$299 for delivery unless you spend over a minimum amount.
Furniture Row also brings your items set up in the room of choice so they're ready to use. Ashley Furniture leaves assembly up to the customer unless you pay an added setup fee.
When it comes to warranties, Ashley Furniture offers stronger coverage. Most Ashley furniture collections come with a limited lifetime warranty. Furniture Row provides a standard 1-year warranty on their in-house brands and passes along the manufacturer's warranty on name-brand items.
If having setup included at no extra cost matters most, Furniture Row is the preferable choice. But for the best long-term protection, Ashley Furniture's lifetime warranties provide more peace of mind. Just account for delivery fees unless your purchase amount qualifies for free shipping and setup.
Both Furniture Row and Ashley Furniture offer financing programs to help you pay over time with monthly payments. However, Ashley Furniture offers more ways to finance with additional credit options.
The Ashley Advantage credit card can be used to finance purchases with 12 to 60 month financing. If you don't qualify for that card, Ashley Financial Services also provides financing with slightly higher rates. Terms through Ashley Financial range from 6 to 36 months based on your credit score.
At Furniture Row, you can apply for their credit card to qualify for 12 to 60 month special financing. Otherwise, your only other option is to arrange third-party financing independently through a bank or credit union.
The more limited financing options are the one area where Furniture Row falls short next to Ashley.
A few other small perks to consider:
Ashley Furniture offers an online room planner tool to visualize products in your space
Furniture Row has a loyalty rewards program where you earn points with eligible purchases
Both have gift card and gift certificate options for easy gifting
Overall, the extra services are pretty similar between the two brands. Your decision will mostly come down to comparing factors like price, selection, quality and financing terms.
Which Retailer Is Better Overall?
In summary, here is how Ashley Furniture and Furniture Row compare across the key factors:
Quality: Ashley Furniture edges out Furniture Row with more solid wood construction and lifetime warranties
Selection: Ashley Furniture has a vastly larger catalog spanning over 2,500 collections
Price: Furniture Row offers lower regular prices, but Ashley can match with sales
Delivery: Furniture Row includes basic delivery and setup for free
Financing: Ashley Furniture offers more ways to finance with additional credit options
Frequently Asked Questions (FAQ)
What did Ashley Furniture used to be called?
Ashley Furniture originally started out as Ashley Home Furnishings in 1945. The company shortened the name to Ashley Furniture Industries in 1997.
What manufacturer makes Ashley Furniture?
Ashley Furniture Industries manufactures over 90% of the furniture they sell through their network of factories and production facilities. They also design their own furniture collections in-house.
Is Furniture Row a national company?
Furniture Row started as a regional chain but expanded nationwide over the past four decades. They now operate over 290 Furniture Row stores in 33 states across the U.S.
Who owns Furniture Row?
Furniture Row is privately owned by the furniture retailing company Furniture Row Companies. Founder Jake Jabs opened the first Furniture Row store in Colorado in 1981.
Final Thoughts
For most furniture buyers, Ashley Furniture comes out as the winner overall thanks to their unmatched selection, customizable options, quality and warranties. The trade-off is their higher regular prices, but joining their email list provides access to major sales events and discounts.
As long as you don't pay full retail, Ashley Furniture is hard to beat for getting beautiful furniture to fit any style or budget.
However, savvy shoppers on a very tight budget will appreciate Furniture Row's lower everyday prices and included delivery perks. You'll have to sacrifice some selection and customization compared to Ashley.
But the quality is still decent for the low costs as long as your expectations are set accordingly. Furniture Row works best for bargain hunters who prioritize price and don't need thousands of options.
Ultimately, the right retailer depends on your priorities. Use this side-by-side comparison as a guide to weigh the pros and cons before deciding where to purchase your next furniture.