Whether buying a new house or replacing some old furniture, choosing the brand is always a tough ask. But both options are affordable, especially when choosing between Coaster furniture vs. Ashley.
In my experience, the main difference is in the build quality. Ashley furniture is a bit sturdier than Coaster furniture.
There are some other differences in various aspects of the furniture. So, if you have difficulties deciding the perfect choice for your needs, stick to the end.
I will take you through an in-depth comparison of the two furniture choices to help you decide on one.
Quick Comparison Of Two Furniture Brands
| | | |
| --- | --- | --- |
| Specifications | Coaster Furniture | Ashley Furniture |
| Build Quality And Durability | Less durable and breaks down | Quite sturdy for the price |
| Specializes In  | Bedroom furniture | Living room furniture |
| Collection Of Furniture | Comes with 4 product lines | Offers furniture for every room |
| Design And Looks | Simplistic and standard | Unique and modern |
Key Differences Between Ashley And Coaster Furniture
Build Quality And Durability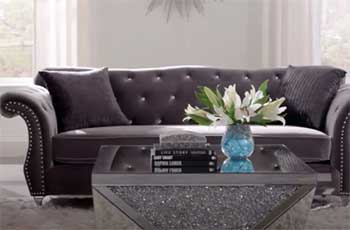 Getting a piece of furniture always concerns, "How long will it last?".
You have to consider the build quality of furniture before buying it.
When you get into the two options I have here, you can use the difference in build to buy the perfect choice for your home.
Ashley Furniture is a well-known name for people looking for affordable furniture.
But what makes them more appealing is that they provide quality within that affordable pricing.
Unfortunately, it's not that easy to get a balance of quality and pricing on furniture.
In comparison, I would say the build quality is pretty much the same with Coaster furniture. They also have this decent build with good sturdiness.
However, the problem you face with the furniture is durability. You start to face issues with furniture from Coaster very early.
Based on these facts, I would say go for Ashley furniture if you care about durability. Yes, you may not get surprising durability from them, but they are still better than Coaster.
Certain brands specialize in certain types of furniture. For example, some brands are well known for manufacturing furniture perfect for bedrooms.
Then some brands are more suited for living room furniture. So, you can decide which brand to choose based on the brand's specialty.
If you are looking to get furniture for your bedroom setup, then go with Coaster furniture. The designs and builds have been more suitable for bedroom furniture. It includes a bed, desk tables, a dressing table, a cupboard, and so forth.
Most importantly, you will love the overall quality of the bedroom furniture setup.
On the other hand, you have Ashley furniture, which specializes in living room furniture. The brand focuses on creating exclusive furniture that makes your living room look unique and adds a different kind of vibe there.
So, for example, you can get tea tables, sofa sets, chairs, cabinets, bookshelf shelves, etc.
This factor will be handy for people looking to complete their furniture setup. Which brand provides you with more options can permanently impact your decision. Some will prefer more options, and some prefer limited options.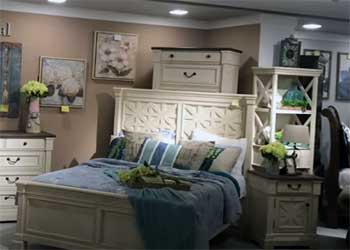 With Ashley furniture, you get plenty of collections and different types of furniture.
As a result, they can be your all-in-one solution for a complete furniture setup.
Even though they specialize in living room furniture, you can still get furniture for your whole house.
They have everything: the bedroom, kitchen, storage room, and dining room.
Comparatively, Coaster furniture doesn't attend to all your needs. They are limited in the choices they provide. You can get good quality bedroom furniture as I discussed above.
You can also get some living room furniture and dining room furniture. It would help if you went to other brands for other rooms or to complete a house furniture setup.
Now, how do you choose between the two? If you have made a new house or are planning to redecorate it, then go with Ashley furniture, as they can complete the whole setup for your home. Otherwise, both can be viable options.
There is also a difference in the design and looks of the furniture. So, it can also factor in deciding which furniture brand you should pick.
Ashley is the way to go for those who are after a modern and unique appearance in their furniture. They constantly work with creative designs and make the furniture more unique in looks.
So if you plan to create a modernistic-looking home, then Ashley furniture will meet your needs the best.
On the opposite that, you will get Coaster furniture. They are very simplistic and standard in their approach to design and looks.
The furniture Coaster makes all about the traditional look with the most straightforward designs you can expect. Here is why you should pick Coaster furniture.
Which Furniture Brand Is Better For You?
Thinking about your preferences is the easiest way to go about this debate. As you can tell after going through the comparison, the looks of the furniture can help you decide on the option.
Even the purpose can lead you toward a choice. But all of that depends on your taste.
Although, from a general point of view, which is the durability factor, I would go with Ashley. So, for anyone concerned about durability, Ashley furniture will be a perfect choice.
Frequently Asked Question (FAQ)
Is Coaster furniture a good brand?
The Coaster furniture brand is a below-average brand with durability and quality issues.
Is Bernhardt A good furniture brand?
Bernhardt is undoubtedly a good furniture brand if you are looking to get uniqueness in your furniture.  
Is Ashley made in China?
Ashley has manufacturing and distribution facilities. One of their facilities is in China as well.
Conclusion
Wrapping up all comparisons of the two brands, all I can say is between Coaster furniture and Ashely, it's difficult choosing one of them. Both brands focus on affordable pricing, so you can't decide on a brand based on pricing.
However, even with the exact pricing, Ashley provides better durability. So, this can be a way to choose the option.
Aside from that, you can get through the in-depth comparison of the two options. And then, check out which one meets your personal needs the best. That's an excellent way to end up with an option that satisfies you the most.