While CNC and Fabuwood cabinets are pretty famous for cabinet installations, there are several differences apart from their warranty offering. Both brands differ in terms of variation, material, quality, value, and availability.
Cabinet allows you to have the best usage of your available space with the utmost functionality and style. Various styles are available with different designs, customization, material, and cost from different brands.
CNC cabinets and Fabuwood cabinets are two of the established brands in the industry right now. Below the comparison between these two brands will help you choose which would be better.
Quick Comparison Table
| | | |
| --- | --- | --- |
| Specifications | CNC cabinets | Fabuwood cabinets |
| Material | Plywood, laminate panels, and hardwood | Plywood made of Oak, Maple, Cherry, and Birch |
| Variations | More variation | Less variation |
| Customization | Stock cabinets | Semi-custom cabinets |
| Quality and performance | Good | Better |
| Cost | Less expensive | More expensive |
| Warranty | 5 eras limited warranty | 5 years warranty |
| Availability | Medium | High |
Key Differences between Fabuwood And CNC Cabinets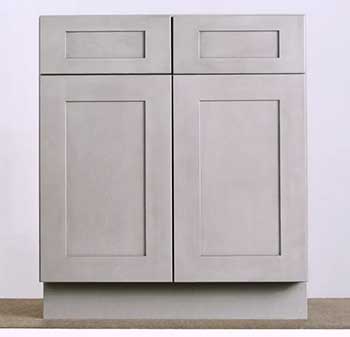 Material is one of the most crucial considerations since factors like durability and longevity depend on it.
In that regard, CNC seems to offer customers more options.
For example, Fabuwood only offers plywood construction with different types of wood.
On the other hand, CNC Has an impressive selection of plywood, laminate panels, and hardwood for different parts of the cabinets.
Every kitchen is different, and variations from the brands will allow you to match the style you truly desire. For example, Fabuwood offers six cabinet lineups, while CNC offers eight.
However, what puts CNC ahead here is that all the design variations are different and unique while Fabuwood's design variations look almost the same.
Cabinets are not only a way of utilizing the space conveniently, but they can also reflect your style. So, the customization option allows customers to change the cabinet's different aspects and add a personal touch according to their needs.
In that regard, Fabuwood is offering more flexibility with its semi-custom cabinets. You can choose different aspects of the cabinets as you see fit.
On the other hand, CNC cabinets are mostly stock, which means you don't have any creative control over their design.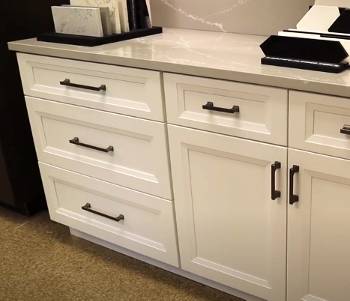 The quality and performance of the cabinetry matter the most.
While both brands offer outstanding quality and performance, according to our research, Fabuwood seems to have a slight lead.
CNC cabinets have made it their mission to provide the best value in the industry, along with great design and quality.
But on the other hand, Fabuwood is more about creating a personalized experience with custom cabinets, making it perform better as a brand.
Due to the variety of materials and quality, CNC and Fabuwood cabinets come within a wide price range. However, since cabinet installation is a massive investment, the cost becomes a determining factor for homeowners.
In the ricing department, CNC costs are lower than Fabuwood. Since CNC's key selling point is value for money, it's somewhat expected. However, Fabuwood doesn't cost much more either, so you can also consider Fabuwood in terms of price.
Again, you can contact both brands with your desired customizations and measurements for a price quote.
As mentioned earlier, cabinets are a massive investment. So, naturally, homeowners look for warranty coverage to safeguard their investments. Also, the warranty policy of a brand reflects the brand's confidence in the products.
CNC and Fabuwood cabinets offer the same 5-year limited warranty in the warranty department. However, Fabuwood seems more flexible about the exceptions mentioned in their warranty policy and has better support from the support team.
Unfortunately, none of the brands offer transferable warranties to subsequent homeowners.
Just choosing a cabinet brand is not the end of the story. You also must ensure that a particular brand is available in your area. In addition, both brands have nationwide dealerships for customers to order their cabinetry setup for exploring options and browsing.
However, Fabuwood seems more available countrywide with thousands of dealers. On the other hand, CNC cabinetry seems to be more available only in selected parts of the country, especially in the Northeast.
Which Cabinet Brand Will Be Better For You?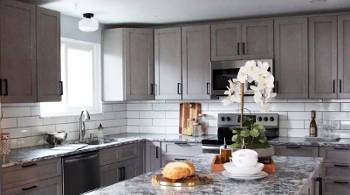 After the comparison, it's time to pick a brand better suited for you.
As you have seen, CNC and Fabuwood have their fair share of strengths and weaknesses.
So, the final decision will be subjective according to your priority.
For example, if you prioritize more variation in material and design at an affordable price, go for CBNC Cabinets.
On the other hand, if you prioritize better quality and customizations, Fabuwood cabinets will be better suited for you.
Frequently Asked Questions (FAQ)
Are CNC cabinets suitable?
CNC believes an inviting kitchen makes a house a home, and this brand has worked for decades to make this motto a reality. CNC cabinets use beautiful cabinets with the best quality materials to offer durability and beautiful design.
Does Fabuwood make suitable cabinets?
Fabuwood has been a fantastic choice for homeowners at different price points. With exceptional quality control, this brand has earned Q12 distinction for overall performance. In addition, Fabuwood's functionality, craftsmanship, and solid design aesthetics make it a solid cabinet choice.
Who makes the highest quality kitchen cabinets?
Several brands on the market make the highest quality cabinets out there. However, if you are looking for a particular brand, you need to consider the material, design, functionality, and variety offered by the brand. Fabuwood has all these boxes checked, making some of the highest-quality kitchen cabinets in today's market.
What are the highest-quality cabinets?
You need to look for certain qualities in a cabinet to decide whether it's high quality. First, the materials are essential to decide the durability, variety, and design to match your style, and lastly, reasonable pricing and warranty make a suitable cabinet.
Final Words
That's a wrap for today. I hope my comparison between CNC and Fabuwood cabinets will help give you deep insight into both brands. As houses and especially kitchens are getting smaller daily, the usefulness of cabinetry is also increasing significantly.
However, considering cabinets involves a considerable investment, many homeowners choose brands based on the price. Luckily, CNC and Fabuwood are available in different price ranges, making them available for most homeowners.