Selecting new kitchen cabinets might be challenging because many amazing options are available that could be the best fit for your house. To get the finest outcome for your kitchen, it's best to conduct careful research.
You might already hear about the popularity of Wellborn Cabinets and Kraftmaid. However, they are pretty different from each other in the case of price, design, material, etc., and in this article, I will walk you through the details of these.
A Quick Comparison Table
| | | |
| --- | --- | --- |
| Specifications | Wellborn Cabinets | Kraftmaid Cabinets |
| Material | Wood, decorative laminates, medium-density fiberboard, and embossed. | Wood, MDF, Plywood |
| Price | Expensive | Less expensive |
| Wood used | Oak, Maple, Cherry, Hickory, Poplar | Alder, Oak, Maple, Hickory, Cherry, Birch |
| Customer Review | Positive | Positive |
| Design | More | Less |
Key Differentiations Between Wellborn And Kraftmaid Cabinets
Now it's time to know about the major differentiations between these two brands of cabinets in detail-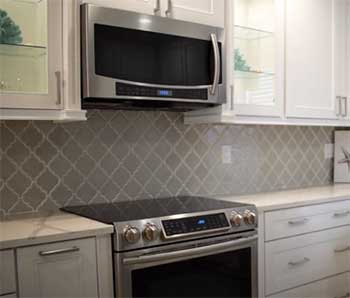 It's important to know a little bit about the manufacturer before buying any product.
It will give you an idea of the quality of the product also.
Wellborn Cabinet provides the ideal cabinet for you because they have been a top cabinet maker for more than 50 years.
Whether you're searching for straightforward shaker cabinets, lavishly adorned formal cabinetry, or semi-custom cabinetry, they have it all.
Wellborn Cabinet is dedicated to providing you with high-quality, long-lasting items to help you design your home.
On the other hand, KraftMaid Cabinetry got its start in 1969 in Ohio. Due to the success of the company's goods, during the following ten years, KraftMaid expanded to cover a five-state region, with revenues reaching an estimated $10 million by 1981.
The company provides cabinets in close to 100 various types and finishes, especially for kitchens and bathrooms, through home improvement retailers.
If you look thoroughly, you will see the big differences in the material of their cabinets. Though they both manufacture wood and MDF (Medium-density fiberwood) cabinets, Wellborn has some other fantastic cabinets, such as decorative laminates and embossed cabinets.
Similar to wood, MDF expands and shrinks in response to changes in humidity and temperature. But MDF does not warp as wood does.
You need not be concerned about any damage to the cabinet doors, even in the case of drastic fluctuations in humidity and temperature. So, if you're thinking about MDF cabinets, you can go with either Wellborn cabinets or Kraftmaid.
Laminate cabinets are a fantastic option for modern kitchens with streamlined designs, contemporary accents, and strikingly contrasting finishes.
Additionally, they provide advantages like greater scratch resistance, increased durability, and easy cleaning. You should go with Wellborn cabinets if you're looking for laminate cabinets and these amazing qualities.
However, if you don't have any budget issues, then you can consider Kraftmaid's high-end plywood cabinets. Plywood has the advantage of having a greater construction lifespan.
In addition, it has better compressive strength and higher tensile and shearing characteristics. They also have a high level of scratch and dent resistance.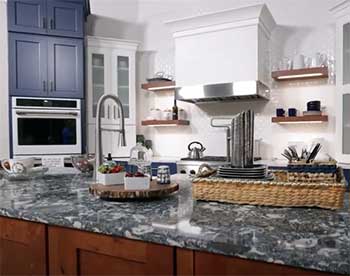 Wellborn and Kraftmaid both use different types of wood.
For example. Wellborn uses Poplar wood for some of its cabinets, whereas Kraftmaid uses Alder and Birchwood.
However, Oak, Maple, Cherry, and Hickory are the common wood types you can find in both Wellborn and Kraftmaid cabinets.
Alder has a delicate grain pattern and is softer than other hardwood species.
Rustic Alder's color can range from a light pink-brown to a tan when it is unprocessed.
Even though it is one of the softer hardwoods, it is still regarded as a hardwood and is occasionally referred to as a semi-hardwood.
Despite being semi-hardwood, Alder is quite sturdy and an excellent option for cabinet doors. If you specifically want Alder wood for your cabinet, you should definitely choose Kraftmaid.
One thing to keep in mind is that if you want cabinets for the kitchen, do not choose Wellborn's Poplar wood cabinets because Poplar wood is too soft.
You should always compare the price of the brands while buying something for long-term use. Comparing prices will help you not spend too much money blindly.
Between Wellborn and Kraftmaid cabinets, Wellborn is a bit pricey. For example, one set of Wellborn cabinets will cost you $7000, whereas Kraftmaid will cost $6100 even though the style and design are the same.
So, you can save up to $900 if you go for the Kraftmaid cabinet. However, prices may vary depending on the material and design.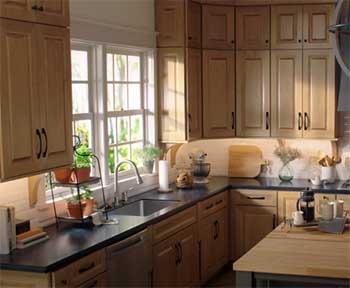 Selecting kitchen cabinets can feel like a daunting task because there are so many design options available.
Wellborn will make your task a little bit easier in this case because they categorize their cabinets as contemporary and traditional cabinets.
After choosing which type of Wellborn cabinets you want, you can choose the material and styles according to your preference.
But in the case of Kraftmaid, you will get fewer options than Wellborn cabinets.
Frequently Asked Questions (FAQ)
Which brand cabinet is best?
Porcelanosa is the best brand if you're looking for high-end cabinets. Porcelanosa is renowned for its cutting-edge European-style kitchen cabinets. Around the world, the corporation has more than 300 showrooms, employees, and dealers. More than 70 finish colors and various kitchen accessories, including sinks, faucets, and other fixtures, are available in Porcelanosa.
Are Wellborn cabinets solid wood?
Yes, Wellborn cabinets are solid wood. All of their wood is hand selected and natural.
What are Wellborn cabinets made of?
Wellborn Cabinets are made of wood (Oak, Maple, Cherry, Hickory, Poplar), decorative laminates, medium-density fiberboard, and embossed.
Are Wellborn Cabinets made in USA?
Yes, Wellborn's kitchen and bathroom cabinets have been proudly made in the USA since 1961 and are renowned for their high level of craftsmanship.
Final Words
Cabinets are a crucial component in executing your new kitchen design. Because of this, it's important to carefully investigate all of your possibilities before choosing a cabinet brand.
Now that you know all the details comparison between Wellborn and Kraftmaid cabinets, you should be able to pick the right one according to your need and preferences.
Also, you can always consult with professional interior designers to determine the best option for you and your house.