If you are referring to either Hampton Bay or Diamond now for getting a new set of kitchen cabinets, it could be a little tricky to find which one is best. Hampton bay cabinets are sold and operated by Homedepot, whereas Lowes now operates Diamond.
Diamond Now strikes higher with its broad cabinets category, from standard to advanced models. At the same time, Hampton Bay comes with more unique designs, shades, and colors matching your specific kitchen needs.
A Quick Comparison Table
| | | |
| --- | --- | --- |
| Specifications | Hampton Bay Cabinets | Diamond Now Cabinets |
| Range Of Product Line | Based on various collections of cabinets | Based on designs from standard to an advanced user |
| Colors and shade verity | Available in 4 to 6 finishes | Available in more than 215 colors and finishes |
| Custom Options available | Yes available | Yes available |
| Materials used in construction | MDF, Beech, Maple, Hickory, Oak, Birch, Furniture Board, HDPE (High-Density Polyethylene), Glass | PaintedStained, TrueColor, Maple, Cherry, Rustic Hickory, Oak, Quartersawn Oak, Alder, Rustic Alder, MDF |
| Customer Rating | Different on different products | 4 among 5 overall ratings. |
| Warranty | 1-Year Limited Lifetime warranty | 1-year limited lifetime warranty |
In-Depth Differences Between Hampton Bay And Diamond Now Cabinets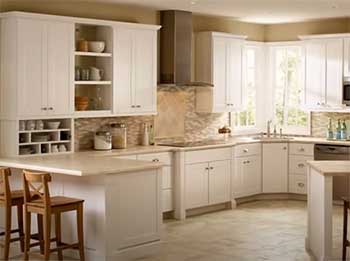 The main difference between these two kitchen or bedroom cabinet-selling brands is the stores from where these are operated.
Diamond Now is the brand of Lowes store, which is currently one of the highly reputed online stores in the United States Now.
Lowes is the home of many products and brands, so one can quickly meet those specific desires to buy anything from here.
Compared to Lowes, Hampton Bay Kitchen Cabinets are sold at Homedepot, another high-end online store in the USA.
Daily, hundreds of people find their best-matching products from these stores. At the same time, they also encountered Diamond now and Hampton Bay to buy some excellently produced kitchen cabinets.
Compared to Diamond Now, you will find more pre-built cabinet options at Hampton Bay.
When you Browse Homedepot for this brand, it gives you multiple kitchen cabinet options.
One can choose the best one that is most preferred and looks suitable for the kitchen. They have this range for each customer visiting the stores.
On the other hand, Diamond Now doesn't stay behind as well. At this brand, you'll find different kitchen cabinets ranging from a standard customer to an advanced level customer.
These three categories are defined to provide you with more or fewer features with each line.
Choosing any Kitchen Cabinets from the Advanced category will offer you high-end benefits, and these benefits will be lower when that category is standard.
So, both have a slight difference in the categories of their products.
Both kitchen cabinets have a slighter difference in the customer rating of their products.
I have seen at Lowes that most new customers are not happy with the products of Diamond Now Cabinets.
However, they have four stars rating overall, which means your experience could be different.
But always be more concerned while choosing any cabinet from this brand.
Compared to that, Hampton Bay comes with different ratings on different products. You can always pre-decide a product before throwing your money on it.
I would have to say that Diamond Now is far better at offering various colors and shades in their kitchen cabinets.
Whereases, Hampton Bay comes with only a few options or shades of these cabinets.
So, it becomes easier for you to decide which kitchen cabinet will suit you best depending on the color and shading features.
Are Custom Options Available?
There is no such thing that you cannot ask for your custom design or build for a kitchen cabinet at any of these brands.
Because both are there to offer you this facility, whether, at Hampton Bay or Diamond Now, you can ask for a custom kitchen cabinet, and they will build that for you.
Materials Used In Construction
Kitchen cabinets from both brands are made using a vast selection of materials.
Mostly, they are similar and use the most variety of materials used by both brands.
So, you can buy kitchen cabinets made of wood, maple, oak, or any other material from Diamond or Hampton.
The last thing to consider is how much warranty you'd get with a specific kitchen-branded product.
There is also no difference between both when you compare them on warranty. Both offer you a 1-year limited lifetime warranty for repairing, changing, or other considerations.
Which Kitchen Cabinet Brand Is Better?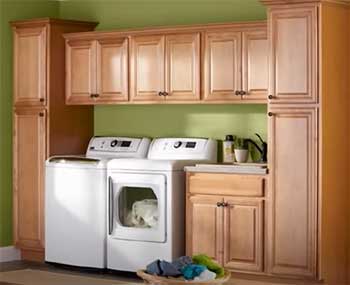 Both are great in providing high-quality kitchen cabinets to customers because both are operated by the two most prominent stores in the USA.
If you don't like Hampton, consider Diamond and vice versa.
Diamond will always give you an extensive collection of color options and shades you may find missing at Hampton.
But some new customers didn't have a good experience with the Diamond.
Frequently Asked Questions (FAQ)
Are Hampton Bay Cabinets Good Quality?
These cabinets are made with several materials to ensure durability and more extended usage. They are outstanding.
Is Lowes Diamond Now Cabinets Good Quality?
They are also suitable quality kitchen cabinets. But you may find some negative reviews about the brand as well.
Who Makes Diamond Cabinets For Lowes?
Masterbrand Cabinets Inc. makes Diamond Cabinets for Lowes.
Who Makes Diamond Now Cabinets?
Masterbrand Cabinets Inc. makes Diamond Now Cabinets.
Wrapping Up
It's not about just Hampton Bay or Diamond Now Kitchen Cabinets, but it's also about Lowes and Homedepot. We have to say that there is nothing wrong with either of these brands or stores because both stores represent a large volume of customers.
However, one can always rely on Diamond now if he is more concerned about finding unique designs. Or that person could choose Hampton Bay if he is more concerned about positive customer experience.