Whether it's our basement, cellar, wall, or subfloor, there is not much alternative available to concrete. As durable as it is, concrete's worst enemy is penetrating water.
And to prevent concrete surfaces from this water damage, Zinsser Watertite vs. Drylok debate often comes into play.
These two are arguably the most common waterproof/ sealer on the market today. To clear out any confusion, I'll compare these two from different aspects.
So, without any further ado, let's begin.
A Quick Comparison Table
Before we head into the in-depth comparison between Zinsser Watertite and Drylok, let's have a quick look at this comparison table. This table will be helpful to understand the differences in detail later.
Moreover, you can get the primary ideas at a glance if you are in a hurry.
| | | |
| --- | --- | --- |
| Specification | Zinsser Watertite | Drylok |
| Type | Acrylic, Oil-based/ Latex-based | Acrylic, Oil-based |
| Surface Compatibility | Uncoated basement, cellar walls, retaining walls, concrete subfloor | Concrete surfaces, porous terra cotta, concrete, stucco, and cement |
| Finish | Bright White | Brite White with various tints |
| Waterproofing | Better | Good |
| Application | Little complex and calculative application | Easier than Drylok |
| Longevity | 5 to 20 years of waterproofing and mildew protection | 7 to 15 years of waterproofing |
| Cost | Expensive | Cheaper than Drylok |
In-depth Differences Between Zinsser Watertite And Drylok
Now that you have some general idea about the differences let's head into the in-depth discussion. Here, I have talked about different aspects of these two waterproofers/sealers.
This way, you'll precisely know which product performs better in a specific segment.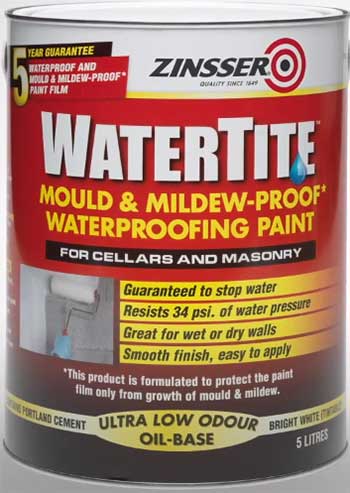 The first significant difference between Zinsser Watertite and Drylok is in their respective formula.
First, both these sealers are acrylic. Acrylic concrete sealers offer different benefits like excellent moisture protection faster drying time and come in different colors to enhance the look of the surface.
Again, both of these sealers are oil-based. So, these sealers are comparatively better than oil-based sealers in terms of raw performance.
But as an extra offering, Zinsser Watertite also has a latex-based paint, offering variety to their customers.
Latex-based paints tend to have faster curing time and are environment friendly.
Surface compatibility is essential since different sealers act differently depending on the surface. In this regard, both Zinsser Watertite and Drylok offer a wide variety of surface compatibility.
Depending on the surface, you have to choose whether you want an oil-based or latex-based sealer.
Zinsser Watertite is compatible with various surfaces, including uncoated basement, cellar walls, retaining walls, and concrete subfloor. On the other hand, Drylok has compatibility with regular stuff like Concrete surfaces, cement, and unique surfaces like porous terra cotta and stucco.
The finishing of these sealers/ paints is not all about the protection only; there is a scope for decoration too. That's precisely where the coloring and tint options come in for Zinsser Watertite and Drylok.
So, in this sector, Drylok seems to take the lead.
Drylok offers the base bright white color with all their waterproofer models. But additionally, there are eight different tints to obtain various colors for your finish.
On the other hand, Zinsser Watertite doesn't offer that option. It only comes in standard white color.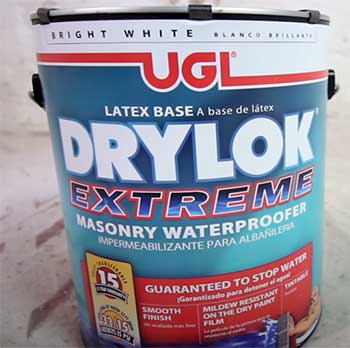 Here we are at one of the most important differences.
The waterproofing ability of Zinsser Watertite and Drylok will affect the purchase decision of many.
In this aspect, Zinsser Watertite seems to be the better choice.
As per its claim, it can withstand water pressure of 10 to 34 lbs. depending on the painted model.
Besides waterproofing, Zinsser Watertite also offers mold and mildew prevention.
On the other hand, Drylok only stops water from infiltrating your construction. Unfortunately, there is no mold or mildew prevention.
Ease of application should be an essential consideration. You don't know how crucial it is until you face application issues in your DIY projects. In this regard, Drylok seems to be a bit more advantageous compared to Zinsser Watertite.
While applying Zinsser can prove to be too much calculative with brush and roller at a specific temperature range, Drylok is much simpler than that.
You can even apply Drylok with a sprayer, which is impossible with Zinsser Watertite.
We don't renovate, paint or seal the concrete surfaces around us every day. That's why it's super important to consider the longevity factor.
Again, Drylok seems to be the better choice in this segment overall.
While different models of Zinsser guarantee waterproofing and mold prevention 5 to 20 years, Drylok is offering a guarantee period of 7 to 15 years.
So, if you want something that'll protect your concrete surface for years to come, Zinsser Watertite seems to be the better choice.
With the added features comes extra cost too. So, for some people, the price of these paints can become a deciding factor. In this regard, Zinsser Watertite will be a much more expensive option than Drylok.
If you are looking for basic protection at a DIY project, the Drylok might be a more suitable choice. 
What Will Be The Suitable Choice For Your Home?
As you can see, both Zinsser Watertite and Drylok have their fair share of differences. So, the final decision actually comes down to personal preference.
If you want something more professional and long-lasting, Zinsser Watertite can be the ideal choice with the premium price tag. On the other hand, some might prefer the Drylok considering different looks, easier application, and affordable price tag.
Other than these differences, both paints/sealers will offer excellent protection to your surface.
Frequently Asked Questions (FAQs)
Can I paint over Zinsser Watertite?
The answer depends on what type of painting you are talking about. Zinsser Watertite comes in both oil and latex-based formulas.
So, as long as you apply a latex, oil-based, or epoxy coating, it should work just fine. Also, when you are painting, make sure the air temperature is between 10-32°C and the humidity is below 85%.
Is there anything better than Drylok?
As you have noticed above, I have talked about different aspects of Drylok. Now, from a different aspect, the performance of Drylok varies, and it's not going to be the best in every segment.
In terms of simpler application and vapor permeability, you might find Drylok a better choice. Other than that, Thoroseal, Sani-Tred, or Kilz might be a better choice.
What is Zinsser Watertite?
Zinsser Watertite is waterproof paint that's used on various surfaces to prevent water damage, leakage, and mold buildup. It has broad compatibility with different surfaces and provides a shiny, non-gritty finish.
Which is better, Kilz or Drylok?
Kilz is a trendy alternative to Drylok. It's a little hard to compare these two items directly since they have many similarities. However, Kilz seems to be the better choice in terms of water pressure, with a withstanding capacity of 15 lbs.
Final Thought
Here we are at the end of my guide. I hope the comparison helped you understand the differences between Zinsser Watertite vs. Drylok. If you're planning a concrete-sealing project, which product you choose is entirely up to you.
Just don't forget to apply either one of these options and safeguard your constructions from further water damage.