Ardex 8+9 and RedGard are the two best waterproofing and crack isolation compounds. But how do you understand which one is best for your project? 
Well, you have to know ARDEX 8+9 vs. RedGard. 
Both membranes are best in quality and performance. But you can differentiate only when you know their details. My discussion on both products will help you choose the right one.  
A Quick Comparison Table 
Here is a quick comparison table between Ardex 8+9 and RedGard. It will help you understand their differences at a snap. 
| | | |
| --- | --- | --- |
| Aspects | Adrex 8+9 | RedGard  |
| Special Features | Cement-based | Acrylic-based |
| Suitable Substrates | Wet places | Non-wet places |
| Mixing | Mix after purchase | Ready-to-use Mix |
| Performance | Max Pot Life: 45 minutesDrying Time: 30 – 45 minutes | Zero VOCQuick-dry  |
| Coverage | Up to 300 SQ FT | Up to 350 SQ FT |
| Sizes Available | 1-Gallon; 9 lb.;3- Gallon; 27 lb. | 1 gallon (3.78 L)3.5 gallon (13.2 L) |
| Warranty & Shelf Life | 1 Year Shelf Life; 25 years limited lifetime warranty on condition | Limited Lifetime warranty |
| Price* | $109 for Convenient Kit;$236.99 for Commercial Unit | $57.97 for a 1-gallon$164 for a 3.5-gallon |
*price is subject to change anytime!
Key Differences Between Ardex 8+9 And RedGard  
Ardex 8+9is a rapid waterproofing and cracks isolation compound in liquid and powder form. You will have to mix them according to a ratio based on their use. 
On the contrary, RedGard is a ready-to-use liquid-applied membrane for commercial and residential tile application, crack isolation, and waterproofing. 
The table above has given you a quick idea about their differences. But detailed information will help you make the right decision. 
Here I will discuss their features and compare them in an elaborate form. So, without wasting any time, let's dive deeper.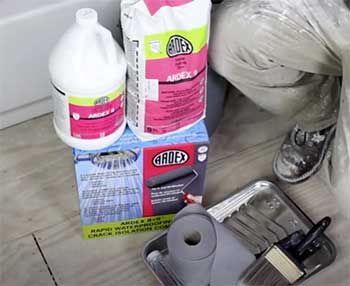 Ardex 8+9is a two-component waterproofing and cracks isolation cement-based membrane.
With this solvent-free solution, you can install tiles in just 90 minutes. 
It offers crack isolation up to 1/8 inches. Comprised of an acrylic-based liquid compound, it offers zero water penetration. 
On the other hand, RedGard comes as a ready-to-use liquid-based waterproofing membrane. Extra heavy-duty service and reduced cure time make it a high-rated quick-dry solution. 
Moreover, it isolates cracks up to 1/8 inches and is suitable for waterproofing pools, spas, shower pans, etc. 
You can use Ardex 8+9for topside waterproofing of all common substrates of residential and commercial buildings, including balconies, showers, and other wet areas. 
Besides, you can use over concrete and masonry finishes, tiles, drywalls, etc. 
RedGard works perfectly on various substrates, including cement, mortar, masonry, exterior plywood, deck, gypsum-based cement topping, ceramic topping, interior dry areas, etc. It does not work appropriately on wet areas. 
Ardex 8+9is a powder and liquid two-component membrane. You will have to mix them well to make them ready. 
For paintable consistency, mix 1 gallon of Ardex 8+98 with 9 lb. of Ardex 8+99. In the case of small batches, mix 1 part from each component by volume. 
Similarly, for caulking consistency, mix 2/3 gallon of Ardex 8+98 with 9 lb. of Ardex 8+99. Again for small batches, mix 2/3 part Ardex 8+98 with 1 part Ardex 8+99. 
On the contrary, we know RedGard is a liquid-based membrane that comes ready to use. They come ready for use; you won't have to mix them. 
Ardex 8+9 has a pot life of up to 45 minutes and will take 30-45 minutes to dry for the first coating. You can recoat it in 1 hour. It offers zero VOC, and the flood test begins 4 hours after the final coating. 
In contrast, RedGard offers low VOC and is a non-flammable acrylic-based liquid membrane. Because of its quick-dry formula, it dries pretty quickly. You can apply it with a roller, trowel, and sprayer.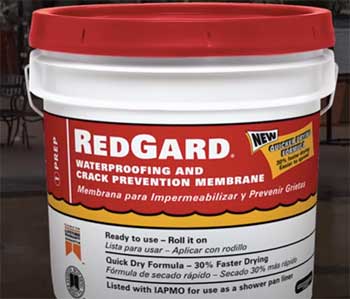 Ardex 8+9 commercial units offer excellent coverage up to 300 square feet, and the convenient kits will cover up to 100 square feet.
Coverage also differs based on use. 
For example, it will cover up to 100 square feet after two coating over drywalls ad approximately 70 square feet over concrete. 
On the contrary, RedGard can cover up to 100 square feet with a 1-gallon container and 350 square feet with a 3.5-gallon container. 
Ardex 8+9 convenient kit comes with a 1-gallon bottle of Ardex 8 liquid and a 9 lb. bag of Ardex 8+99 powder. The commercial size comes with a 3-gallon Ardex 8 liquid bottle and 27 lb. Ardex 8+99 powder bag. 
In contrast, RedGard comes in two sizes, a small 1-gallon container and a 3.5 gallon bigger container. So, with 2 size options for both brands, nothing much difference lies there. 
Ardex 8+9 comes with 1-year shelf life and a standard limited warranty. But if you choose to use Ardex mortars and grouts with it, they will give you 25 years of Ardex SystemOneTM Limited Lifetime warranty. 
Similarly, RedGard comes with a limited lifetime warranty if you use RedGard waterproofing and crack prevention membrane in a qualified project with its other custom products. 
Ardex 8+9convenient kit can cost up to $109 for 1-gallon liquid and 9 lb. powder. The commercial unit will cost around $236.99. 
On the contrary, RedGard will cost around $57.97 for a 1-gallon container and a164 for a 3.5-gallon container. 
Which One Is Better For Your Project? 
With the above discussion, you should be already clear on which product you should choose. If you are still not sure, think about your project. 
Think about what you need for your project. Although both products provide excellent waterproofing and crack isolation, there are subtle differences you might have missed. 
Ardex 8+9is a cement-based membrane, and it can work in wet places, whereas RedGard can't. On the other hand, RedGard provides tile application apart from waterproofing and crack isolating. 
But Ardex 8+9mainly works as a crack isolating and waterproofing compound. 
So, if your project requires correction in wet places, you must use Ardex 8+9, but if your project requires tile applications, you must use RedGard. 
If your project only requires waterproofing or crack isolation, remember that Ardex 8+9is twice more expensive than RedGard, and you will have to mix them yourself.  
Frequently Asked Questions (FAQ) 
Can you tile over RedGard?
Yes, you can tile over RedGard. But in that case, you should use thin-set mortar as well. Mix mortar in small portions and spread them on the surface using a notch tile trowel while tiling over RedGard.
Is Ardex waterproof?
Ardex 8+9 waterproofing compound provides excellent protection from water leakage and other wet applications from shower pans to swimming pools. So, it is waterproof. 
Can you use RedGard over Kerdi membrane?
There is no need to use both products together. Any of them will give you excellent performance. Although, with RedGard, you can reach the narrowest of corners. 
Do I need a vapor barrier if I use RedGard?
You cannot and should not use any moisture or vapor barrier behind the substrate where you will apply RedGard. We know that RedGard cannot work in wet places. 
Final Thoughts 
You cannot fail to choose the correct waterproofing, or you might have to face serious consequences. I hope ARDEX 8+9 vs. RedGard review has given you a clear insight into these products. 
The fact that you know what to expect from them helps you make the right decision. So, buy one that suits your purpose and does not take too much money out of your pocket.