The finish material of Yorktowne Cabinets is equipped with computerized quartz light technology to create an improved coating. In opposition, Kraftmaid Cabinets have Heat shield technology to ensure a smooth and flawless finish surface.
Are you thinking of replacing the current cabinets?
You might have already come across Yorktowne Cabinets and Kraftmaid. Yorktowne Cabinets are notorious for their exceptional finish and styles. Kraftmaid cabinets are highly durable and attractive. Let's learn more about them.
A Quick Comparison Table
| | | |
| --- | --- | --- |
| Specifications | Yorktowne Cabinets | Kraftmaid Cabinets |
| Material | Knotty Alder, Cherry, Hickory, Maple, Rustic Maple, Oak, and Quartersawn Oak | Maple, Oak, Birch, Hickory, EverCore, Quartersawn Oak, Rustic Alder, and Cherry |
| Colors | 100+ color options | 50 color options |
| Technology | Computerized quartz light technology | Heat shield technology |
| Product Line | Classic, Historic, and Iconic | Traditional, Transitional, Contemporary, Modern, and Rustic |
| Door Style | Beaded, Flat, Raised, Reverse Raised, and Specialty | Recessed, Raised, Slab, Beaded, and V-Groove |
| Overlay | Full, Half, and Inset | Full and Half |
| Warranty | Lifetime Limited Warranty | Lifetime Limited Warranty |
| Price | More Expensive | Less Expensive |
Key differences Between Yorktowne And Kraftmaid Cabinets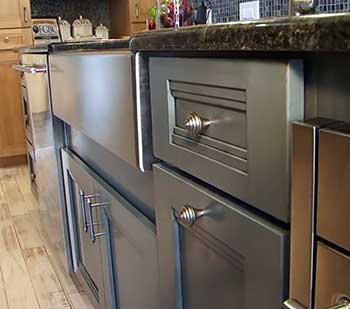 Yorktowne Cabinets are available in 8 types of woods.
Knotty Alder is an excellent choice if you have an industrial-style or rustic kitchen.
Cherry can be a great choice if you prefer natural rich, reddish undertones. You not see warping or cracking issues soon.
Rustic Maple is an excellent pick if you prefer unmatched strength and beauty. It can stand up scratches and dents effortlessly.
On the contrary, Kraftmaid offers 11 types of wood for cabinets. If you prefer medium-density hardwood, birch is a decent pick. It is not prone to attracting dents and scratches.
Are you looking for superior hardwood? Choose Rustic Alder if you prefer a smooth, glassy surface with an 80% clear face
Yorktowne Cabinets are available in more than 100 colors or finishes.
They are available in various paint options such as classic paint, paint with a highlight, paint with glaze and highlight, Appaloosa, coaster collection, distressing, etc.
Contradictorily, Kraftmaid offers 50 color choices. Warm white, Dove white, Canvas, Serenity, Moonshine, Slate, Saddle, Molasses, Husk, Cognac, etc., are the top choice.
The finish material of Yorktowne Cabinets is equipped with computerized quartz light technology to add an improved and durable coating.
In opposition, Kraftmaid Cabinets have Heat shield technology to ensure a smooth and flawless finish surface.
In addition, Kraftmaid uses a CoreGuard sink base that is made from a polymer material. It can protect the unit from stains and damage.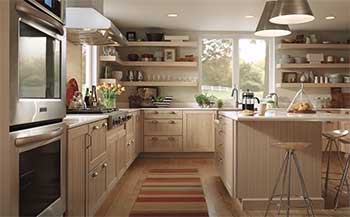 Yorktowne Cabinets have three different product lines.
Classic cabinets are the best choice if you prefer a dazzling and timeless style.
Love to own well-crafted cabinetry?
Iconic cabinets are the perfect pick due to their meticulous detail.
Oppositely, Kraftmaid offers 5 product line options. If you want a combination of contemporary and traditional designs, Transitional cabinets are the best choice.
But, Rustic cabinets are also suitable due to their warm earthy, antiquated colors, forms, and textures.
Yorktowne Cabinets come in five-door styles. Their flat cabinet doors require minimal maintenance and come with a matt finish for simple cleaning. They have no ornamentation or beveling.
If you want to utilize compact spaces like island counters or corners, Specialty doors are the best choice.
On the flip side, Kraftmaid also offers five types of door choices. Recessed doors are hard to overlook when it comes to visual appeal and better compatibility with traditional-style kitchens.
Beaded doors are a perfect choice if you prefer a unified look with clean and practical lines in the cabinetry.
Yorktowne cabinets come with three overlay options. Their inset overlay cabinets may cost between 15% and 30% less than others.
This door is flush with the frame when you close it. It has a clean and streamlined appearance.
Contrarily, cabinets from Kraftmaid have two overlay choices.
Its full overlay style comes with a pretty little cabinet face frame. This ensures a seamless and modern look.
A full overlay style is the best choice when you prefer the maximum amount of storage. It also provides simple accessibility for the stored items.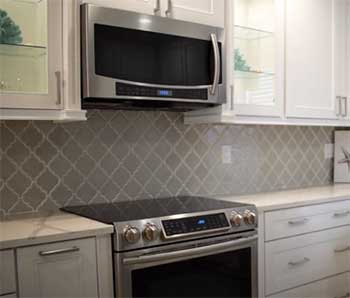 Kraftmaid offers a Lifetime Limited Warranty, which covers any defect in artistry and material.
But the owner can't be changed.
Only the original purchaser has the capability to claim the warranty.
You can't claim a warranty if the product is damaged from regular wear and tear, misuse, abuse, negligence, etc.
Yorktowne Cabinets also provides a lifetime warranty.
But make sure to go through their warranty policy before purchasing them.
The average cost of kitchen cabinets can be anywhere from $2,500 to $24,000, depending on your kitchen size, wood, style, finish, and many other aspects.
Both brands offer high-end kitchen cabinets. That's why their product is slightly higher than average options.
But Yorktowne Cabinets are slightly more expensive than Kraftmaid. Yorktowne uses premium quality hardware and durable finishes making their products top-notch.
Which Cabinet Brand Is For You?
If you prefer premium-based kitchen cabinets at a slightly lower price, Kraftmaid is a good choice.
It comes with more product line options and materials. Different styles of cabinets make their product exceptional.
But, when you want top-notch products with superior hardware, Yorktowne is overall a better choice.
In addition, their products are available with unlimited finishes to match any kitchen cabinets.
You can even customize them depending on your requirement and preference.
Frequently Asked Questions (FAQ)
Are Yorktowne cabinets any good?
Yorktowne cabinets are well known for their exceptional quality, design, style, and finish.
What are the highest-quality cabinets?
ACProducts, W W Wood, Master WoodCraft Cabinetry, Wellborn Cabinet. Wood-Mode Inc, etc., are top brands for making premium quality cabinets.
Which brand is best for cabinet?
Porcelanosa, Yorktowne, KraftMaid, CliqStudios, Wickes, OPPOLIA, etc., are some well-known brands for cabinets.
What paint do Yorktowne cabinets use?
Yorktowne uses proprietary enamel blend paints for all cabinets to add opaque and complete coverage. They also use a catalyzed base primer.
Final Thought
Kitchen cabinets are a long-term investment. Choosing between Yorktowne cabinets and KraftMaid requires you first determine your kitchen requirement.
Also, you want to consider the design, style, and finish you prefer that will improve the overall appearance. Both brands offer dedicated quality products to match any house.