Create that cozy feeling and fantastic look by getting the best cabinet that fits your kitchen style. That comes with commitment and several considerations, such as style, space, and quality.
This comparison brings forth a deep analysis of two of the greatest cabinets, so stay tuned!
Allen + Roth uses the TuffTech finishing system to enhance durability, while KraftMaid features DuraKraft Plus, which eliminates stains by creating a wipe-clean effect. KraftMaid has a classic design, but Allen + Roth has a base design.
This is going to be an interesting ride. So buckle your seatbelt, and let's get going!
A Quick Comparison Table
| | | |
| --- | --- | --- |
| Product Specifications | Allen + Roth | KraftMaid |
| Finishing system | TuffTech | DuraKraft Plus |
| Design and Build | Base | Classic |
| Types | Essential, Select, Luxury | Custom, Semi-custom, Stock |
| Door Style | Shaker | Arched, Shaker |
| Color Options | White, Blue, Green, Brown | Blue, Gray, White, Brown |
| Drawer Slides | Ball-bearing | 90 lb |
| Quality | Good | Excellent |
| Durability | Moderate | Excellent |
| Price | Lower | Higher |
Key Differences Between Allen + Roth And KraftMaid Cabinets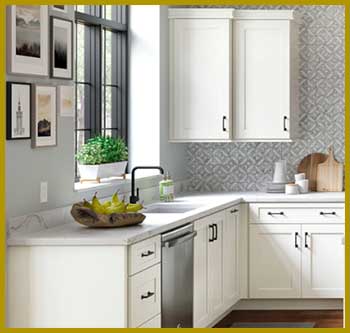 The main differentiating factor between the two cabinets is the finishing system.
Allen + Roth adopts a TuffTech technique that provides a tough, solid coating that resists stains, peeling, and cracking, increasing longevity.
On the other hand, KraftMaid uses a DuraKraft Plus system that consists of a two-layered topcoat that offers maximum protection by keeping your cabinet free from scraps and stains.
Allen and Roth's cabinets have a base design, which means they are located directly on the floor and support the sink and countertops. They are usually firmly built and sturdy and deeper than most cabinets.
In contrast, KraftMaid has a classic structure that creates a fancy, modest appearance for your kitchen. This cabinet is the one if you're looking for an awesome, sleek design.
On top of that, you can also achieve a refined traditional look with a perfect visual balance with this brand.
Allen and Roth come in three types: essential, select, and luxury. All three have different characteristics.
For instance, essential has half-depth shelves, and select has full-depth shelves. Luxury contains heavy-duty shelves.
On the contrary, KraftMaid contains three types: custom, semi-custom, and stock. Custom is the most expensive cabinetry. Semi-custom comes with flexibility, and stock cabinetry has an entry-level price.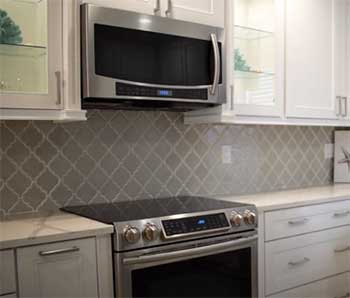 The door style for Allen and Roth is a shaker that provides versatility and elegance to match your preference.
This type of door comes in full overlay, half overlay, and inset setups.
If you want a modern look, this is the best style.
Oppositely, KraftMaid has shaker and arched door styles.
The arched ones come in various styles and can be customized.
The top of the door has an arc-shaped structure and is mostly used in large, traditional kitchens.
Are you specific on the color you want for your cabinet?
You don't want your kitchen clashing due to multiple colors. I've got some good news! Allen and Roth have different colors you can select: white, blue, green, and brown.
KraftMaid is not any different. The colors present in this board are brown, blue, gray, and white. Now, the ball is in your court. You can go for the theme that suits your needs best.
Heavy dishes? Other bulky cutlery?
No problem!
The 90-lb drawer slides available in KraftMaid will stand up to just about any weight. Don't look for another storage place yet you have this highly convenient cabinet.
In opposition, Allen and Roth's cabinets have ball-bearing drawer slides to allow easy movement and access of your drawers, even if it's carrying a heavy load.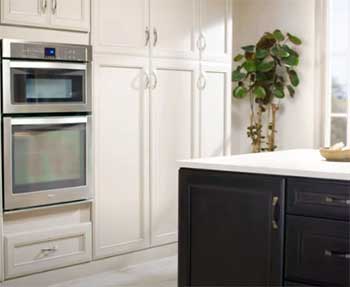 Full disclosure: regarding quality, KraftMaid cabinets win by a mile.
They are built from solid wood and high-end materials.
This brand has a Whisper Touch system to enable the hinges to operate softly and quietly.
The edges are perfectly designed to lower the risk of scratches or other damages.
Are you looking for a cabinet with excellent quality? KraftMaid should be your next purchase!
Allen and Roth's cabinets have pretty good quality as well. They meet the quality and performance standards of the Kitchen Cabinet Manufacturers Association (KCMA).
Made of solid wood, KraftMaid cabinets have a long lifespan. Also, they have an I-Beam setting that entails full-depth braces that ensure sturdiness and stability during installation.
Allen and Roth's cabinets have moderate durability due to their heavy-duty plywood. But if you are looking for a kitchen setup with excellent longevity, KraftMaid is the way to go.
The cost of KraftMaid is higher, going up to $20,000. On the other hand, Allen and Roth's cabinets are more affordable.
If you prefer a high-quality cabinet with exceptional features, go with KraftMaid. However, if you are under budget, pick Allen and Roth. After all, they also have some pretty good attributes.
Which Cabinet Gets The Nod: Allen + Roth Or KraftMaid?
The time for the real fight is finally here! Both cabinets are impeccable options. All you need to figure out is your preference, and then go ahead and pick the cabinet that ticks your boxes.
You can base your decision on price, quality, or durability. Allen and Roth's cabinets are perfect if you want to spend less. KraftMaid is better if you want the best quality and a longer lifespan.
Frequently Asked Questions (FAQ)
Is Allen and Roth a good brand for kitchen cabinets?
Yes, it is. The cabinet has good quality, an easy setup process, adequate storage space, and comes at an affordable price.
Who makes Allen and Roth cabinets?
American Woodmark Corporation is the Allen and Roth cabinets maker with nine manufacturing points in the United States.
Which cabinet brand is best?
KraftMaid is a big name in the world of cabinets due to its innovative systems and features, quality, durability, large storage space, and many customization options.
Is KraftMaid a good cabinet brand?
Indeed it is! KraftMaid has unmatched features and high-end construction. It is, without a doubt, a great brand for kitchen cabinets.
Bottom Line
As we close the Allen + Roth cabinets and KraftMaid comparison, you can better understand how the two cabinets work and their distinct qualities. It should be easy to decide which one will work better for you.
Allen and Roth have amazing designs and are less pricey. KraftMaid is an excellent choice if you want the best out of your cabinet. Transform your kitchen into whatever feels great!