The range is one of the essential appliances in the kitchen while cooking, baking, roasting, broiling, and so on. Though Wolf and Thor are the two most familiar range brands, their ranges have distinctions in burner power, versatility, cost, features, and warranty coverage.
In this article, I will deliver you a comprehensive comparison of these two products. So, without wasting any time, let's have a look.
A Quick Comparison Table
| | | |
| --- | --- | --- |
| Specifications | Wolf Range | Thor Range |
| Burner Power | 20000 BTU-300 BTU | 18000 BTU-650 BTU |
| Convection system | Dual VertiCross | Normal |
| Cooking mode | Ten | None |
| Smart capabilities | Self-clean, Sabbath mode, WiFi-enabled, Voice command | No self-clean, No Sabbath mode, No WiFi, No voice command |
| Performance and Quality | Excellent | Good |
| Warranty | Five years | Two years |
| Cost | Expensive | Accessible |
Key Difference Between Thor And Wolf Ranges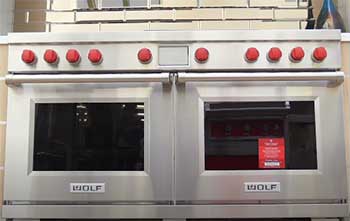 High power means high heat. With more heat, cooking becomes faster and easier for you.
As a result, the average time of cooking reduces dramatically.
However, both Wolf and Thor offer dual patented gas-stacked, sealed burners.
But, the main difference is in power providing potentiality. The Wolf range can provide about 2000 BTU more heat than the Thor range.
Also, warming, melting, or simmering something is more facile in Wolf's range because its lowest heat is 300 BTU.
Conversely, the Thor range can produce a good amount of heat from 18000 BTU to 650 BTU. But, it is relatively lower than Wolf. So, if you are looking for the highest-powered burner, Wolf is the option.
Steady cooking is momentous because nobody wants a part of their food uncooked. So, the convection system helps to spread heat throughout the entire oven.
Both of the ranges come with a convection system. But wolf's range has a convection system with Dual VertiCross. This mode creates an atmosphere for great cooking as it spreads heat more efficiently throughout the oven. As a result, achieving a perfectly even bake becomes easier.
Besides, Thor range is less proficient with a simple convection system. So, there is a chance of messing up as it does not expanse heat evenly.
Cooking modes help you with accurate baking, roasting, warming, dehydrating, and broiling with convection efficiency. Cooking becomes more straightforward with cooking modes. It can turn a regular cook into a professional.
However, the Wolf range comes with ten cooking modes: bake, broil, convection, roasting, roasting, gourmet, proof, stone, etc. Each cooking mode allows you to show what you are capable of doing.
On the other hand, Thor ranges do not offer any cooking modes. Though it has a larger oven capacity than Wolf, cooking modes are an excellent feature for cooks. Even so, if you are a great cook, then cooking modes might not be a drawback.
Who wants to get their hands dirty? The answer is nobody. In this case, Wolf has innovative capabilities like voice command, self-clean, Sabbath mode, and WiFi.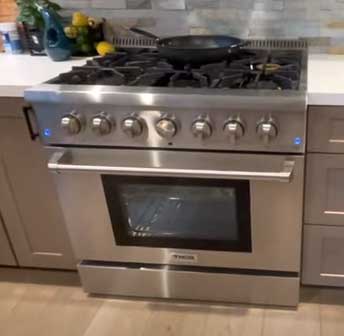 These abilities give you the authority to select modes, control oven temperature, and much more with your handset.
You can select which oven you want to operate with your voice command. In addition, the self-cleaning feature keeps you away from dirty jobs.
In addition, because of the Sabbath mode, you can cook or warm your food for a more extended period without any disturbance.
This mood allows you to disable your oven's automatic shutdown function.
In this section, Thor is a complete loser as she does not have any of those abilities. Other features like grate material, stainless finish, storage, griddle, and continuous grate are similar to Wolf ranges. So, if you are looking for a range with elegant sufficiency, Wolf can offer you the most.
Both Wolf and Thor are pretty similar in terms of quality and performance. As the quality and performance of the range have a significant impact on the kitchen, before buying, you have to consider this fact the most.
 In this race, Wolf is a bit more forward than Thor as it comes with more capabilities like high powered burner and intellectual abilities. On the other hand, Thor promises good quality and performance to the customer. But you can see the stats and understand the final output.
Warranty coverage is a remarkable fact for every product. Also, ranges are relatively expensive. You don't want to change them frequently.
Both products' warranties start on the day of their original purchase. Thor offers two years of warranty coverage.
On the other side, Wolf grants five years of warranty for their kitchen appliances. It ensures the longevity of your product.
However, the warranty coverage is adequate if their authorized service provider installs them. In this section, Wolf range is a clear winner.
If you want to reduce your energy bills and help the environment, energy efficiency is an essential consideration.
Wolf ranges are designed to be energy-efficient, thanks to their advanced insulation and sealed burners. Additionally, they are built with high-quality materials to maintain a consistent temperature throughout the oven.
It means you can cook your food more quickly and use less Energy. In addition to that, some Wolf models have an Energy Star rating. The Energy Star-certified appliances require fifteen percent less Energy than the non-certified ones.
In contrast, Thor ranges are also relatively energy-efficient, but they don't have the same level of insulation and sealing as Wolf ranges.
As a result, they may not be as efficient regarding heat retention and energy usage.
However, they are still designed to be cost-effective. Additionally, they have potent burners to heat up quickly and cook food evenly.
So, if you require the ultimate energy-efficient range, Wolf has more to offer.
Size and Configuration Options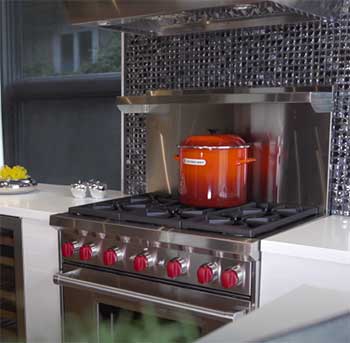 Both Wolf and Thor offer a variety of sizes and configuration options to fit different kitchen layouts and cooking needs.
Wolf ranges are available in widths ranging from 30 to 60 inches and can be configured as dual fuel or gas-only.
 In addition, they offer a range of different burners, grills, and griddles, depending on your cooking preferences.
This makes it easy to find a Wolf range that fits your specific needs and kitchen layout.
On the other hand, Thor ranges are available in widths ranging from 30 to 48 inches. They also come with different burner configurations and oven capacities, so you can choose the size and layout according to your cooking needs.
However, because of fewer size options, it might not be an excellent option for bigger kitchens or for those wanting more extended ranges.
Ease of Use and Maintenance
Ease of use and maintenance are important factors to consider when purchasing a range. Wolf ranges are designed with user-friendliness in mind, with intuitive controls and easy-to-clean surfaces.
Moreover, they come with a self-cleaning function to save time and effort when cleaning the oven.
Conversely, Thor ranges are slightly complicated to clean. As they don't have self-cleaning features, the cleaning process becomes a hassle.
Overall, both Wolf and Thor ranges are designed to be user-friendly. But, the lack of some cleaning features makes Thor maintenance more complicated.
Finally, when comparing Wolf vs. Thor ranges, it's crucial to consider your own personal style and taste.
Wolf ranges have a modern, sophisticated look. It is perfect for contemporary kitchens. Also, all the advanced features make it more futuristic.
Compared to that, Thor ranges have a more traditional, rustic look that's ideal for farmhouse-style kitchens.
Ultimately, the choice comes down to which style you prefer and which range fits best with your kitchen's overall aesthetic.
Here the main firework begins because Wolf ranges are 2-3 times more expensive than Thor. For example, Thor Kitchen 48′ 'Range Dual Fuel 6 Burner with Double Oven and Griddle price is $6399.00 on eBay.
On the other hand, on different websites, Wolf's 48" dual fuel range price is approximately between $12000 to $165000. So, the Wolf range is different if you are a customer with an average budget.
Which Range Brand Is Better For You?
At the end of the comparison, it is evident that both brands have to offer a lot with their ups and down at different price points. But, as we all know, good things come with good prices.
Thor has a lot of potential to offer, considering its price point. But, it needs to include some valuable features that can improve your cooking experience. Here is a very good review of it.
Besides, the Wolf range provides many features to become a professional cook at higher prices. So, if you want affordable ranges with good quality and performance forfeiting some features, the Thor range is the one.
Again, it all comes down to your personal preference.
Frequently Asked Questions (FAQ)
Is Thor ranges any good?
Thor has excellent brand value. They provide the highest quality at an average price compared to its other rivals. But, their ranges have some downsides that you have to consider. It also has the highest gratification rating for larger capacity and reasonable price points.
Is Wolf range the best?
Considering its specifications, it is the best range on the market. Wolf ranges can satisfy you the most in terms of durability, power, control, iconic design, innovative abilities, and customer service.
Is Thor dual fuel ranges good?
Compared to the price point, Thor offers an excellent quality stove. You will get a perfect slow simmer because of the dual burners. Also, it has an eye-pleasing blue light indicator that indicates the activation of the burner and oven.
Is Wolf a high-end Appliance?
If you look at the unit price, the answer is quite simple. Wolf mainly focused on making luxury kitchen ranges with outstanding performance, quality, and iconic design. It improves your kitchen looks and cooking experience.
Conclusion
That's a wrap for today; I hope my article has helped you to dictate the critical differences between Wolf and Thor ranges. Both brands can attract customers at different price points by providing superb specifications.
Now, it's time to pick according to your preferences. Whatever brand you pick, I hope you will be satisfied with their durable and reliable product.