When choosing a premium range for your kitchen is concerned, both, Zline and Café Range offer some exceptional ranges. However, some people have issues with Zline ranges related to the quality, materials, and specs.
Café ranges are better in build quality, long withstanding in your kitchen, and excellent customer service. However, you may find these blessings with Zline sometimes and sometimes not at all.
A Brief Comparison Table
| | | |
| --- | --- | --- |
| Things To Know | Zline Ranges | Café Ranges |
| Type Of Ranges | Dual Fuel Ranges, Induction Ranges, Gas on Gas Ranges | Slide-in Single Oven, Slide-in Double Oven, Professional Range, Free-Standing Single Oven, Free-Standing Double Oven |
| Size of Ranges | 30, 24, 36, 48, 60 | 30, 36, 48   |
| Special Features | Brass Burners, Reversible cast iron griddle | ADA Compliant, WiFi Built-in, Sabbath Mode |
| Color Options | Usually, the black color, And the white color | Stainless Steel, Matte White, Matte Black, Platinum Glass |
| Durability | Standard | Excellent |
| Total Ranges Available | Up to 27 models | Up to 17 models |
| Pricing | Cheaper Models | Expensive |
| Country Made | Sourced From the USA but assembled in China | Made in the USA and different parts of the world |
Unique Differences Between The Zline And Café Ranges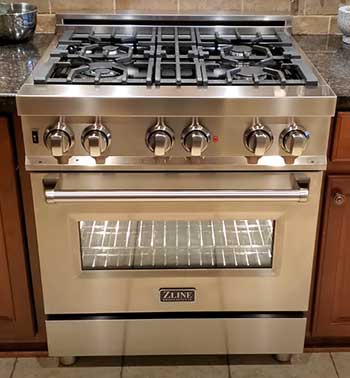 To find out which brand is best to consider for your next kitchen range, let's begin with what Zline and Café offer.
Both brands have different lines of products offered.
When you consider Zline, they divide these ranges into Dual Fuel, Inductive, and Gas on ranges.
Dual Fuel ranges can work on both electricity as well as Gas. Plus, the Gas on ranges can work only on Gas.
They have various products to choose the best range for yourself.
Compared to the Zline, Café offers more refined products with single and double oven ranges.
You can consider a specific model and go easy with whether you want a range with one oven only or a double oven to keep more food inside.
However, they have a short range of products than Zline ranges.
Your kitchen has been designed in a way to accept a specific size range in it. At that moment, you only consider finding the best range that must be compatible with it and should be easy to install.
You find different range options when you go with the Zline series Ranges. These options include a comprehensive collection of 30-inch, 36, 24, 48, and 60 inches dual-sized ranges.
However, that's not the case with the Café ranges. Because their offers end at just 48, and they don't have a more extended model of range in their line of production.
It means you can compare both brands in 48 size ranges. But when you need to consider a bigger range, Zline is always the best choice.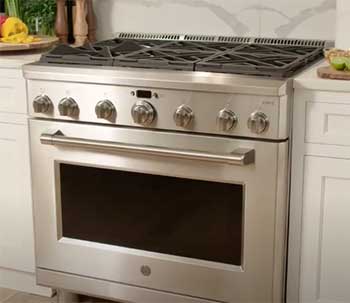 Both Range brands vary significantly in their ranges' special features.
When you look at the Zline, you find their ranges have brass-made burners.
These are some excellent quality burners that stay for a long time.
Besides, these ranges offer easy cleaning, more manageability, smooth installation and removal of burners, and more.
Another good feature is this reversible iron griddle that automatically adjusts the heat and ensures maximum cooking whenever needed.
Meanwhile, when you look at the Café Ranges, they are becoming more advanced with built-in WIFI functionality.
You might be curious to know the role of WiFi in an appliance like this. But the truth is, when you find such a feature, it helps you operate your range through a mobile phone app. That's about adding technology even into ranges.
A lot of customers say that Zline has more color options to offer.
But when you explore their official website, you will find these ranges only in black, white, or stainless-steel finishing.
Despite this, Café ranges come in four finishes: matte white, black, stainless steel, and Platinum gas.
It means buying a range from Café offers you a more streamlined look.
We need to find out how much Zline has improved the quality of its products. But based on previous experiences, you may find a standard level of durability with their products.
However, Café ranges don't compromise durability and offer you a premium quality product that lasts longer than expectations.
As stated earlier, Zline has up to 27 range options to offer for most kitchen holders. But at the same time, Café offers you just 17.
It means there is a huge difference in that Zline offers you more variety of products to choose from than Café.
A Simple 30 inches range from Zline will cost about $2k when you buy it from houz.
But when you choose the Café range, the same size model will cost you up to $3k+, which is an expensive decision. So, always choose which suits your budget best.
Which Range Brand Is Better For Kitchen Range Requirements?
It doesn't matter wherever you spend your money; both options will stand out well.
However, since people trust more on Café Range, so, it gets more attention. Instead, Zline is also not a bad brand to consider.
It is budget-friendly and comes with a variety of ranges to choose from. Therefore, choose wisely based on your best experience.
Frequently Asked Questions (FAQ)
Are ZLINE Ranges Good Quality?
The most simplistic answer is yes because Zline is ranked in the list of some most famous ranges brand in the market these days.
Is ZLINE A Luxury Brand?
At an exceptional price point, Zline commits to providing the best Luxury appliances to its customers.
Is GE Café High-End?
Ge Café ranges have been considered highly recognized and appreciated by customers for years.
Is ZLINE Made In China?
Zline appliances are assembled in China. But according to the company, their products are designed and outsourced in the USA.
Final Verdict
Conclusively, from my personal experience, relying on Café Ranges would always be better when you make a comparison between Zline and Café Range. It is because GE Appliances provide Café Ranges. The company is a leading Appliance manufacturing company globally and is recognized by its name.
So, in every situation, Café products will be better in durability, quality, and features than Zline products. But your specific budget is still concerned.