A good stove range is a cook's dream. Whether you're a casual cook or someone passionate about it, a good stove like Thor or Viking is a must.
Both these stoves are amazing but they're pretty similar too. The major differences between them are the product range, build and price.
Good kitchen ranges are hard to find, that's why big names like Thor and Viking stay on top. But if you had to pick one of them, which one should you go with?
Here's a side-by-side comparison to help you decide.
A Quick Summary of Comparison
| | | |
| --- | --- | --- |
| Feature | Thor Range | Viking Range |
| Product range | Less expansive | More expansive |
| Build | Good power, smaller rings | High power, wide ring |
| Price | Affordable | Less affordable |
And that's the gist of it, keep reading for the detailed breakdown!
Key Differences Between Thor And Viking Ranges
Comparison can get hard when both options are similar. And in this case, the options are more like twins. So comparing them is a little hard, but not impossible.
Thor and Viking have some pretty big differentiating factors going on. Product range, build, and the price range is the most visible factors.
Let's see how they make Thor and Viking different from each other.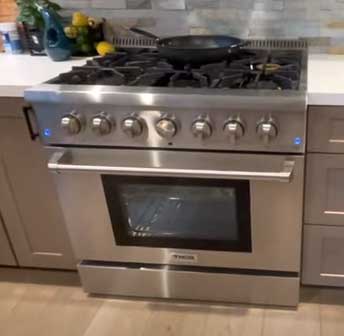 Finding the right fit for your kitchen can be hard. This is why the more options are there, the better.
Thor is geared more toward residential settings and they have fewer options. Viking on the other hand is the opposite.
Thor ranges start from a pretty small size. You'll find three product series for Thor ranges- LRG, HRG, and HRD (dual fuel).
The sizes go up to 48" so you'll get three variations to choose from- 30", 36", and 48".
Viking comes with an outright better product range. They have the Tuscany series, 3 series, 5 series, and 7 series. The size goes up with the number of burners. So if you're looking for bigger ranges, Viking is the safer option.
This is the biggest differentiating factor between these two brands. Their designs, aesthetics, inner spaces- everything is different.
Thor is a more classic-looking range with a bigger inner space. Viking is more sleek and modern but has less inner space. The ring sizes are also different for the two.
Thor ranges are the slightly older style. The knobs are dial style, the accents are bolder and the rings are around 7" in diameter. This means the heat you'll get will be more concentrated near the base area.
If you're doing high-heat cooking or using carved bottom pots (like a wok), Thor stoves are great to work with.
This makes Thor stoves a good fit for Asian cuisines. Plus Thor stoves can go up to 18,000 BTU depending on the model which is really good for high-heat cooking.
The ovens in Thor ranges also have up to 0.5" extra inner space compared to brands like Viking.
Viking is a little different. The appliances are more toned down and minimal looking. This makes it easier to fit into any kind of kitchen. The Viking stove rings are wider than most stoves. So if you're using bottom-heavy pots and pans, Viking will be fun to work with.
Well, this is the most visible difference between Thor and Viking ranges. Thor ranges are on the more affordable side. If you don't want to break the bank, this is what you should go for.
Viking ranges can cost 3-4 times more than Thor stoves. In smaller ranges, the features are the same so the price difference looks even bigger. But if you're looking into bigger models then the price tag is more than justified.
Which Range Should You Go For?
As you know now, both Thor and Viking ranges are really close to each other. Both are really close in quality and features. That's why it is hard to pick one between these two.
Both kitchen ranges are made of good material, are sturdy, and have a good reputation to back them up. That means your job of picking one just got harder. And the answer to this question took a turn from simple to complex.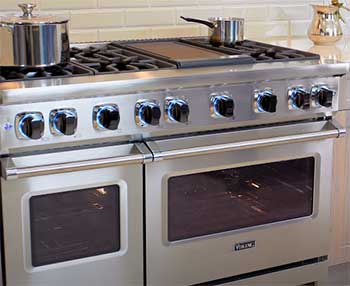 Picking one between Thor and Viking is hard, but not impossible.
You'll just have to do some serious calculations and trade-offs before choosing one.
The best way to put your foot down on this is to decide what you want to prioritize in your range.
Once you have that down, the trade-offs and everything else will become much easier.
If you're more of a beginner-level cook and need something for base heating, Thor is a good option. They're classic looking so they go with most color palettes and aesthetics. Thor is also more affordable so you won't be breaking the bank.
If you need something more big-scale and don't mind splurging for it, Viking is the better option. You'll have more options to choose from and you can get bigger sizes too.
Viking is a more modern and minimal style so you can easily incorporate them with your décor.
As for cooking style, Thor is more versatile and can cover high-heat cooking styles. Viking is slightly less versatile but not too far behind.
Overall, Thor is the better choice here. It is affordable and versatile. But if you want something big-scale, Viking has better options.
Frequently Asked Questions (FAQ)
Here are a bunch of questions people usually ask about Thor, Viking, and ranges in general.
Are Thor ranges any good?
Yes, Thor is one of the best manufacturers you'll find. The ranges are definitely worth the money.
Is Thor a good gas range brand?
Yes, Thor has pretty solid gas range options.
Are Thor appliances made in China?
Yes, Thor appliances are made in their own Chinese assembly factory.
What stove is comparable to Viking?
There are lots of options but the leading ones would be Thor, NXR, and Zline.
Final Verdict
Kitchen appliances are serious business. You won't know peace till you choose the right appliance, the right stove to be precise. The whole Thor and Viking range debate may make picking one of them hard, but hopefully, this article can help.
What you pick will depend on your personal preference, but overall Thor is the better option in this case.