It may come out as a surprise, but choosing kitchen cabinets can often be tricky. Especially when you are coming across something like Wolf cabinets vs. KraftMaid, the decision can get more complicated.
In these situations, the best thing to do is compare the two cabinets and see which one suits your needs the most.
Here, I will go through an in-detail comparison between the two cabinets. You can check out the different factors on them and see which one provides you with the value. So, let's get going with it.
A Quick Comparison Table
| | | |
| --- | --- | --- |
| Specifications | Wolf Cabinets | KraftMaid Wolf Cabinets |
| Available finishes | Limited | More than 30 choices |
| Quality | Good | Better |
| Accessibility | Not that great | Excellent |
| Collection | Pretty good | Plenty of choices |
| Pricing | Lower | A bit more expensive |
Key Differences Between The Wolf And Kraftmaid Cabinets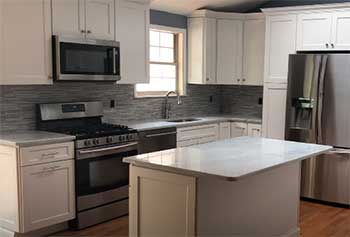 Do you look for different kinds of finishes in your kitchen cabinets?
Then, you will find a noticeable difference between the two cabinet choices.
If you are looking for more finishes on your cabinets, then go with KraftMaid.
They have more than 30 different finishes on their cabinet choices. And the best part is, you will likely find the finishes very appealing for your home.
As for the Wolf cabinets, there aren't many finishes you would find. You are pretty much limited with the finishes on the cabinet.
So, if you want to get many different finishes, KraftMaid is the choice. But if you are happy with simple and standard finishes on the cabinets, then Wolf cabinets do get the job done as well just like Fabuwood cabinets.
Here's the thing, there is a difference in quality between these cabinet options. You will find that one cabinet is a bit better in terms of quality than the other one.
When you compare KraftMaid and Wolf cabinets, KraftMaid always comes out as the winner for the quality aspect of it. It provides the consumers with excellent quality, and you won't have any complaints about it whatsoever.
Satisfaction is a complete assurance with this one.
But don't get me wrong, Wolf cabinets are also pretty decent in quality. The materials they use and the construction of the cabinets are pretty good. It's just the fact that they aren't as good as KraftMaid cabinets.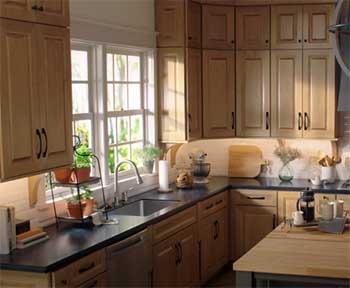 Accessibility or availability can be a pretty big deal with these cabinets.
You will always prefer to get the ones you can find easily and readily.
I would say Wolf cabinets tend to fall behind a little in that aspect.
They aren't readily available everywhere. You will have to extensively search for these cabinets to find them for your home.
On the other hand, one of the great benefits you get with KraftMaid cabinets is that they are readily available. Whether looking into Lowe's or Home Depot, you will find something from KraftMaid cabinets.
So, KraftMaid will always be a better option for easy access to cabinets than Wolf cabinets. You don't even have to think twice about that.
Do you want a unique appearance for your kitchen cabinets?
Then, go with KraftMaid cabinets. There is no going wrong with these cabinets if you are looking for variety in styles, designs, and colors. They come up with unique styles and color choices that go well with different setups.
In comparison to that, Wolf cabinets lack the availability of collection. You won't get to see too many choices or styles there. Even the color options are pretty much limited with these cabinets.
One factor where I would keep Wolf cabinets ahead of KraftMaid is the pricing. Wolf Cabinets are significantly cheaper than KraftMaid cabinets.
And when I say significantly, I am talking about a difference of around $1000 in some cases.
However, it always comes down to whether it's worth the money. Also, will you be sacrificing the quality for a lower price? I have to say, yes, KraftMaid does have superior quality, and it's certainly worth the price.
But if you are just stuck with a limited budget for your kitchen cabinets, then Wolf cabinets should be your pick. They are much cheaper, and you will definitely save up quite a lot of money with these picks.
Which Cabinet Is Better For You?
I can easily say KraftMaid is a much better pick in most cases. And it's not just me; most of the consumers and users out there prefer KraftMaid over Wolf cabinets. They are also superior in quality, collection, availability, and durability.
It would be best if you only went for Wolf cabinets while trying to save money. Or, if you are on a tight budget for your remodeling, then Wolf cabinets might be a good choice.
Frequently Asked Question (FAQ)
Which brand is best for the cabinet?
If you are considering overall factors like quality, pricing, availability, variety, and so forth, then KraftMaid is one of the best cabinets to find out there.
Are Wolf cabinets solid wood?
Yes, Wolf cabinets have a solid wood construction in their line of products.
Where are wolf cabinets made?
Wolf cabinets are made in the USA. They make most of their cabinets from real American Maple.
Which cabinets are most durable?
The most durable cabinets usually use Cherry or Maple as the construction material. Any cabinet with solid hardwood construction is built to last for quite a long time.
Conclusion
In conclusion, there is hardly any struggle in choosing between the Wolf cabinets vs. KraftMaid. While both of them are compared a lot, KraftMaid always emerges as the clear winner.
Most people prefer KraftMaid in their kitchen, even with the higher price tag than Wolf cabinets.
So, if you are not going for a low-budget or money-saving option, then KraftMaid is the way to go, without any doubt. But if you are planning to save up some money, then Wolf cabinets work out great for you.