William tools are made from advanced manufacturing processes, including heat treating, chroming, metallurgy, etc. On the other hand, Snap-on tools are made from a higher quality of steel than Williams, even though they are manufactured in the same factory.
We need tools for everyday use. From hammers to complex power tools, we need them for fixing stuff. A good tool made from high-quality material will always make your tasks easy and fast.
So, here in this write-up, I'll talk about two popular tool brands and their differences. Let's fire away.
A Quick Comparison Table
| | | |
| --- | --- | --- |
| Specifications | Williams | Snap-On |
| Brand Profile | 140 Years Old Company | 102 Years Old Company |
| Special Feature | Laser-Cut Foam Drawer With Storage | Wrenches Deliver 15% To 20% Higher Torque |
| Available Products | Hand Tools, Power Tools, And Storage | Hand Tools, Power Tools, And Storage |
| Manufacturing Quality | Superior Manufacturing Quality | Inferior Manufacturing Quality |
| Material Quality | A Bit Lower Than Snap-On | Higher Quality |
| Warranty | 1-Year Limited Warranty | Lifetime Warranty |
Key Comparisons Between Williams And Snap-On Tools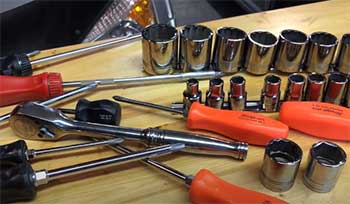 Williams has a long history of making tools for industrial professionals.
It has been making good-quality tools since 1882.
This company revolutionized blacksmithing by turning drop forging into machines.
Its first factory was in Red Hook, Brooklyn, NYC.
Williams focused on products' unique quality and refinement from the early stage. Their drop-forged super wrenches are flexible and accepted by machines. It also introduces the first flat and socket wrenches.
On the other hand, Snap-On tools were established in 1920 in the US, and now they have operations in many countries. It launched a set of five unique handles and ten interchangeable sockets that shaped the automobile repair industry.
Now, the Snap-On manufacturing facility is located in Kenosha. Over a period of time, this brand diversified manufacturing tools focusing on different sectors.
Now, it has a lot of other tool-manufacturing brands in its portfolio. Currently, Williams is also owned by Snap-On.
Williams has a QuickFit Tool organization system with a laser-cut foam drawer inserter to make organizing more convenient. You will get 40 modular sets with tools for industry-specific applications. Its wrenches are made from high-quality manufacturing processes.
You will get quality products with a wide range of selections. Most of its tools are American-made.
However, some tools are manufactured out of the USA. But, overall, Williams products are pretty good because of their manufacturing process.
Snap-on tools are made from high-quality materials. Its flank drive wrench system delivers 15% to 20% more torque and prevents rounding off of fasteners. The Techangle Torque Wrench offers the most accurate torque and angle tightening sequence.
All Snap-On tools are functional and will help you complete tasks quickly. They have enough strength in their open-end jaws, and the ratchets won't slip.
Besides, you will get a versatile range of deep hand tool lines with the ability to work in any situation.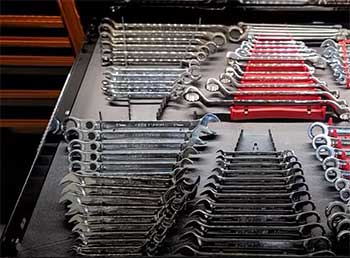 Williams and Snap-On have a wide range of power and hand tools in their portfolio.
Williams has Torque Tools, Sockets & Drive Tools, Wrenches, Tools For Traders, Hammers, Pipe Tools, Clamps, Hydraulics, Punches & Chisels, Prybars, Master Sets, Tool Storage, Etc.
On the other hand, Snap-On has hand tools like Ratchets, Sockets, Extensions, Wrenches, Screwdrivers, Pliers, etc.
You will also get power tools like Impact Wrenches, Drills, Hammers, Die Grinders, Sanders, Cutting, etc.
Apart from them, you will also get many tool storages from this brand.
The quality of a tool depends a lot on its manufacturing process. Williams tools are made from an advanced drop forging mechanism. It also revolutionized the American tool manufacturing process by including blacksmithing machinery in the manufacturing process.
In contrast, Snap-On also has a long history in tool manufacturing. They have manufacturing facilities in multiple locations. These tools also come through a technologically advanced process.
However, tools not manufactured in the USA are inferior to those manufactured in the USA.
According to industry experts and professionals, Snap-On Tools use higher quality materials in making tools than Williams. They use proprietary alloy steel, precision-crafted gears, springs, pawls, and other highest-quality materials in making tools.
Conversely, Williams tools are made of quality materials that offer excellent value for money to its customers. However, they are not as superior as Snap-On.
All types of Williams Industrial Tools come with 1 Year or Limited Warranty from the original purchase date. This warranty will cover any defects in materials and workmanship.
In contrast, Snap-On tools and storage systems come with a Lifetime warranty effective immediately after you own the tool.
Which Tool Will Be Suitable For You?
Snap-On Incorporation now owns Williams, but they are sold exclusively. According to the previous discussion, both Williams and Snap-on tools have some good aspects.
But I would suggest you go for Snap-On tools.
Snap-On tools represent a pretty good value for money. They are made from higher quality material. Plus, they come with better warranty coverage. That's why Snap-On tools are the best choice for you.
Frequently Asked Questions (FAQ)
Are Williams and Snap-on the same?
Williams and Snap-On are now part of the same company, as Snap-On now owns Williams. Although some tools are manufactured in the same facility, these two brands' products are sold exclusively.
Does Williams own Snap-on?
No. It's the other way around. Williams is owned by Snap-On now. J.H. Williams Tool Group is a subsidiary of Snap-On Incorporation.
Is Williams tools a good brand?
Williams makes pretty good tools for everyday use to industrial use. They are made from an advanced manufacturing process. Their tools can deliver good performance.
Does Williams make Snap-on wrenches?
No. Williams does not make Snap-On wrenches. It is a subsidiary of Snap-On Incorporation. Snap-On wrenches are made in its various facilities in Milwaukee, Wisconsin, Elizabethton, Tennessee, and Elkmont.
Final Thoughts
Although they belong to the same company, you'll find many differences between Williams and Snap-On. While comparing, Snap-On tools seem the better fit for professionals and homeowners for different tasks.
They have a wide range of hand and power tool collection and comes with better pricing and warranty. Most importantly, they are available in many countries in the world.