Pro mechanics and people working on commercial projects on a daily basis machine fixings love to keep the best toolboxes. In that case, both are good brands to choose from when comparing Sonic Tools and Snap-on Tools.
However, Sonic Tools are way cheaper, plus they come with added SFS foams inserted in their boxes. At the same time, the Snap-On tools are expensive and don't come with these foams in their boxes. The second option provides a more traditional source of tools than the first one.
The Differentiative Table
| | | |
| --- | --- | --- |
| Specifications | Sonic Tools | Snap-On Tools |
| The Companies Beginning | It's been operating as a leading tool maker in the USA since 2004 | A well-known tool manufacturing company in the US from 1920 |
| Products Offered | Toolbox + Tools, Toolbox and Tools , Sonic Foam System, Cabinets, Hand Tools, Toolboxes, SAE Tools, Torque Wrenches, Mobile Toolsets | Hand Tools, Power Tools, Shop & Tech, Diagnostics, New Products   |
| Special Feature | Laser etching on products and added foam in the toolboxes | Excellent Durability |
| Currently Operating | In the USA | In the USA |
| Cost Factor | Cheaper Options | Expensive Options |
| Warranty Factor | Unlimited Lifetime Warranty with 24 hours tools exchanging | Different Warranty on different products |
| Brand popularity | Lower | Higher |
Key Differences Between The Sonic Tools And Snap-On Tools
It's evident that both brands are tools manufacturing and selling companies in the USA. However, there are reasonable differences between these for most mechanics and workers.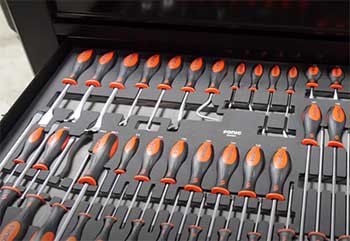 There is a lot of debate on the internet, as many people are asking whether to trust Sonic Tools or not.
The first thing you need to know about Sonic is how old this company is.
Sonic Tools company is a bit new because it has been recognized as one of the USA's leading tools manufacturing and selling companies since 2004.
So, it is often hard to trust its products. Still, they offer various tools for most mechanics and people working in their repair shops.
Compared to that, Snap-On tools have been in business for a long while. They are working in America even before Sonic Tools.
The company first came into being in 1920 and made itself famous in the eyes of many commercial contractors.
Snap On Inc. sells some high-end tools and equipment for most professional persons and meets your specific requirements.
Both tools brands offer a variety of products to those professional tool keepers. It doesn't matter whether you are new in your industry or an old, expert mechanic; you would always want to keep yourself updated with the latest tools.
When Sonic tools are concerned, you will find a comprehensive collection of many instruments. It includes toolboxes, wrenches, hand tools, fixers, SAE tools, Mobile toolsets, and more.
On the other hand, when you invest your money in buying Snap-On tools for your next project, you may get limited options.
But they will serve you with almost everything required to complete a job. Whether those are power tools or hand tools, you can have them from Snap-on.
The main difference you may find between the products of these brands is their specific utilities.
Snap-on gives you toolboxes with additional foam insertion to keep your tools organized and fixed.
You will quickly know when a specific tool is missing from the box because its space will not be filled.
Also, it gives you a laser etching feature that serializes your purchased tools with specific branding.
However, Snap-on may not provide you with any of this. But they are good at keeping their products extra durable and strong.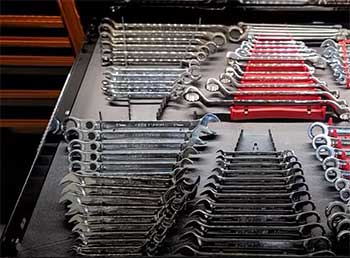 The best thing about both products is they currently operate in the USA.
However, the headquarter of Snap-On tools is in the UK, while Sonic Tools are here in the USA.
Both companies serve a significant part of an industry that mainly includes the transportation industry.
Mechanics are using these products for heavy-duty automotive repair and more.
Also, these tools are used in Aviation, Railroad, Plumbing, Machinery, and other niches.
When your budget is concerned, you will likely have cheaper options or tools available at Sonic.
Snap-On is extremely expensive compared to Sonic because it has been in. this line of business for a long while and charges for its brand name.
One of the best things I like most about Sonic Tools is they provide you with an unlimited lifetime warranty on their tools.
Be worry-free in returning any products to the company anytime within 24 hours. Ultimately, you will get compensated on time.
But with Snap-on tools, one will find this Warranty a bit different on different products.
Another major factor that differentiates these brands from each other's is how much people like them.
Often, you will find the Sonic tools only in the hands of YouTubers. You may see less in operational usage.
But with Snap-on tools, people share years of experience and recommended excellence that makes one brand better than another.
Which Tools Provider Is Best For Your Next Project?
Consider going with the Sonic tools if you need some tools for one-time operation and looking for a cheaper option. Watch a virtual walkthrough of this tool brand.
But choosing Snap-On is always better when you want to keep those tools for long-term operations. However, the choice is all yours.
Frequently Asked Questions (FAQ)
Are sonic tools good quality?
Their laser branding is the best feature that makes Sonic Tools provide good product quality. These reliable and high-quality tools serve you well in every situation.
Are sonic tools made in the USA?
Yes, they are entirely made in the USA.
How long have Sonic tools been around?
Sonic tools have been operating since 1920, which states that the brand has been here for a long time.
Final Wording
It's hard to judge either tool when comparing Sonic tools and Snap-On. The probable reason is that both high-end brands work to make life easier for most mechanics. However, if one lacks in one thing, the other is superior.
You can always use the Snap-on tools if your trust doesn't develop with the Sonic. But choosing Sonic will not be a bad option when you are limited with a budget.