It's absolutely fine to go with either Cornwell or Snap-On, depending on your experience. Sometimes, the Cornwell guys are sweet and friendly to provide you with timely service; others are insulting and unprofessional.
But in most cases, Snap-On tools rank higher with multiple positive reviews and excellent customer support. However, relying on Snap-On tools might be a little expensive, yet it is worth the cost.
Most Cornwell tools users say things didn't end well with their service.
A Quick Comparison Table
| | | |
| --- | --- | --- |
| Things To Consider | Cornwell | Snap On |
| A little to know about each tool brand | It began its operations in 1991 as a Quality Tools manufacturer | The brand came into being in 1920 in the United States of America |
| Customer Support at both brands | Lower | Higher |
| Durability of tools | Less is most tools series | Higher in most tools' series |
| Category of products and tool series | Tool Storage, Drive Tools, Wrenches & Striking Tools, blue power Hand Tools, Power Tool and Accessories, Lighting, Air Conditioning & Cooling, Undercarriage & Wheel, Body Service Tools | Tool Storage, Hand Tools, Power Tools, Shop & Tech, Diagnostics, New Products |
| Warranty | Lifetime warranty for all types of tools | Lifetime warranty for all tools other than torque wrenches to the original purchaser. |
| Online catalogs of both brands | Not great for a new visitor | Excellent even for an uneducated visitor |
| Quality and customer satisfaction | Not that great | Superior |
Key Differences Between Cornwell And Snap-On Tools
A Little To Know About Each Tool Brand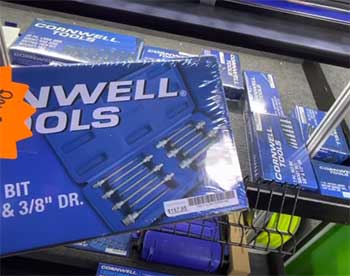 It can be seen that Snap-On is an older brand than Cornwell because Snap-On tools started their operations in 1920.
At that time, the brand was not that reputed. But it started growing continuously.
These days, Snap-On is recognized as one of the market's leading truck or vehicle tool-providing brands.
Out of 100 tool users, you can hear 90 persons calling upon the Snap-On tools because of their trust and high-end services.
The company is situated in the United States. One can refer to the official website of Snap-On tools for more in-depth information.
On the comparing side, when you look at Cornwell, they are also not new in the industry.
Cornwell tools have been in the market since 1991 and are another great, known truck tool provider.
A lot of people have positive reviews about the services from Cornwell. But at the same time, most users or customers also don't recommend Cornwell.
We'll find those reasons later in this article.
Customer Support At Both Brands
Snap-On customers have claimed that this brand provides that needed level of customer service.
They say that when they call that tool-providing guy, he behaves nicely and gets their job done within minutes.
Snap On tools distributors are highly appreciated for the on-time support and help they provide to their customers.
However, such support chances from the comparative brand, Cornwell, are fifty/fifty. Sometimes, they bring blessings for you and others; they don't even care.
Most people have claimed that these distributors or guys who provide these tools couldn't stay nice when claiming a warranty or asking for any service.
So, it will depend on how your agent will behave with you.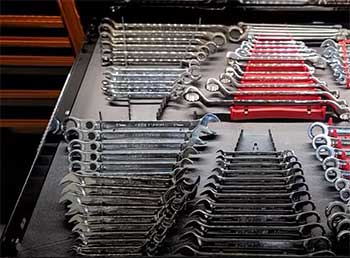 Tools from the Snap-On brand provide you with a longer lifetime, and they stand durable for a couple of years.
One can use them for multiple tasks, and they won't break, bend, or get damaged.
Snap-on has multiple series options of these tools depending on what you need and how much budget you have.
In contrast, I've seen Cornwell tools users complaining about the durability of tools from this brand.
You may not find these tools extremely durable, and they might not stand well for a more extended period. Therefore, you'll also have to decide which side is worth going to.
Category Of Products and Tools Series
Browse the Snap-On website's tools section, and you'll be amazed to find a wide variety of options.
They offer you many tools with relevant information and usage patterns.
Compared to that, Cornwell is also offering numerous options for these tools. But they might still not meet in quantity with the Snap-On tools.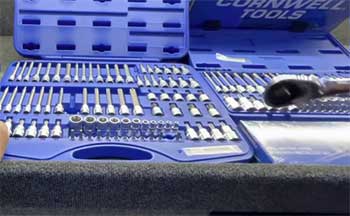 Both brands offer almost similar warranties to the original purchaser of their tools.
It doesn't matter whether you buy from Cornwell or Snap-On tools; you must be sure to find them standing best at their warranty claim.
Because in most cases, you might not find the Cornwell meeting their warranty standards.
However, you will never have complaints regarding this from Snap-On tools.
Online Catalogue of Both Brands
If you also want to be a distributor of either Cornwell tools or Snap-on Tools, you can. However, you may not find Cornwell's original catalog or website appealing.
They didn't focus much on this, and the location finder also sucks. However, Snap-on tools do not make such blunders.
Quality and Customer Satisfaction
I must say that Snap-On tools are far better than Cornwell when it comes to giving customer satisfaction and brilliant quality.
You may not find the Cornwell standing on these marks. Yet, according to a few people, Cornwell tool is a good brand.
Which Tools Is Brand Better Between Snap On and Cornwell Tools?
If I were you, my priority would always be Snap-On tools. They lead through quality, durability, excellent customer service and support, plus many other benefits.
On the other hand, sooner or later, I will end up getting disturbed and disappointed by Cornwell.
But if you already have a good relationship with the Cornwell tools provider, you must be lucky on Earth. Snap-on is always a plus.
Frequently Asked Questions (FAQ)
Are Cornwell Tools Lifetime Warranty?
Yes, they provide you with a lifetime warranty on all of their provided tools.
What Brand Is Similar To Snap-On?
Some of the highly known competitors of Snap-On tools include Husqvarna, ITT corporation, BorgWarner, and Stanley Black & Decker.
Is Snap-On Tools The Best?
They might not be the best, but Snap-On tools rank at the 3rd number in the Product Quality Score.
Are Cornwell Tools Made In the USA?
Yes, these tools are made in the USA.
Wrapping Up
All of this would help you realize which tool brand between Cornwell and Snap-On tools is best to consider. You might like Cornwell again if you have had the best experience with it so far.
But you may want to replace it with Snap-on tools based on the facts discussed here.
Hence, whatever you choose, always play on the safer side. Never invest in any tool brand that doesn't meet its promises and provide the claimed value.