Simplicity has been a familiar face in the industry for making mowers that can fit various needs of users. Several models are available, and the performance has charmed users for years.
However, while Simplicity's consistency or performance is top-notch, the price has been a complaint for new customers for a long time.
If you plan to get a Simplicity mower, you might wonder why it's so expensive. So, today, I have decided to look for the answer and discuss some potential reasons behind the price tag.
Let's begin.
Why Are The Price Tag Of Simplicity Mowers Too High?
There I no doubt that Simplicity mowers are top of the line in the industry. But is the performance worth the price tag? Let's find out.
As I repeatedly said, Simplicity is now under the ownership of Briggs & Stratton Corporation, an engine manufacturer. While brands often seem to lose their edge after a change of ownership, B&S has improved with their new engines and a rise in used hours.
Unlike other brands, Simplicity mowers are entirely manufactured on US soil, instead of China or any third world country.
Simplicity has ensured their mowers keep performing at the highest level with strict quality control.
However, high-quality manufacturing in the USA has its cost.
Industry-Leading Suspension Design
Mowing over a bub is never comfortable, and Simplicity ensures you never face this discomfort. Unlike the horrible suspension experience of most tractors, Simplicity mowers have fully independent front and back suspensions.
2022 marks the 100th anniversary of Simplicity, and during its' time, it never ceases to amaze the customers with innovation and consistent quality. Though there have been several ownership changes, it held the position of some of the best mower brands in the country.
Simplicity mowers aren't cheap, but the premium feature set further justifies the price tag. First, consider premium features such as power steering, push-button start, or electric height functionality.
You'll see that Simplicity is offering these at their entry-level mowers, unlike most other brands.
About Simplicity Mowers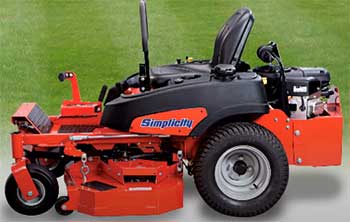 Simplicity was founded in 1922 as a brand that manufactures mowers, tractors, hipper-shredders, and tillers.
However, their mowers have been the hot cake in the mower industry for a long time.
Apart from their products, Simplicity has also made tractors for other brands.
So whether we talk about engine power, maneuverability, performance, and comfort, Simplicity mowers get full marks in every category.
All the Negative Aspects of Simplicity Mowers
Though many significant aspects justify the high price of Simplicity mowers, you should also know about these slight drawbacks.
Many users have complained about the rough transmission of Simplicity mowers. In the beginning, when you start, it mows smoothly.
But as you keep going, the transmission system keeps disengaging. In some models, this transmission issue has caused severe trouble leading to poor speed control.
The deck prevents the grass from spreading and protects the engine. However, some of the Simplicity mowers models have issues with this deck as users complained about wobbling issues.
Simplicity should address this issue with better belts and adjustments availability.
Frequently Asked Question (FAQs)
When did Simplicity go out of business?
After Briggs & Stratton Corporation acquired Simplicity in 2004, it decided to close the manufacturing facility in Port Washington in 2008. This closing resulted in the unemployment of 325 people at the facility.
This facility was closed as a part of the company's long-term plan, and the manufacturing was moved to other manufacturing facilities under hipper-shredders and tillers.
Who are Simplicity mowers made by?
Simplicity mowers are made by the Simplicity manufacturing company based in Port Washington, Wisconsin. This manufacturing company, however, is a subsidiary of Briggs and Stratton. The engines power the mowers from Briggs and Stratton.
Are Snapper and Simplicity the same?
Snapper and Simplicity sued to be separate brands with intense competition between them. However, Simplicity acquired Snapper in 2002, so you can say Snapper and Simplicity are the same now.
Does Briggs & Stratton own Simplicity?
Yes, Briggs and Stratton, an engine manufacturing company, acquired Simplicity in 2004 for a whopping $227.5 million. The acquisition resulted in adding lawnmowers and tractors to their product lineup.
Final Thought
That's a wrap for today. I hope you have understood why Simplicity mowers are so expensive. But, simultaneously, you need to realize that lawnmowers are infamous for breaking down, especially the cheaper ones.
So, given the customer satisfaction and performance, it's easy to justify the price tag of Simplicity mowers. Of course, there are cheaper alternatives, but if you are willing to pay the premium, Simplicity mowers can be a better option.