The person whose job is about mowing a lawn can better understand the necessity of having a mower with a powerful engine, a durable frame, and a large Deck. Considering the matter, I did plentiful research, checked tons of lawnmowers, and ended up with the one with a superior Kawasaki engine, a 21" deck, and many striking specs!
Yes, I'm talking about the Ybravo 21, renowned for being versatile. Check out this review to learn more about this classic lawnmower.
Features of Ybravo 21 Mower
Heavy-duty Kawasaki Engine
I don't think nothing is as crucial as a top-class engine when we talk about a lawn mower.
With its existence, you won't perform heavy-duty mowing projects on your lawn.
Besides, your product won't last for a decade if the engine appears weaker or fragile!
The Ybravo 21 features a top-notch, durable, and long-lasting 180cc Kawasaki engine coming from the "FJ Series." Thus, it ensures excellent power and reliability needed when you tend to use it for commercial landscaping.
Even I talked to some commercial users about its performance on commercial landscapes, and guess what? Most replied positively that they got optimal outcomes using the Ybravo 21.
In a nutshell, the lawn mower's Deck helps protect the engine and the user from cutting blades. As a result, it's always a plus to have a large and rigid deck.
Luckily, Ybravo 21 won't disappoint you as I've found its 21" cutting deck quite strong for being an all-steel component. Its replaceable strips keep each trimming side well-protected.
To ensure hassle-free maintenance, you'll find both the height adjusters and wheel brackets bolt-on down the terrain. 
Alongside the sturdy gears, the transmission of Ybravo 21 is built pretty strong. Thanks to the dual-speed characteristics and 3300 engine RPM, its features allow you to perform lawn mowing more quickly and precisely.
In addition, the wheel ratchets location is noticeable around the transmission, keeping them safe from grime, rust, and stuff like that.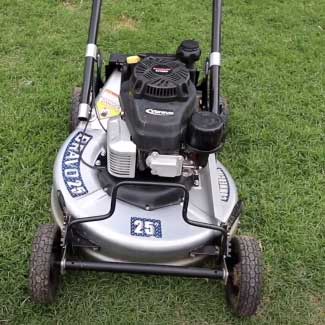 Here, you'll get semi-pneumatic radial-shaped wheels coming in a size of 9 inches.
It helps you ride over harsh terrains without excessive bounces.
Talking about the wheel rims, each of them consists of high-quality material.
Compared to steel, it's 2x sturdier and more capable of withstanding pressure.
And the thing I liked about the Ybravo 21 is that it features interchangeable wheels, ensuring ease and flexibility for users.
Additionally, the front axle appears large (30 mm), offering a strong and durable mounting device. It plays a key role in lifting the lawnmower if required.
Put a smile on your face as the aluminum tubes it gets are of aircraft quality. While reducing weight, it tends to offer a stable handle solution. And don't worry about loosening or crushing as the durable clamps assist in attaching the handles as firmly as possible.
The unique part? Well, I found the adjustment knobs situation close to the handle. With its assistance, I was able to adjust the mower's engagement according to my comfort zone.
Unlike traditional lawnmowers, the Ybravo 21 is known for its maneuverability, including the ideal back-to-front balance, low-weight design, and convenient top handle.
The thing that I'd like to add more about the handle is that it gets a convenient shape, letting you maintain easier turns while mowing around trees, plants, fences, and such things.
Excellent Vacuuming Ability
Ybravo 21 offers an outstanding vacuuming performance in this budget segment, thanks to the high-lift cutting blade combined with the deep cutting deck.  Even in moist conditions, I find it pretty much efficient. However, you should avoid mowing over-wet lands.
As you can see, the maker has added an extra catcher that is relatively large (2.5 bushels) to hold lots of debris at once. And guess what? Getting it off and on is a snap; you only need to take it off through the gripping area without using cables.
Surprisingly, it won't end up with clogging, even if you deal with damp grasses!
What if you get such a top-quality lawnmower without spending a fortune? Compared to its competitors, I find the price of Ybravo relatively less expensive, despite having a commercial Kawasaki engine.
On top of that, its spare parts seem reasonable, too, meaning you won't have to hurt your wallet to get those essential accessories.
Here is an in-depth video review of it.
What Could Have Been Better With Ybravo 21?
Let me tell you a bitter truth – the more powerful your engine, the more noise it tends to produce. Although the Kawasaki FJ series engine has a reputation for being superior and long-lasting, some customers complained they noticed slight noise during a mow.
Even I also observed a little noise after running the Ybravo 21 engine for a long time. If performance and power matter most, you should overlook this drawback. That's what I did too!
Don't get me wrong! I also believe speed is crucial if you want to get the work done more quickly than usual. But when it comes to the Ybravo 21, a few customers claimed it to be too fast, even in low gear!
If you're a seasoned mower, then it's a plus point. In contrast, it'll be tough to control the mower at the beginning if you're a fresher. After a couple of constant uses, I think you'll get used to it.
Last Words!
The Ybravo 21 review shows all of the unique features, pros, and some of its minor cons. After going through this complete write-up, I guess now you can decide whether you should spend on it for your lawn or not.
I can rest assured that the quality, performance, and power of this Ybravo lawnmower won't let you down. So try it out!