Room and Board is a furniture brand that has been here for quite a long time, whereas West Elm is a younger brand. People like Room and Board more over West Elm because of their product quality, excellent customer service, and other amazing qualities.
Homeowners claim that Room and Board furniture items stay for years and provide the best customer value.
On the other hand, the West Elm products are not that high quality when they are compared with the Room and Board. Besides, West Elm provides lower-priced furniture products compared to the Room and Board.
Still, we are here to differentiate between the reasonable differences between both furnishing brands.
A Brief Comparison Table
| | | |
| --- | --- | --- |
| Features | West ELM | Room and Board |
| About Each Brand | Known highly for being one of the most sustainable home furnishing retailers for the past four years | Known as a highly recognized brand and comparatively older than WEST ELM as its been operating since 1980 |
| Customers' Recommendations for furniture | Lower | Higher |
| Products Quality | Not that great | Excellent |
| Pricing | Cheaper furnishing items | A little expensive brand |
| Durability over the long run | Not that great | Pleasingly awesome |
| Warranty Over furniture items | Up to 5 years for all material and craftsmanship defects | No information regarding warranty, but they are reasonable and have an excellent customer service |
| Products Variety | Reasonable | Huge |
In-Depth Differences Between Room and Board And West Elm Furnishing Brands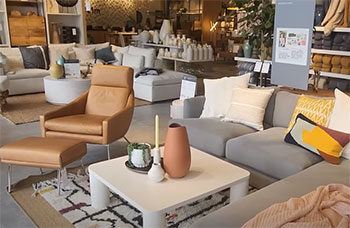 Before we dig deeper, let's look at how famous each furnishing brand is.
When you consider the Room and Board, it's more like a royalty furniture brand working for years.
They first started selling and manufacturing quality furniture in 1980.
Now, the brand is recognized highly among homeowners who love buying their furniture products from Room and Board.
They have a lot of positive reviews and good things to say about the brand.
On the other hand, West Elm has been a younger brand providing these products for the past four years.
Their mission is to provide quality by keeping the price minimum. Therefore, you can find several discounts, free shipping policies, and more.
Hence, customers are attracted to them because of their lower prices. The quality might not be as superior as expected.
Customers' Recommendations For Furniture
Fairly speaking, we choose the brand of furniture that most individual buyers mostly like. That's what Room and Board are all about.
It's a furnishing brand liked by more people and currently has a higher customer rating. At those community forums and discussion platforms, I've found many people talking about the various good qualities of furniture purchased from the Room and Board.
However, we don't see many happy customers buying furniture items from West Elm.
They are not that popular, and people have claimed their products are of inferior quality. That's a customer-losing thing for a brand like West Elm.
Whether you purchase a table, chair, or desk from Room brand or any other furniture item, you will find it made of superior hardwood.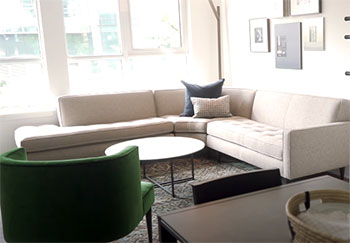 Their products provide the best quality over the long run.
It is not just a saying but a valuation from hundreds of buyers.
They use premium quality wood and extensive methods to provide us with the right and durable furniture.
At the same time, you might get disappointed with the quality and craftsmanship when you get a furniture product from West Elm.
Hence, we can see that West Elm is not an excellent furnishing brand when compared to a giant brand like Room and Board.
When buying quality furniture that might last a bit longer in your house, it's a reasonable factor.
Because without knowing the pricing of either brand's furniture items, you won't be able to decide your budget. In that case, Room and Board products are a little expensive.
The brand charges more because of its reputable name and fame in the furnishing industry. However, the pricing and budget on West Elm are reasonable because this brings cheaper furniture products to most households.
That's why you can spend less and buy good quality furniture products from West Elm.
Durability Over The Long Run
We do want furniture in the house that might last longer. That's what Room and Board are all about. It's a furnishing brand that provides extended durability in its furniture items.
Some customers claim that they have room and board furniture items working for more than 8 to 9 years still in their new value.
That means durability and extended life are granted with Room and Board.
However, West Elm furniture products may not hold that great because they are comparatively not that durable.
Many customers blame West Elm for providing inferior quality furnishing items just because they are cheaper and not made to last longer.
Warranty Over Furniture Items
When it comes to warranty, West Elm products are covered from all material defects for almost 5 years.
This warranty is a big deal for any furnishing brand available in the market. At the same spot, the Room and Board are not offering any warranty, and no information is available.
Still, their customer service is up to the mark. It doesn't matter if you have received a defective product, want to replace it over a reasonable period or have any other problem with the purchase.
They will cover everything up without asking any questions. However, we don't hear of any customer experience with West Elm like this.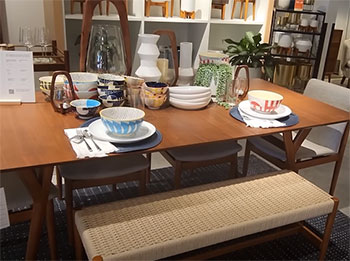 Room and Board brings a vast collection of furniture for every desire.
Whether you need it inside the office or house, you'll get it.
But with the West Elm, this choice is not limited as well, yet not as significant as it is with the Room and Board.
So, you can also differentiate these brands over their product volume.
So, Which One Is, Room And Board Or West Elm Furnishing?
It is always Room and Board compared to West Elm Furnishing.
If you think you can match the price to get extended quality furnishing, you are most welcome at Room and Board.
But if you want to save your budget, West Elm won't disappoint you. However, it won't last long. So you can easily decide which brand to choose for your next furniture purchase.
Frequently Asked Questions (FAQ)
Is Room And Board Owned By West Elm?
No, both are separate brands manufacturing and selling furniture items.
Is West Elm High End?
West Elm Sells cheaper furniture items, but they are not long-lasting ones.
What's So Special About West Elm?
Their cheaper prices are somewhat special for many customers. Sometimes, they consider going with West Elm because they don't have a high budget to purchase from other brands.
Is West Elm Owned By Pottery Barn?
No, Pottery Barn doesn't own West Elm. Instead, both these brands are owned by Williams Sonoma.
Final Thoughts
Coming to conclusion, it's been a good discussion between the West Elm and Room and Board furnishing brands comparison, Room and Board win this competition.
They are making it up to the mark with years of industry experience, multiple happy customers, and superior-quality products.
But it will also be a good shot if you have had a good experience with West Elm. Because, in my view, not many people get that from West Elm.
So, if I were you, I'd love to spend on the Room and Board for my next furniture purchase.