How do you feel when you don't get equal value from your windows' investment? 
Selecting the correct window is as important as the home itself. Here I have come up with the Weathergard windows vs. Andersen windows comparison session.
WeatherGard windows have only vinyl frames, while Andersen Windows are made from wood, fiberglass, and Fibrex. Plus, you have a vast color and finish choices with Andersen windows than WeatherGard. 
Let's go for an in-depth discussion to see how they differ from each other. 
A Quick Comparison Table
Want to have a quick overview? 
Check out the main difference between the two window brands and I believe it can help you get a basic idea about them. 
| | | |
| --- | --- | --- |
| Specification | WeatherGard Windows | Andersen Windows |
| Window Size & Style | Picture, Specialty, Bow, Bay, Double Hung, Casement, Slider, and Garden  Windows | Picture, Specialty, Bow, Bay, Single Hung, Double Hung, Casement, Awning, and Gliding Windows |
| Window Frame Materials | Only vinyl | Wood, Fiberglass, and Fibrex. |
| Color and finishes | Less color and finish choices | More color and finish choices |
| Type of glass | Hi-Tech Insulated Glass | Low-E / Low-E4® Glass |
| Warranty Terms | A transferable lifetime warranty | 10 to 20-year limited warranty |
| Price | Low to midrange | Low, midrange, and higher |
In-depth Differences Between WeatherGard Windows And Andersen Windows
Before choosing a particular window, you must know everything in detail. This will aid you in making a good purchase decision.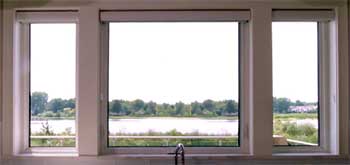 WeatherGard windows are available in 9 different styles.
One of them is slider windows that have easy functionality, increased ventilation, & sunshine and requires low maintenance.
Another unique window of Weathergard is garden windows that offer enhanced sight view and bring more natural lighting and fresh air inside the house. 
In contrast, Andersen windows also have 9 various styles available. If you want increased protection and stylish windows, awning windows are great. To learn more about it, read my article on VinylMax versus Andersen windows.
Both brands have 6-7 similar windows styles and a few unique options of their respective brand. Hence, homeowners have a lot of flexibility to choose from. 
The windows of Weathergard have only a vinyl frame option. This type of frame is solid and durable. They are prone to crack, warp, or fade easily.
On the flip side, Andersen windows have wood, fiberglass, and Fibrex material options. Fiberglass frames are excellent for giving an Aesthetic appearance. They are weather-resistant too. Fibrex materials have increased insulation and more reliability. 
WeatherGard windows are mainly available in 8-10 color options. So, you will have limited color and finish choices when you pick Weathergard windows. 
Contrastly, Andersen windows offer around 50 color selections. Plus, the manufacturing provides customizable coloring choices. So, you can easily get your preferred color.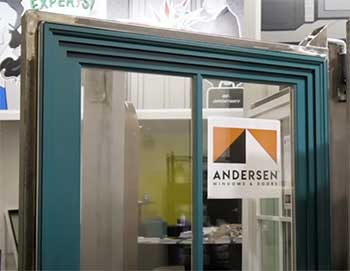 Most modern windows have glasses since they make the overall appearance of the windows stylish and clean. 
WeatherGard windows have Hi-Tech Insulated Glass.
They are energy efficient to reduce your monthly electricity bills. More importantly, they will provide a comfortable feeling.
On the contrary, windows from Andersen are equipped with Low-E / Low-E4® Glass. They can block up to 95% of UV rays. Hence, a less amount of solar heat will enter your house.
WeatherGard windows have a transferable lifetime warranty. So, apart from claiming services while you own them, the buyer of your house will also get the warranty. 
This will ensure a great resale value for your home.
In contrast, Andersen windows provide a transferable 10-year limited warranty for non-glass parts and a transferable 20-year limited warranty for glass parts. Though they don't offer a lifetime warranty, their product still provides long-term service. 
Price is a big factor when choosing household windows. After all, it requires a considerable amount of investment.
WeatherGard windows are available at low and midrange prices. If you need regular windows, choosing a low range will be okay. Otherwise, select midrange options for better functionality and durability. 
On the contrary, Andersen windows offer low, mid-range, and high-end options. Their latest series has a higher price tag than the old series. Andersen 400 Series Windows is one of the most expensive series from this brand. 
What Will Be The Suitable Choice For Your Home?
Both WeatherGard and Andersen windows are good enough to suit most households. They offer a wide range of windows options and color choices to choose your preferred option,
If you need only vinyl window frame materials and prefer a transferable lifetime warranty, Weathergard windows seem the best choice. You don't need to have an expensive budget to get them.
On the other hand, when you want to install various types of window frame-based materials and prefer more color/finish options, Andersen windows are the best choice.
Frequently Asked Questions (FAQs)
What are WeatherGard windows made of?
WeatherGard windows are made of vinyl and double-thick glass. They use more vinyl per window and that's why their windows are very heavy!
What windows are comparable to Anderson?
Apart from Weathergard windows, Pella windows are the closest competitor of Andersen windows since they offer many similar types and styles of windows.
Is Jeld Wen a good window?
Jeld Wen offers good windows that require minimal maintenance and can perform consistently. But many customers are not happy with their warranty issues, which could be better.
Are Marvin windows better than Anderson?
Marvin windows are a great choice if you want a wide variety of product selections and a simple warranty procedure. But if you are interested in inexpensive option, Anderson windows are good.
What kind of windows is Renewal by Andersen?
Fibrex® materials are used for Renewal by Andersen® windows. They have excellent durability, strength, and stability. They require low maintenance too. 
How long do Andersen windows last?
Andersen windows can last 10 to 20 years depending upon how you take care of them and the surrounding environment, both inside and outside
Final Thoughts 
So, what have you decided after learning about Weathergard windows vs. Andersen windows?
Both options are good enough to install a wide range of households. However, you need to choose a particular option that gives you the greatest value you spend.  
WeatherGard windows are great for more durability, whereas Andersen windows are perfect when you prefer more color choices at different prices. Hopefully, you will choose the best option that appears ideal for your home.