Simonton is a top brand in the United States for making premium quality windows. They make a wide range of windows, and the Simonton 6100 and 6500 are two popular series.
The primary difference between Simonton 6100 and 6500 is the finish/color and pane glass options.
However, both window series have remarkable features that make them unique from others. If you are puzzled about choosing between Simonton 6100 vs. 6500, keep reading this post to find all the essential details to make a wise purchase decision.
A Quick Comparison Table
If you don't have enough time to go through the entire article, you can check this small table to have a quick idea about both window series.
| | | |
| --- | --- | --- |
| Specification | Simonton 6100 Window | Simonton 6500 Window |
| Window Types | Bay, Bow, Picture, Double-Hung, Awning, Geometric, Casement, Hopper, and Slider Windows | Bay, Bow, Picture, Double-Hung, Geometric, and Slider Windows |
| Window Options | White and tan | Endless color options and finishes |
| Pane glass option | Double-pane glass | Triple-pane glass  |
| Energy Efficiency | Good | More energy efficient |
| Durability | Decent durability | Highly durable |
| Warranty | Double lifetime limited warranty | Double lifetime limited warranty |
| Cost | Less pricey | More pricey |
In-depth Differences Between Simonton 6100 And 6500 Windows
So, you got a brief overview of Simonton 6100 And 6500. But knowing in-depth decisions is crucial for effective decision-making. Let's learn about them in a comprehensive manner.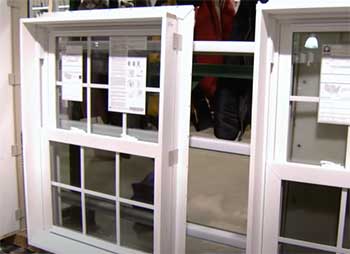 Both Simonton series are available in various window types. You can choose 9 options from Simonton 6100 and 6 choices from Simonton 6500.
Hence, you have more choices from the Simonton series.
For example, you can select Casement windows that have excellent opening capabilities and require minimal maintenance.
If you want ample airflow in your house, you can choose hopper windows. They are great for enjoying natural fresh air and sunlight in your home.
Since our household structure and wall painting vary, we will need different windows with unique colors and finishes. Simonton 6100 is available in two colors/finishes: white and tan.
White windows are standard among households since they provide a clean look and have decent resale value. If you want a great combination of modern and traditional styles, you can choose tan windows as they offer a warm, neutral appearance.
In contrast, Simonton 6500 is available in unlimited colors and finishes. Their collection is so huge that you don't need to rely on other brands.
When you expect a stylish and modern appearance from windows, Simonton 6500 series won't disappoint you.
Simonton 6100 has mainly double-paned glass, which is highly energy-efficient than single-paned windows. They can keep a stable temperature inside your home and insulate your house from noise.
Making your home comfortable and enjoyable is what you will like about it.
On the contrary, Simonton 6500 has triple-paned glass, so they are more energy-efficient than double-paned windows. This type of window is highly durable and has a great resale value.
It can improve the overall appearance of your home. Significantly reducing is also possible.
Simonton 6500 is around 20% more energy-efficient than Simonton 6100. However, both series can decrease the transfer of heat in each direction.
Since they insulate the home, you will feel more comfortable. They will ensure minimal home energy usage. Your home will be free from the attraction of moisture.
Additionally, reducing the level of condensation inside homes is another plus point of getting such energy-efficient windows. However, the latest series will perform better than the older one.
Since Simonton 6500 has triple-pane glass, they are more durable than double-pane glass. After all, triple-pane glass has increased strength to take more abuses.
If you take care of both series of windows equally, Simonton 6500 will last more time. However, they have been made from the same frame materials. So, the longevity of the frame will be the same.
Both series of windows offer a double lifetime limited warranty. So you can pass the ownership of the windows to the next homeowner when you want to sell your house.
This will give you two benefits. At first, you will be worry-free while owning the house since the warranty is transferrable. If anything happens to the windows, the company will replace or repair them as per their condition.  
Another benefit is it ensures the reliability of the product. Simonton is fully confident about the longevity of their windows. After all, the company is guarantying two lifetimes for their windows.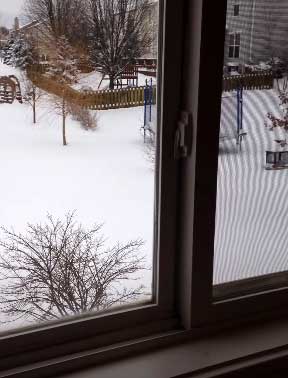 Since home improvement projects require a considerable amount of money, you always want to get more than or equal to your spending.
The great value you get, the more satisfied you will be.
Compared to Simonton 6100, Simonton 6500 is slightly more expensive. They have higher price tags for three reasons.
You will have endless color choices and finish options from Simonton 6500.
Hence, you don't need to rely on another brand to find your favorite color.
Secondly, Simonton 6500 has triple-pane glass, which is more durable than 6100. Lastly, it is more energy-efficient than the other option.
Which One Is The Best Pick For Your House?
Choosing a particular home window requires you to determine what things you expect from a window. Additionally, you want to consider your home structure, the type of window you need, the external temperature condition, and the color or finish you require.
If you are looking for affordable windows and want to install various types of windows in your house, Simonton 6100 appears the best choice. These windows are perfect when you are not living in too hot or cold weather conditions and want reasonable durability.
On the flip side, when you prefer incredibly durable and energy-efficient windows with limitless color choices, Simonton 6500 is a choice.
They can keep your house at a stable and comfortable temperature by preventing less transformation of airflow from both directions.
Frequently Asked Questions (FAQs)
Is Milgard Better Than Simonton?
It depends on the type of windows you choose since they offer a wide range of windows in various price ranges, But Simonton windows are great when you prefer energy-efficient, durable, and functional windows and doors.
Are Ply Gem and Simonton the same company?
Ply Gem and Simonton Windows are two different companies. Ply Gem has acquired Simonton Windows and decided to manage the business unit separately.
Who Manufactures Simonton Windows?
Since Ply Gem has acquired Simonton Windows & Doors, all products of Simonton are manufactured by Cornerstone Building Brands. Its headquarter is located in Cary, North Carolina.
Are Simonton Windows Made In The USA?
Though Simonton is mainly a USA-based company, its products are manufactured in three countries: the USA, Australia, and France
What Is The Rating On Simonton Windows?
Most customers have given the Simonton Windows an A- rating. Though they are good, users expect them to be better than other brands. That's why they have a rating of 3.23 out of 5 stars.
Conclusion
Windows options and brands are numerous. But choosing reliable and functional windows is more important. Both Simonton 6100 and 6500 are perfect for use in different types home.
However, they have some distinctive specifications, which we have discussed.
Hopefully, you will make a better decision since you have already learned about Simonton 6100 vs. 6500.Feel free to get the best option according to your budget and requirements.