Your dream house won't be complete until you build a classic and practical kitchen. Since we spend a good amount of money designing a kitchen, choosing a durable and functional cabinet is essential. 
But so many options are there.
Waypoint and Kraftmaid are the two popular cabinet choices among many households. Here, we will shade out light on some crucial details on Waypoint Cabinets vs. Kraftmaid. Read until I finish.
A Quick Comparison Between Two Cabinets
Want to have a brief overview? You can go through this table to have a good idea of both cabinets.
| | | |
| --- | --- | --- |
| Specification | Waypoint Cabinets | Kraftmaid Cabinets |
| Materials | Maple, Oak, Walnut, Cherry | Alder, Cherry, Maple, Hickory, Oak |
| Quality | Decent Quality | Outstanding |
| Product Variation | 4 wood finishes and color | A huge number of colors and finishes |
| Durability | Decently Durable | More Durable |
| Customer Service | Not up to the mark | Excellent customer service |
| Price | Highly Affordable | Slightly expensive |
| Warranty | Lifetime Limited Warranty | Lifetime Limited Warranty |
| Availability | Highly available  | Medium availability |
Key Differences Between Waypoint and Kraftmaid Cabinets
Knowing the differences between Waypoint and Kraftmaid Cabinets requires learning about their aspects. Here are some key features of both cabinet brands.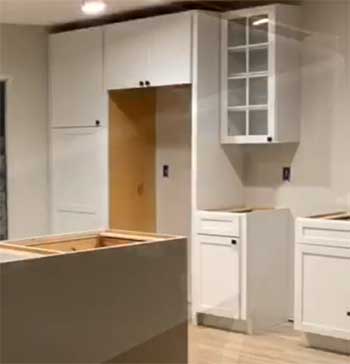 One of the first main points many experts will discuss is its materials. After all, materials will determine how good the quality is.
Waypoint Cabinets are made of various materials such as maple, oak, walnut, cherry, dura form, dura form texture, etc.
These types of woods are a decent choice for ensuring long-lasting durability. They are impressively resistant to normal damages.
On the other hand, Kraftmaid Cabinets are available in more than dozens of types of woods. Hickory, alder, Evercore, etc., are some unique woods.
 Apart from being highly durable, these woods are well-known for being lightweight and having a smooth finish.
How do you measure cabinet quality? Its woods should have decent density, strength, stiffness, and MFA.
Many people often ask: Are Waypoint cabinets good quality? They have average quality. But considering its price and offerings, you can't deny that they are worth the money you spend.
In contrast, if you want to purchase a better quality cabinet and don't mind spending extra, Kraftmaid Cabinets are a suitable option to consider.
Everything is well constructed with its back panels, hinges, drawer glides, drawer boxes, and frames. Hence, Kraftmaid Cabinets are a better choice for Waypoint Cabinets, considering their construction and durability.
We all don't prefer the same color, style, and design when buying a cabinet. Our preference varies from each other. 
Waypoint Cabinets are available in 4 finishes and 4 colors: spice, cognac, truffle, and slate. This type of finish can add an attractive to the cabinets.
On the contrary, Kraftmaid Cabinets are available in many colors and 7 standard finishes and techniques.
Suede topcoat, weathered, suede topcoat, aged, etc., are the top finishes from this brand. Hence, Kraftmaid Cabinets offer wide options than the other.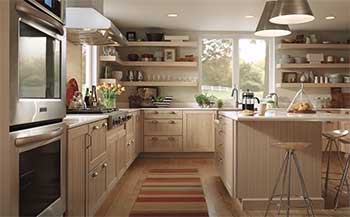 Knowing how long a cabinet will last is a good rule of thumb. Though some exception quality cabinets can last up to 50 years, most of them need replacement after 10-15 years. 
But proper take care can increase its lifespan more.
 Since Waypoint Cabinets are made of standard plywood ends, they can last for several years easily.
However, you should keep it away from water since it can deteriorate its quality over time for continuous exposure to water.
On the other hand, Kraftmaid Cabinets are extremely durable since they are made of high-quality wood. More importantly, these cabinets have passed several tests to ensure proper functionality even in harsh conditions.
The customers' services of Waypoint Cabinets need some improvement. Many customers complained that they had faced a lot of hurdles to demand the warranty of a product. 
Also, a few customers had a bad experience of having /flawed parts.
In contrast, Kraftmaid Cabinets have impressive customer service. They can help and guide you in assembling and installing their products. 
You can call them at any time, and they will be available to serve your preferred service.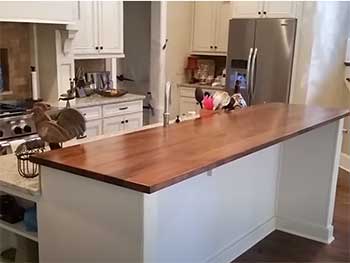 Often, we step backward after hearing a product price. After all, many of us are stuck in budget. More importantly, we want the best value for the price we spend.
Are Kraftmaid cabinets expensive? Compared to Waypoint Cabinets, Kraftmaid Cabinets are a little bit expensive.
However, Kraftmaid Cabinets are available in both mid-range and expensive versions. Their high-end cabinets can cost around $300 per linear square foot.
But you will also find many Kraftmaid Cabinets that have a price range of $100 and $200 per linear square foot. This gives you the flexibility to choose.
On the other hand, Waypoint Cabinets are pretty inexpensive than Kraftmaid since their per linear square foot cost around $90-$95.
Though both cabinets offer a limited lifetime warranty, customers are happier to use Kraftmaid Cabinets than Waypoint Cabinets.
The reason is that many users complained Waypoint doesn't provide a warranty, even some common parts of the cabinet that many other brands offer.
In contrast, Kraftmaid provides a warranty for all standard parts like other competitors. Most importantly, their Cabinets are functional and don't prone to get damaged easily like many cheap products.
We all want to buy our preferred product from our nearby location since it will save our time and money.
Though both Waypoint and Kraftmaid are American-based companies, Waypoint is more easily available in various states in the United States than Kraftmaid.
However, Kraftmaid Cabinets are also available in many locations. Their physical shops are slightly limited in some areas.
Which One Will Be The Best Fit For Your House?
Both Cabinet brands offer high-quality and versatile products. However, if you want a more affordable option that can be easily found from your nearby location, Waypoint is a good brand to consider.
But, when you don't mind spending extra but no compromise on quality, Kraftmaid Cabinets are an ideal choice. After all, the manufacturer uses thick hardwood plywood for making the entire unit.
Frequently Asked Questions (FAQ)
What are waypoint cabinets made of?
Most waypoint cabinets are made of long-lasting plywood for body designing and hardwood framing for the face. This makes them more affordable as plywood is not used for the entire cabinet.
Are Waypoint cabinets soft close?
A special model named Waypoint Living Spaces® cabinets features an adjustable soft-close hinge, which doesn't make any sound while opening and closing the cabinet. They are safer for children and pets due to the door closing softly.
Where are waypoint cabinets manufactured?
Waypoint is an American-based company, and they have 11 manufacturing facilities in different states of the United States. They are fully made in America. American Woodmark is the main owner of this brand.
Are waypoint Cabinets custom?
Waypoint Cabinets are available in a wide range of styles and sizes to suit the actual requirement of your kitchen or bathroom cabinetry. So, viable options are available, and more importantly, they are fully assembled.
Are waypoint cabinets real wood?
Waypoint uses two kinds of woods for making cabinets. Generally, they use thick hardwood plywood to make side panels, while quality hardwoods construct parts quality hardwoods like doors, roll trays, drawers, boxes, etc.
Conclusion
So, which option you have decided to choose after going through the details discussion on Waypoint Cabinets vs. Kraftmaid. You must determine the type of cabinets your kitchen or bathroom will need and choose it based on it.
Don't forget to choose the right size as it should not be too bulky or too short. Also, make sure you consider the surrounding environments if your kitchen has several windows because it will affect wood quality over time.