Some people do not find suitable crack fillers for repairing furniture and other households. So here's my water putty and Bondo review, which will give a clear idea about the best crack fillers available. 
Water putty and Bondo wood filler are well known for their crack filing performance. But there are some fundamental differences you must explore. 
This article will show you the features and their comparison. You will eventually find out the best product at its end. Let's jump right in. 
A Quick Comparison Table 
With a comparison table, you can quickly understand the differences between two products, especially if you are short on time. It will help you form a decision rightfully. 
So, here's a quick comparison table between Water Putty and Bondo: 
| | | |
| --- | --- | --- |
| Aspects | Water Putty | Bondo |
| Special Feature | Non-Shrinking Bonding | Two-Part Filler |
| Benefits | Various | Various |
| How It Works | Power Needs Mixing With Water | Liquid Needs Mixing With Cream Hardener |
| Applications | Repairs Various Cracks | Works on Various Surfaces |
| Cure Duration | Hardens In About 30 Minutes | Sand The Wood Filler In 15 Minutes |
| Waterproof | No | No |
Key Differences Between Water Putty And Bondo 
A quick comparison table is not enough for making an informed decision. That's right; you need more information about these two products to pick up the best one. 
So, what do you do? 
You stick to this part. 
Donald Durham's rock-hard water putty has been filling cracks and making repairs on wood, furniture, concrete, plaster, stone, and other surfaces for the last 80 years.
Homeowners love this gypsum-based filler for its rock-solid performance. 
On the other hand, Bondo was primarily used for patching damages and filling cracks in cars, but some carpenters saw its potential and started using it for wood and furniture. 
Now Bondo makes Wood filler, a liquid to bond wood surfaces. 
In detail, let's see some of the key differences between these two products. 
Donald Durham's Rock Hard Water Putty is a gypsum-based filler, essentially a powder that becomes very hard when you mix it with water. With excellent bonding strength, water putty has a reputation for not shrinking.  
It can withstand any weather situation if you paint over it while using it on exteriors. But the thing about paint is, it will peel off from damp Water Putty. 
Being a two-part filler, Bondo bonds to wood surfaces and offers permanent non-shrink repairs. Because of its medium brown color after mixing, it blends with wood surfaces for a consistent appearance.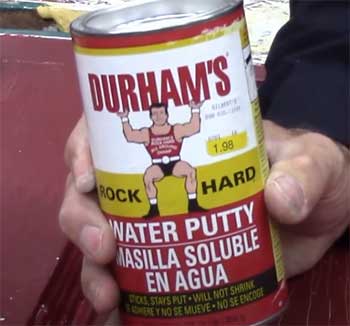 The common benefit between these two products is they fill cracks on wooden surfaces and furniture.
Otherwise, both of them offer some different benefits that you should know. 
Water putty has an excellent bonding strength and is famous for its non-shrinking performance. It is easy to and always ready when you need it. 
Besides, you will find it sticks and stays where you apply. Most importantly, you can use this filler both indoors and outdoors. 
On the other hand, Bondo is a paintable, stainable, and permeant crack filler. Its non-shrinking character offers stable and durable repairs for wood and various other surfaces inside and outside your home. 
Although Water Putty and Bondo fulfill similar purposes, they are different in how they work.
Water Putty is power for starters, and Bondo comes in liquid form. 
You have to mix the powder Water Putty with water to create a mixture.
When you are done mixing with water, the powder will turn into a paste. It becomes tough after applying it to a crack and fills the crack. 
For Bondo, you will have to mix the liquid with a cream hardener that comes with it. The two-part wood filler will form a permanent bond over the cracks and will not shrink.
You can use this filler to rebuild rotted or missing wood pieces for non-structural repairs.  
As we already know, Water Putty and Bondo are crack fillers. They fill and repair cracks. Although they both work perfectly on wooden substrates, you can apply them on various other surfaces.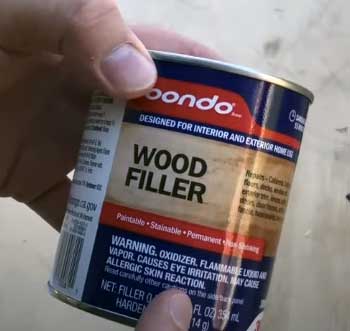 Water Putty fills holes and repairs cracks in wood, as we said.
But that's not all; it also works on plaster, furniture, stone, and concrete. 
Using water putty, you can repair set loose handles from furniture, repair boats, and even set tiles. 
On the contrary, Bondo works best on window sills, furniture, deck, and garage door repair.
Besides, it is excellent for exterior wood trim like doors, frames, soffits, cabinets, wood columns, interior doors, baseboards, etc. 
Both Water Putty and Bondo work fast. When you use Water Putty for filling a crack, it will take only 30 minutes to harden. In contrast, Bondo becomes sandable in just 15 minutes. 
Besides, you will get a professional-looking repair in 30 minutes. It just takes 25 minutes to become paintable after applying. 
Unfortunate as it may be, none of the Water putty and Bondo crack fillers are waterproofed. When applying to exteriors, you will have to paint over water putty to protect it from moisture. 
Besides, as the product absorbs moisture, you should not use it in humid conditions. 
On the contrary, Bondo Wood Filler also does not protect repairs from water and moisture. You can use paint to keep it from harm's way. 
Which Product Is Best For You? 
Water Putty is a widely known and popular crack filler among many people. Because it's been around for a long time, many people do not consider other products can get better than it. 
As I have discussed the differences between Water Putty and Bondo blow by blow, it shouldn't be hard to pick the best one. Both are high-quality products serving similar purposes with some fundamental differences. 
You should choose one crack filler between them based on where you will use it. These two products offer a better result for some specific substrates; choose one based on that. 
Frequently Asked Question (FAQ) 
What is water putty used for?
Durham's Water Putty is a gypsum-based powder filler that fills cracks and holes on wood and other surfaces. It becomes tough after mixing with water and creates a strong bond. 
Is Durham's Water Putty the good for exterior use?
Durham's Water Putty creates a non-shrinking bond and can be used outdoor. But you must paint over it as it is not waterproofed and moisture can create damage. 
Is Durham's Water Putty waterproof?
Durham's Water Putty is not waterproof. So if you have a plan to use it on the exterior, you must paint over it to protect it from moisture damage. 
How long does it take Durham's Water Putty to harden?
After mixing with water, Durham's Water Putty will start hardening in 5 minutes. It will take 15 minutes in total to sand the surface. 
Conclusion 
A crack or hole can further damage your furniture and other wooden substrates if you do not fill them in time. You need the best crack filler to make them look new again. 
With my water putty vs. bondo review, now you know the best filler available. 
But the bottom line here is, do not fall for the name. Choose one that will fill up your requirement. So, go and get it.