A wide range of water putty products are available in the market, but not all of them are as good as Durham Rockhard. Whether it is quality, versatility, affordability, or durability, it can satisfy its users in so many ways.
That's why I have come up with Durham Rock hard water putty reviews to help you understand all the precise details about this product. If you have already planned to purchase this product, don't miss out on this article.
Let's dive in!
Features of Durham Rockhard Water Putty

You must be wondering how Durham Rockhard water putty is different from others, right? Here are the features that will answer your questions.
This water putty comes with a simple application method. No-fuss! Mix one portion of water with three portions of the fine cream-colored powder.
Some users may keenly add than needed water. This will make the solution thinner. Thus, it may not effectively create a perfect seal.
Make sure to use the free-given plastic container to mix it. Keep stirring it until it makes a great mixture.
The texture should be like peanut butter. You should not delay applying the solution after mixing it. Otherwise, it will become hard over time.
Generally, the water putting takes 30 minutes to dry, and it will be ready for sanding. However, considering humidity, temperature, and the volume of DURHAM you have used is also important.
Along with that, moisture exposing areas like showers or bathtubs will take more time to dry. After all, this type of humid environment will prevent the solution from drying within the expected time.
But you can add vinegar to prevent drying the solution quickly. During this period, you can get your job done. Otherwise, the solution may dry after mixing for 5 minutes.
Impressive Bonding Strength
Unlike plaster, Durham's water putty has an impressive bonding strength. Once you have properly applied and provided enough time to cure, it will never get old.
After several years of passing, it will still set up hard as a rock. Hence, it is not hard to see why the manufacturer includes the "Rockhard" word on it. It highly deserved this word.
Wondering about Durham's water putty uses?
The scope of use is too long to describe. Whether it is wood, plaster, furniture, stone, concrete, jewelry organizers, or bathroom accessories, you can use super versatile water putty in hundreds of areas.
Filling out any cracks or holes appears easy-going with this option.
For example, you can use this product for patching cabinet damage that includes tiny or deeper holes. If the crack is immense, you want to give at least coats to retain a natural appearance on the surface.
You can also use this paint with water-based paints, such as Acrylic water artist paints. This will provide different effects, including color, gloss, etc.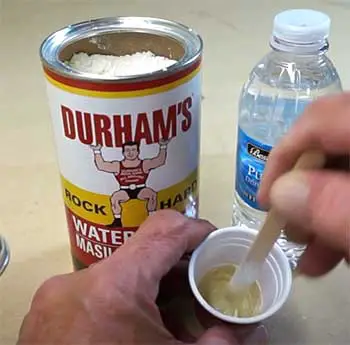 Compared to other water putty products, this unit is easier to sand after drying correctly.
You can smoothly sand it on many surfaces to make them even and flat.
Don't forget to give enough time for drying. As assistance, using a sponge will be a great help to make the surface smooth.  
Avoid putting excessive pressure on the coated surface. Otherwise, the smoothness of the surface may be slightly compromised.
You should go gently on it.
In addition, make sure you sand its coating in about 10 to 15 minutes. Delaying the process more will make the sanding process harder.
Besides, avoid sanding for an extended time. Otherwise, the coat will be too thick. Thus, you have to add another coat. Or the durability won't be as much as it is supposed to be.  
Affordable and Easily Available
Despite being a high-quality product, Durham Rock hard water putty has an affordable price.
For example, One pound of Durham's Rockhard Water Putty will cost around $3.20 as per the Amazon website.
If you need to use it for a massive project, you can purchase the 4-pound option, which has a price of $7.50.
The 1-pound option contains 7 packets, while the 4-pound option has 9 packets. Hence, multiple options are available to pick as per your requirements.
Apart from an online store, purchasing from your nearby store is also possible if it is available. It is easily available in physical shops.
Suitable For Outdoor Purposes
Apart from internal purposes, you can use Durham's Water Putty for the exterior. But you need to keep the solution painted.
This will make the upper surface harder. Hence, the hard paints will create a thick layer and protect the below coat of Durham's Water Putty.
It is not waterproof. External moisture will affect its durability. Continuous moisture exposure will lead to peeling-off issues.
However, you don't need to use any paint for the internal surface if it is not directly contacted to moisture.
Avoid using it on any bathroom accessories that are fully exposed to moisture. But using the product on any shower or tub parts that don't directly contact with water is entirely okay to use.
What Could've Been Better?
Though this water putty has many positive points, it is not free from drawbacks. Here are some noticeable cons of this unit.
Not Ideal For Load-Bearing Repairs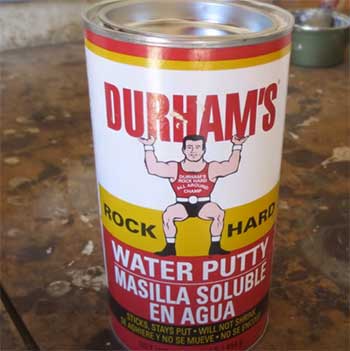 The coating a Durham's Water Putty creates may crack or become loose if it is expanded, contracted, or moved heavily.
Hence, you should avoid using it for any load-bearing repairs. This may cause slight expansion for DURHAM'S coat.
In addition, you may end up compromising the quality of the product by adding a great deal of powder or liquid paints.
Indeed, Durham's Water Putty doesn't shrink as much as some cheap fillers do. Though the manufacturer claimed their product doesn't shrink at all, many users complained it shrinks a little.
While the formula dries, it causes a little shrinkage. Hence, you may initially think one coat is enough. But after the first coat is done, the thickness goes a little bit down, necessitating another coating or several coatings. 
Hard To Remove From Unwanted Area
Keep your eyes always on while using Durham's Water Putty. You may mistakenly apply it to unwanted areas.
Make sure you remove it immediately using a handy tool. Otherwise, they will become harder. Then, it will be complicated to get rid of.
You may end up spending a lot of time sanding it down since the coat has become pretty strong. So, watch out for how you apply it and in what areas.
Frequently Asked Questions (FAQ)
Is Durham's Rock Hard Water Putty waterproof?
No, Durham's Rock Hard is not waterproof. It is better to avoid using them in high moisture exposed areas.
But you can use them if you mix the powder with water-based paint and apply it on your preferred surface.
How long does it take Durham's Rock Hard Water Putty to dry?
Generally, Durham's Rock Hard Water Putty takes around 10-15 minutes to dry. They will become hard within a reduced time.
However, surrounding environmental conditions, such as humidity and temperature level, will affect its drying time slightly or moderately.
Is Durham's Water Putty good for the exterior?
Though Durham's Water Putty is purposely made for indoor purposes only, you can use it outdoors when you keep the surface painted.
This will create a protective layer over the coat of the water puffy to safeguard it from adverse conditions. 
How hard is Durham's Water Putty?
Durham's Water Putty is extremely hard once you have given enough drying and curing time to create a perfect coat on your preferred surface. You can see it and drill it pretty much like wood.
How do you make water putty dry faster?
Generally, thicker putty will take more time to dry. You can consider setting up an oscillating fan to dry up the solution faster.
Alternatively, increasing the puttied surface temperature higher than 50 degrees F can also help you dry it quickly.
Final Thought
Durham Rock hard water putty is a great product that you can utilize for different DIY works; general repair uses, patching plaster walls, filling holes in wood, and so forth.
Since it comes at an affordable price and is simple to apply, many household owners use this product.
Though the unit is not the best option in the market, considering its price and versatility give you several reasons to purchase it.
Hopefully, you have learned some important details about this product after going through the Durham Rockhard water putty reviews.
Thanks for reading!