When it comes to comparing the Ultraspec 500 and Regal Select paints from Benjamin Moore, both are high-quality products. However, Regel Select is usually better than Ultraspec 500 series because it provides better color retention. It is easily washable and offers excellent coverage.
Ultraspec is also okay as it is often used for commercial contractors when people like to sell their houses. But you might have problems with Ultraspec 500 while using it inside your house.
A Quick Comparison Table
| | | |
| --- | --- | --- |
| Important Factors | Ultraspec 500 | Regel Select |
| Recommended To Use | When selling your house | After buying a new house |
| Washable | Difficult | Easier |
| Products Variation | Primer, Flat, Low Sheen Eggshell, Eggshell, Satin/pearl, Semi-Gloss | Flat, Matte, Eggshell, Pearl, Semi-Gloss |
| Color options availability | Usually, come in white color | Available in thousands of colors |
| VOCs | Low VOC | Low VOC |
| Resin Type | Acrylic copolymer | Proprietary 100% Acrylic |
| Odor | Disappears in one or two days | Less or no odor |
| Budget factor | For people with low budget | For people who want to avoid the instant smell and don't care about spending |
Critical Differences Between Ultraspec 500 And Regel Select Paints
Since both paints are from the same brand, there will not be so many things making you neglect any of these. Both are good in their area of application.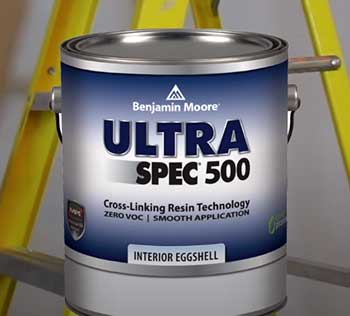 After research, many paint contractors have suggested using the Regel Select when you have bought a new house.
It's the best option for commercial and residential buildings, houses, and other apartments.
Besides, it's also best in your dining rooms, play areas, sitting areas, or anywhere in the house's interior.
However, Ultraspec 500 is usually recommended by those contractors to use when you want to sell your house.
It's not considered high-quality paint and usually has a low color retention rate. That's why it's better to use it when you want to spend less money on the house or building you sell.
The finishing of Regel Select is always better than Ultraspec 500. You find a clean, elegant interior that can be cleaned effortlessly using soap and water.
However, one can also use a clean piece of cloth to clean a surface painted with Regel Select.
However, that may be different with Ultraspec 500.
You may require extra effort to clean walls painted with this paint from Benjamin Moore. But the application of soap and water is still the same for this paint.
As compared with Regel Select, Ultraspec 500 series has more product offerings. These finishes come in Primer, flat, Pearl, Semi-Gloss, and more.
With Regel Select, you may find a little low product or paint finishing variation, but whatever comes to offer superior quality.
Color Options Availability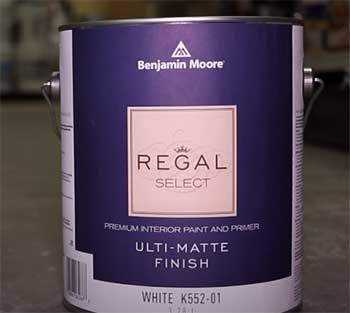 Ultraspec 500 gives you only one color, which is White.
Using this paint, you can have a white finish on the house's interior walls.
But with Regel Select, one can have a comprehensive selection of colors.
Select from thousands of colors and apply them to your interior walls.
The color retention will be higher, and resistance will be better than a paint like Ultraspec 500.
Benjamin Moore keeps on making their paints Low Voltaic. Keeping this promise, both paint options discussed here come with Low VOCs.
However, experts have said that Regel Select has extremely low VOCs than Ultraspec 500.
Regel Select is built with 100% pure acrylic compounds providing more extended durability and more resistance to paint on the walls. Instead, the Ultraspec is made with the acrylic copolymer.
The paint also has polymer components, which might not retain the extended paint durability you expect while using Regel Select.
Painting with Ultraspec 500 means you will have to bear the paint odor for almost 1 to 2 days until it disappears.
Ultraspec 500 spreads more odor than Regel Select. Because with the latter product, you will find less or no odor at all.
Ultraspec 500 paint is usually for people with less budget because this paint doesn't cost much.
Relatively, you will have to compromise on some features. It is not the case with Regel select.
It may cost you a little more but provides you with better features one is always expecting from a high-quality paint.
Which Paint Is Better For Your Next Project?
To be straightforward, go with Regel Select if you want this paint to be on your walls for a more extended period. It may cost you a little more. But you will be happy with this kind of paint.
However, if you are not expecting anything in the future from your property and you want to sell it in a short time, using Ultraspec 500 would be beneficial.
Frequently Asked Questions (FAQ)
What Are The Different Grades Of Benjamin Moore Paints?
Different Grades of Benjamin Moore paints include Super Hide, Regal, Aura, and Super Spec. These are the total four grades of Benjamin Moore paints.
Does Ultra Spec 500 Have Primer In It?
No, Ultraspec 500 doesn't have a primer in it. You must buy a separate primer option from this series if you want to avail of primer.
What Kind Of Paint Is Ultra Spec 500?
Ultra Spec 500 is a good paint for budget people providing better quality painting to those interior walls. However, it may be a little more odorous than Regel Select.
Which Line Of Benjamin Moore's Paint Is Best?
After interviewing many building managers, paint contractors, and other experts, it is proved that Benjamin Moore Regel Select paint is better than ever.
Conclusion
Between Ultraspec 500 and Regel Select, the latter option is always better when you need to start living in a brand-new or recently purchased property. It doesn't involve you with disturbing odors and provides quality superior to any other Benjamin Moore product.
However, if budget is the problem and you want less from that place, consider using Ultraspec 500. This kind of decision would always be worth it.