Paint is pretty much the first line of defense for your surface so you have to choose the right one carefully. Good paints like Benjamin Moore have multiple paint options available like their Aura and Advance lines.
They're similar but the sheen options, priming, durability, and ease of use make them different.
Advance and Aura are pretty much the two go-to choices for painters but for different purposes. So, how are they different really and which one should you choose?
Let's compare the options and see.
A Quick Comparison Table
If you're one of the "always-on-the-go" persons, this part is for you. If you want to know the gist of it all minus the fluff, we've got you. Here are the major differences between the two brands.
Just the gist, no fluff. Feel free to go through it for a quick summary.
| | | |
| --- | --- | --- |
| Feature | Advance | Aura |
| Sheen options | Mostly high sheen | Flat and high-sheen options |
| Priming | Needs separate primer | Primer plus paint |
| Durability | Better | Good |
| Ease of use | Good | Better |
Have time to dig in? Good, let's get to the details then.
Key Differences Between Benjamin Moore Advance and Aura
Any painter knows that every kind of paint comes with its own features. Advance and Aura- both paints are from the manufacturer and both are high-quality. Still, there are some differences that set them apart.
Sheen options, priming, durability, and ease of use are some of the major differences between these two. Let's take a better look.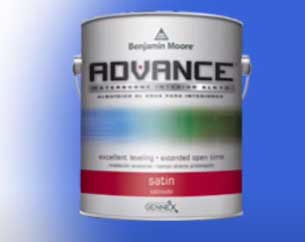 Sheen means the shine level of your paint. A higher sheen means your paint will be shinier and a little unforgiving on the textures.
Lower sheen or flat paints mean you'll get less shine but it will cover the textures better.
The Advance line comes with semi-gloss, high gloss, satin, and packaged black finish.
There aren't many flat paint options, but they are easy to clean.
The Aura line on the other hand comes with more sheen options. The exterior paint comes in a full-flat, low luster, semi-gloss, and satin finish.
The interior paint has an eggshell, matte, semi-gloss, and satin finish. So you have more options to choose from in the Aura line.
Priming is necessary for better adhesion. Not that BM paints are bad without them, but the primer gives them the extra boost. The Advance line unfortunately needs separate primer because the paint doesn't include primer like other BM paints.
Aura paint is better in this sense. It comes with the paint+primer combo like other BM paints so you won't have to use one separately.
This is probably the most important point for paints. No one wants their paint to start chipping a year down the line. BM paints are known for their durability, but there is a slight difference between the Advance and the Aura paints.
The Advance paints are very much focused on durability. They're thick, easy to clean, and marketed as one of the most durable products of the BM brand.
The Aura paints aren't bad, but they aren't solely focused on durability. This is where it cuts a little corner. So when it comes to durability, Advance paints take the cake.
Ease of use means how easily you can cover things with paint and how hard it is to control.
The Advance line has some reputation for that. It gives excellent coverage, but the paint is very heavy and harder to control. It sags if you make the slightest mistake in deciding the right amount and takes a long time to dry.
The Aura line is much better in this regard. It gives the best coverage among all BM products, you won't need any more than two coats to cover something completely.
It is less heavy and much easier to control. Aura paints also dry faster and don't really sag like the Advance line.
Which Paint Should You Choose?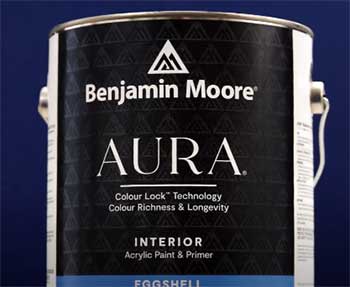 Both paints are high-quality so you'll have to consider their differences when you're picking one.
The choice will ultimately depend on other factors like the surface it is going on, the finish you want, and overall what outcome you expect from the paints.
If you want something highly durable and intend to use it on furniture or trims, then go with the Advance line.
This line is pretty easy to clean up. The only problem is you'll have to wait longer and be careful with how much you apply on your surface.
If you don't want to worry about that and want something for both interior and exterior, the Aura line is a good option.
It gives excellent coverage, is easy to apply and you won't even have to use a separate primer. The only problem is it won't be durable like the Advance line.
Overall, the Aura line is the better choice here. It is pretty durable, gives good coverage and you can use it anywhere. But if you want something specific for your use, you can go with the Advance line.
Frequently Asked Questions (FAQs)
It is hard to cover everything in a single article. So if you have some more questions, that's understandable. Here are a bunch of questions people usually ask about Benjamin Moore's Advance and Aura lines.
What is Benjamin Moore Advance paint used for?
For almost everything. The Advance line is good for any surface; but it is mostly intended for doors, furniture, cabinets, and trims.
What is Benjamin Moore's highest quality paint?
All Benjamin Moore paints are high-quality and have smooth output. But if you wanted to go with only one, then the answer would be the Aura line. It is 100% acrylic, has amazing coverage, and is also the most expensive on their lineup.
Is Benjamin Moore Aura worth it?
Very much yes. This paint comes in a thousand different colors, has the richest coverage among all BM paints, and is very durable. It easily lasts around 15 years so you won't have to worry about re-doing it anytime soon.
What are the different levels of Benjamin Moore paints?
Benjamin Moore paints come in 4 levels. They are Super Hide, Super Spec, Regal, and Aura in ascending order of quality. So Super Hide is pretty much a builder's grade geared for base coverage and Aura is the most premium one.
Final Verdict
Picking the right paint for your surface is really important because can't just go back and change it. So it is better to know about your options before you choose one. This Benjamin Moore Advance and Aura comparison will give you some idea about them.
If you want versatility, go with the Aura line. If you want something more specific, feel free to go with the Advance line.