Paint decisions are always tough. The choice is even harder if the options are similar like Rustoleum Regal Red and Sunshine Red.
Both colors are, well, red but some things set them apart. Undertone and pigmentation, suitable primer, post-fade pigment, and cost are some of the major differentiating factors.
No matter how easy it is to go back on your paint decisions, picking the right color is always tough.  And shades of red are always pretty close, so which one should you go with?
Here's a comparison to help you decide.
A Quick Comparison Summary
| | | |
| --- | --- | --- |
| Feature | Regal Red | Sunrise Red |
| Undertone and pigmentation | Warm, muted and darker | Cool, clear and brighter |
| Suitable primer | Gray or white | White |
| Post-fade pigment | Reddish, dark  | Pinkish, faded |
| Closest match | Cranberry red | Safety red |
Still have time? Let's dig into the details then!
Key Differences Between Regal Red And Sunrise Red
Both shades have their special use cases and both colors are amazing. This is why picking one of them is hard.
And with their features being so close neck-to-neck, differentiating between them can get hard too.
As most people except painters would joke, both of them are red. But that doesn't mean you can't differentiate between them.
Undertone and pigmentation, suitable primer, post-fade pigment, and closest match- these are some of the major differentiating factors you'll spot.
How do these factors make the colors different? Let's take a better look.
Undertone and Pigmentation
When it comes to colors, this is the most visible difference and easiest way to tell them apart. Both colors are pretty close but regal red is darker and warm-toned.
Sunrise red is almost the exact opposite, brighter and cool-toned.
Regal red is among the darker red from Rustoleum's paint lineup. The color breakdown shows the undertones nicely.
Regal red is almost a pure red color with a slight blue undertone. The red tone overall overpowers the blue and the paint overall turns into a warm-toned red.
Picking up the undertone can be a little hard since the color is on the darker side (which is another characteristic of this color). the muted color brings out a more elegant vibe on whatever surface you use it on.
Sunrise red is the opposite of regal red. This shade is on the brighter side. The color breakdown shows a surprisingly good amount of blue present which makes it a cool-toned color.
The pigments are brighter than regal red, close to the red you'll usually see at traffic lights.
The proper primer makes your paints ten times more popping, that's tested and true.
Regal red works well paired with gray or white primers, but sunrise red doesn't go well with the gray one.
You'd think the warmness of regal red wouldn't look good with a gray primer.
Surprisingly enough, it's the opposite. The gray primer seems to bring the better version out of the color.
It deepens the color a little but the overall color stays pretty much the same.
Regal red paired with gray primer is the best combo when you're putting it on a metal surface. But if you only have white primer, don't worry. Regal red pairs well with that too. That's usually the go-to combo for most people.
Sunrise red is slightly more limiting when it comes to primer pairing. Since the color is o the brighter side, a gray primer takes away from the brightness. So the best pairing for sunrise red is with a white primer.
No matter what anyone tells you, you have to remember that red fades away from surfaces. And that, unfortunately, happens pretty quickly too.
Unless the pigments in your red paint are true red, you won't have any red post-fading.
Regal red will do you a pretty good service in this department. This red is muted pure red. So when the paint starts fading, you'll still have some red in the base level.
Sunrise red unfortunately doesn't last long with the red pigments. Since this is a cool-toned color, you'll end up with pinkish stains when the paint starts fading.
Unlike regal red, it can directly hit the pink tone so your red pigments will be short-lived.
The colors are really similar to each other, but one way to differentiate them is to find their closest color match. Regal red will stand closer to the muted and warm-toned colors.
If you look one shade up, the closest match to this color would be cranberry red.
Sunrise red will stand close to the brighter, clearer colors on the color catalog. The closest to this cool-toned color is safety red from the same range.
As you can tell, safety red is the popping red color you'll see on signs and important pointers.
Long story short, regal red is deeper and its closest color match is cranberry red. Sunrise red is brighter and cheery. The closest color to sunrise red is safety red.
Which One Should You Choose?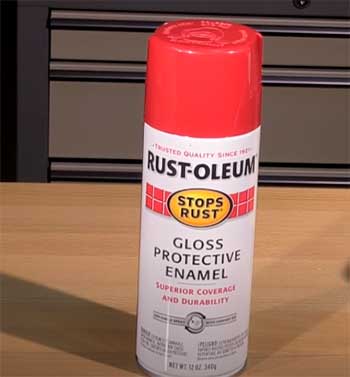 By now you probably know that there is no straight answer to this. Both colors are high-quality and versatile.
They also have their own attributes going on for them which makes them both good.
If you have to choose one, you'll have to consider multiple factors with your personal preference.
The key here is to know what you're looking for and how you want to use the colors.
Once you get these two down, picking a color will be easier.
If you want something darker, less flashy, and more lasting; go for the regal red option. The pigments in this are muted and even the faded color will have red hues in them. That means it will take more time for the red to completely wipe off.
Regal red looks pretty great on furniture. If that's what you're going for, then regal red would be better.
The only problem is that you may need to get a gray primer. White doesn't always do this justice.
If you want something bright, a little flashy and don't really mind the pink fade; go with the sunrise red. This paint has a brighter pigment compared to regal red so you'll make your point. This shade looks really good on vehicles and other exteriors.
Sunrise red matches with other exterior colors pretty nicely. If that's what you need the color for, pick sunrise red. You'll just have to deal with a little quick fading but that's about it.
Overall, regal red is the better choice here. It's available, goes with a lot of things and the pigment lasts longer. But if you're looking for a bright, cheery color then feel free to go with sunrise red.
Frequently Asked Questions (FAQs)
Here are a bunch of questions people usually ask about Rustoleum's regal red and sunrise red.
What color is sunrise red?
Sunrise red is a cool-toned bright red color. It is the closest match to the safety red of the same product line.
Can Rustoleum paint be color matched?
Depends on your store. Some stores don't offer color matching anymore unless you send them a physical sample. Other stores have a physical swatch sample available and offer color matching.
Does Rustoleum come in custom colors?
Yes, Rustoleum has a color customization option available. It is applicable for Rustoleum's Peel Coat Custom Color and Effect System lineup.
Can Rustoleum primer be tinted?
No, you can't custom-tint Rustoleum's primers. You can pick from the available tints only.
Final Verdict
Picking a side in the Rustoleum Regal Red vs. Sunrise Red debate is tough. Both colors are pretty amazing and have their own features.
If you're looking for a red that will last longer, go with the regal red color. If you want something bright, sunrise red is the better choice.