From the ground, we view the roof as a basic set of tilted planes designed to disperse water. In reality, roofs are composed of plywood, shingles, and a variety of vents, flashing, sealant, membranes, and more to keep a building safe from weather damage.
Underneath it all is the foundation of the whole setup: the roofing underlayment. TRI-BUILT underlayments are rather popular right now but are they any good?
Features of TRI-BUILT Underlayment 
What makes TRI-BUILT underlayment a market favorite? Read on to find out more.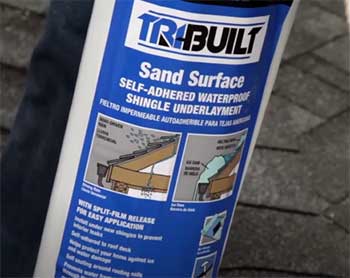 TRI-BUILT manufactures underlayment in two forms: Synthetic underlayment and self-adhered sand underlayment. 
Synthetic underlayment is super popular right now.
They are lightweight sheets constructed of spun or woven synthetic fibers (polypropylene or polyethylene) to provide a strong, weather-resistant barrier.
As synthetic roofing underlayments are incredibly lightweight, TRI-BUILT can easily offer extra square footage per roll.
Plus, due to the durable fibers that constitute synthetic underlayment, they do not have to be covered as quickly as felt does.
According to TRIB-BUILT, their Synthetic Underlayment is a highly-engineered, coated woven safety later for sloped roofs. It features a durable and high-strength design.
The other underlayment which is the Sand Self Adhering works as a self-adhering membrane made to be stuck straight to roof decks before the application of shingles. It comprises a sand-covered surface and reinforced glass mat. Moreover, its type is SBS-modified bitumen.
The primary function of the Sand SA underlayment is to serve as a secondary water-resistant layer in commercial and residential buildings alike, safeguarding the interiors from water damage that can be caused by wind-driven rain and ice dam formation.
Synthetic underlayment is non-bitumen and contains clearly marked nail guides. TRI-BUILT Synthetic underlayment measures 286-foot run length and 42 inches wide for fewer cuts, laps, and simpler roll handling.
This means you can accomplish more in less time, and utilize fewer inventory rolls and less labor.
The construction prevents mold growth and lays flat without absorbing water or wrinkling. A cool feature of this underlayment is the advanced backside non-slip coating. TRI-BUILT has made this product 12 times stronger than #15 felt.
The home's climate may decide which underlayment works best for that house. For example, in colder weather where ice and snow are prevalent, synthetic underlayment may not be the best.
This is why TRI-BUILT Synthetic underlayment will be better all around than its primary competitor, felt.
Humidity can escape through the material and prevent water penetration. It can be expected to perform well in warm temperatures.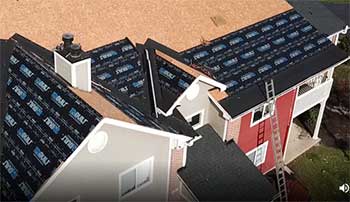 Furthermore, TRI-BUILT Synthetic underlayment offers incredible durability and wind resistance through adverse weather conditions and heavy roof traffic.
Believe that this will save you valuable time and money with fewer post-install maintenance requirements and less material damage.
Unlike conventional asphalt-saturated felts, this product can be utilized in impressively low climates without it getting hard to unroll or stiff. We also found that it does not crack, dry out or leach oils.
You can use TRI-BUILT Synthetic underlayment paired with Titanium PSU30 self-adhering underlayment to protect your establishment against ice damming.
The operating temperatures of TRI-BUILT Sand Self Adhering underlayment are -45°C to 90°C (-49°F to 194°F). While it can resist freezing, you must be reactivated to a minimum of 5°C (41°F) prior to installation. Protect from harsh weather or store in a dry, enclosed area under 120°F.
For installation, make sure the surface and ambient temperatures are over 40°F to get the best results. Lower temperatures can force self-adhering layers to show less adhesion and stiffen until warmed more than 40°F.
TRI-BUILT synthetic underlayment is water, vapor, and air barrier and so must be set above a correctly ventilated space. Make sure you follow all building codes that apply to your geographic location and consider structure type before starting the project.
For slopes ranging between 2:12 and higher, the Synthetic underlayment must be laid out horizontally to the eave, keeping the printed side up. Vertical laps have to be 6" and horizontal laps 4" and anchored around an inch in the front edge.
In the case of low slope applications, the company recommends overlapping half plus an inch. TRI-BUILT Synthetic underlayment should not be used on slopes under 2:12.
You can use roofing hammers, and gas or pneumatic air-driven fasteners.
If TRI-BUILT Synthetic underlayment is kept exposed for as much as 60 days, it has to be anchored with 1" metal or plastic cap smooth and anchored in every location printed on the face. Keep away from using staples to penetrate this underlayment as this will void the warranty.
For the Sand SA version, you start with a surface devoid of dirt, oil, dust, and moisture. To keep a smooth surface, remove all protrusions. In re-roofing applications, get rid of old nails, shingles, and loose materials.
Place the membrane parallel to the roof edge, keeping about 3.2" in the front where the gutter will be positioned.
Take off the underside membrane and press it in place. Fully remove the underside membrane and continue sticking and smoothing the surface. Here is a demo of it for you.
What Could've Been Better With TRI-BUILT Underlayment?
Interestingly enough, TRI-BUILT did a stellar job with their underlayment, to the point that it is difficult to find flaws. However, we think there is one aspect where they could use development.
Although their Synthetic underlayment provides sufficient climate resistance already, we think it would be more convenient if it was not so vulnerable to higher climates.
Granted, there is a neat UV resistance feature but this still does not allow us to use it in highly warm climates.
Frequently Asked Questions (FAQs)
What is the best roofing underlayment to use?
Currently, the best roofing underlayment is synthetic.
How long does synthetic underlayment last?
Is peel and stick underlayment better than synthetic?
Up to 25 years with proper maintenance.
Synthetic peel and stick roof underlayment have a longer life than synthetic, making it the superior choice.
Is synthetic roofing underlayment better than tar paper?
Yes, because synthetic underlayment is more resilient to foot traffic and high winds than tar paper. 
Bottom Line
To wrap up our TRI-BUILT underlayment reviews, it is pretty obvious that their products were a hit with us. For any building, be it residential or commercial, you can rely on the brand to provide the best features in the market.
Granted, they are a bit expensive, but you do want the best in the long run.