Are you planning to insulate your roof?
In that case, you must be looking for a roofing membrane. Peel & Seal roofing membrane can be your final choice.
From this in-depth review of peel and stick roofing, you'll know more about this roofing brand.
Peel & Seal roofing membrane is a pretty good product for insulating your roof with many superior features and a few drawbacks. After watching decide for yourself whether you should use it on your roof or not.
So, let's take this show on the road.
Features of Peel & Seal Roofing Membrane
Many unique features have made Peel & Stick roofing unique from others in its class. But you must know these features to understand why so many people use this membrane on their roofs. 
Here we will see some of the key features of the Peel & Seal roofing membrane:
An Excellent Roofing Membrane
Peel & Seal is a self-stick roofing membrane roll from MFM for low sloping or pitching applications.
This energy-efficient role is economical and can protect and extend the life of your roof.
Because of its flexible design, it conforms to all shapes, including the odd ones and difficult angels. Besides, it allows and stretches with building movement.
In a word, it is an excellent product with a combination of innovative design and superior quality.
Innovative design coupled with high-quality features makes Peel & Seal excellent protection for your roof. It comes with a reflective Aluminum Composite Foil that can reflect solar heat.
A high-strength and cross-laminated Polymer Film makes it sturdy and long-lasting.
Its rubberized Asphalt adhesive back will make the membrane firmly attached to your roof. On top of that, you will get a release liner with Peel & Seal self-stick membrane.
Because of the exquisite benefits, you cannot avoid this roofing membrane. It is flexible, energy-efficient, and self-sealing.
You do not have to apply any coatings or coverings to protect it from direct sunlight exposure.
Because of its aluminum surface, it won't crack or dry out. Instead, your house will remain cool as it can limit the heat from the sun. You can directly apply it to your roof, and one ply will be enough for superior protection.
On top of that, applying Peel & Seal will save your time, labor, and material costs.
A Reliable Roofing Solution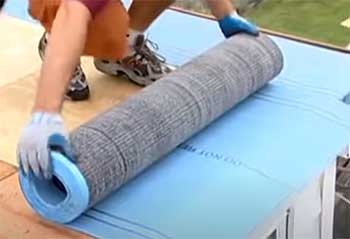 As an original self-stick roll roofing membrane, Peel & Seal is designed for low slope applications in residential and commercial buildings.
This asphalt membrane is reliable, long-lasting, and low maintenance with many superior features and outstanding design.
It features a convenient width choice. You can use it for challenging roofing applications with uneven edges. Plus, it will firmly adhere to dry surfaces.
It's virtually zero maintenance and can effectively create a barrier to the elements. After applying it to your roof, you won't have to worry about your roof.
Installing Peel & Seal is easy and fast. You won't need any glue, tar, or mops to install this membrane on your roof.
Basically, it will attach itself to a clean and dry roof because of its self-stick properties. You will just need a sharp utility knife and a hand roller to install it.
After cleaning your roof, peel off the release liner and spread the roll all over your roof. Use a roller to roll the entire roof to adhere to the surface perfectly. Be careful about the seams.
A good thing about Peel & Seal is that it comes with multiple color options. MFM offers 4 different color options for this self-adhered membrane. Your roof looks vivid and pretty attractive from above after applying this membrane.
You can choose from Aluminum, White, Almond, and Granite Gray colors. All of these colors look excellent, but the Aluminum color is my personal favorite.
MFM offers a long Warranty with Peel & Seal roofing membrane. They can replace the membrane for any manufacturer's defect. But you will have to be eligible for availing of the warranty.
Price plays a vital role in roofing selection. When you see its price, it's actually a pretty good deal, even though it might seem a little high.
What Could Have Been Better Peel And Stick Roofing?

A few things could have made Peel & Seal an even better product. MFM can still improve them and reach more people. Here are some of the cons Peel & Seal:
As Peel & Seal is a high-quality product, people expect a better warranty term from it. A 10 Year Warranty is not enough for many people, especially at this price point.
So, MFM can rethink its warranty term and set one that will attract more people.
Frequently Asked Question (FAQ)
How long does peel and stick roof last?
Peel & Stick is a self-stick roofing underlayment membrane that is popular for its performance and durability. It generally lasts for 15 years to 40 years.
Is peel and stick roof good?
Peel & Stick is an excellent product for roofing underlayment. It has an innovative design and offers superior performance. You can effectively protect your roof with this product.
How long does roll on roofing last?
Peel & Seal is a low-maintenance asphalt membrane. It's robust, firm, and durable. A roll of the roofing will last for about 5 years to 10 years.
How do you install peel and stick roofing?
Installing Peel & Stick roofing is easy. You will have to clean your roof and unroll the membrane. Finally, roll all over the surface with a roller.
Final Thought
A protected roof will keep your entire home safe. So, using the best protection for your roof is mandatory. After reading my peel and stick roofing reviews, you will also agree that this is a pretty good roofing underlayment you can use for your roof.
So, go ahead and do what's right. Install this roofing protection on your roof. In the future, you'll be glad that you listened to me.