These days, people often choose Eco Cork Foam and QueitWalk underlayment interchangeably. Because they don't have adequate education on their specs and differences.
But after digging deeper, I've found noticeable differences around their thickness levels, R-value, sound absorption rate, and many more places.
In fact, they shouldn't be used on every surface of flooring as they both come with some restrictions and limitations. So let me describe all the nooks and crannies regarding these two "crowd-pulling" underlayments right here!
A Quick Comparison Table
| | | |
| --- | --- | --- |
| Specifications | Eco Cork Foam | QueitWalk |
| Thickness | 3.2mm | 3.0mm |
| R Value | 0.48 | 0.50 |
| Rolls Availability | 3 | 2 |
| Sound Absorption Rate | 67 STC, 73 IIC, and 23 F-IIC | 54 STC, 58 IIC, and 60 F-IIC |
| Compatibility with Surfaces | Vinyl, Wood, and Laminate Flooring | Floating Wood and Laminate Flooring |
Key Differences Between Eco Cork Foam And QuietWalk Floor Underlayment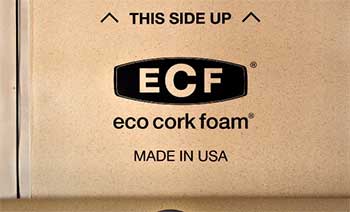 Basically, R-Value stands for the approximate measurement of the thermal and heat resistance.
It gives you an indication of the average heat flow provided on your handpicked material.
As for the Eco Cork Foam, it features around .48 R-value, offering as much insulation as required.
Thus, it's highly able to keep the surface of your residence/office warmer, giving optimal cozy during the winter.
When it comes down to the QuietWalk, it comes in a .50 R-value. This makes it slightly more capable of resisting thermal and heat.
The role requires you to be sufficient so that you can fill your floor with your desired underlayment. And guess what? Eco Cork Foam and QueitWalk serve rolls of multiple sizes to meet every individual's need.
But speaking of the quantity, most Eco Cork Foam's rolls come in 3 variants. This includes 75 sq. ft., 675 sq. ft., and 300 sq. ft. In contrast, the Quitwalk floor underlayment mostly features 2 variants of rolls, including 360 sq. ft. and 100 sq. ft.
Among some customers, the thickness of floor underlayment isn't a prime thing to consider. That said, it plays a crucial role in letting you feel more comfortable.
Furthermore, more thickness ensures even better insulation from heat, which is definitely a plus for someone!
This is where the Eco Cork Foam comes into play! This one comes in a thickness of 3.2mm. Whereas the QueitWalk gets 3.0mm.
Although the difference is very few, it's obvious that the ECF wins the battle in terms of ensuring more comfort and heat insulation!
Compatibility With The Surface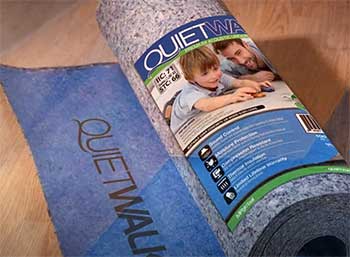 Let it be Vinyl flooring, wood, or even laminate flooring; the Eco Cork Foam underlayment can do it all.
In fact, it's known to be capable of offering adequate protection, boosting performance, and improving durability at the same time.
On top of that, Eco cork foam can stand against wearing and tearing issues, especially wood flooring.
When it comes down to the QueitWalk, it's suitable for floating wood and laminate flooring. So yes, it will not give your floor as much protection as needed for sheet vinyl and ceramic tile.
That doesn't mean spending on the QueitWalk underlayment is a worse investment! Because it has a reputation for offering excellent protection against compression, moisture, roughness, and thermal shock on both laminate and wood.
Sound Absorption Rate: (STC), (IIC) (F-IIC)
Last but certainly not least, the rate of STC, IIC, and F-IIC won't match between ECF and QueitWalk. In simple terms, the STC (sound transmission class) examines the transmission of sound coming from footsteps.
IIC (impact insulation class) indicates the ability to keep the noise blocked from any impact. F-IIC is pretty similar to it.
As you can see, all these rates are an acoustical fact, which isn't the same in the ECF and QueitWalk. For instance, the Eco Cork Foam has optimum sound absorbing ability for its 67 STC, 73 IIC, and 23 F-IIC.
QueitWalk underlayment, on the flip side, features 54 STC, 58 IIC, and 60 F-IIC. The higher the amount of STC, the quieter your floor will be. Simple as that!
Which Floor Underlayment Is Better For You?
After going through a detailed discussion on the difference between Eco Cork Foam and QuietWalk, are you still having doubts?
To wrap up, I'd say there is no clear winner in this battle; ask why?
Because they both are from top-notch brands, and each of them is filled with some unique qualities. However, the Eco Cork Foam deserves praise for being waterproof, easy to install, antimicrobial, and eco-friendly.
Moreover, it offers more variation on rolls, compatibility with more floors, and more sound-absorbing ability. But unfortunately, it gets a bit less R-value than QuietWalk, which is why it can't resist thermal and heat in the way the QueitWalk does!
Frequently Asked Questions (FAQ)
Which is better, cork or foam underlayment?
It really depends on the surface. If you tend to choose an underlayment for vinyl or wood flooring, go with the cork. It doesn't flex so easily under your planks.  For carpets, foam underlayment must be your go-to!
What is Eco Cork foam used for?
Eco Cork Foam is considered a popular and super-effective underlayment. The excellent sound absorption, waterproofing ability, and compatibility with multi-surface make it stand out.
What underlayment should I use on concrete?
No matter what, the underlayment must be able to prevent moisture if you want to use it on concrete. The thinner foam pad consisting of polypropylene or polyethylene is an ideal choice. 
What's the best underlayment for laminate flooring?
Considering every aspect, experts recommend relying on foam as the best underlayment for laminate flooring. Thanks to its cost-effectiveness, decent sound absorption, and hassle-free assembly!
Conclusion
As you can see, in this comparison of Eco Cork Foam and QueitWalk, there is no single champ! But I must say the Eco Cork Foam is one step forward regarding sound absorption, thickness, availability of rolls, and suitability with multiple floors.
But there is no chance to underestimate the power of QueitWalk! Its excellent R-value deserves praise for being more able to resist heat and thermal than the ECF! So, decide what suits you most!