Trex decking has become one of the most popular composite decking materials on the market. Its wood-plastic composite construction makes it durable, low-maintenance, andresistant to moisture, mildew, and insects.
When it comes time to cut and shape your Trex decking, a specialized Trex router bit is recommended. These router bits are designed specifically for Trex's dense composite material. They feature sharp carbide tips and specialized geometries to cut through Trex quickly and cleanly.
However, Trex router bits can be quite expensive, ranging from $40 to over $100 for a single bit. Are there any suitable alternatives that won't break the bank? Let's take a look at the most common Trex router bit alternatives and weigh their pros and cons:
Alternatives To Trex Router Bit
Here is a list of those equivalents:
Straight Router Bits
Carbide Tipped Router Bits
Plywood Cutting Router Bits
Freud LU83R010 Trex/PVC Router Bit
Amana Tool 45792 Trex Router Bit
Whiteside UD2103 Trex Router Bit
MMCarbide Tools 16120carbide Spiral Router Bit
CMT Orange Tools 810.628.11 Trex Router Bit
Katana KR005310 Trex and PVC Router Bit
Yonico 16176q Trex & PVC Router Bit
Let's talk about these alternatives in detail.
Straight Router Bits
The simplest and most affordable alternative is to use a standard straight router bit. These are readily available at any hardware store for less than $20.
Pros: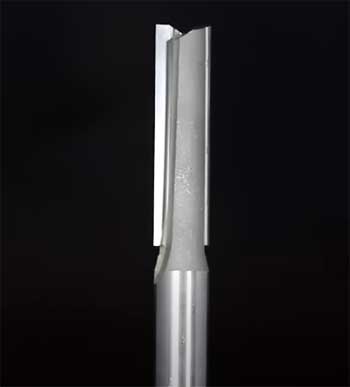 Extremely inexpensive
Easy to find locally
Create straight edges and holes
Cons:
Not optimized for Trex's dense material
Higher risk of chipping, splintering, and overheating
Slow feed rate required
Shorter lifespan than trex-specific bits
While straight router bits will get the job done, you'll need to take light passes and move the router slowly to avoid potential issues with Trex.
The unsupported carbide tips may chip away, so these bits don't last nearly as long. For occasional Trex projects these offer a budget solution, but frequent Trex users will want something more optimized.
Carbide Tipped Router Bits
Carbide tipped router bits provide a step up from basic straight bits. They have brazed carbide cutting tips at the top, making them much harder and more wear resistant than standard high-speed steel bits.
Pros:
More durable carbide tips last longer
Cleaner cuts with less chipping
Still reasonably affordable at $25-40
Cons:
Not designed for dense composite materials
Requires slow feed rates on Trex
Higher potential for overheating
With their enhanced carbide tips, these bits fare better on Trex than basic options. However, they are still general purpose bits not specifically made for composite decking.
Care must be taken to cut slowly and avoid buildup of heat. For DIYers doing occasional Trex work, they offer a nice middle ground before investing in pricey tooling. Those working with Trex frequently will still want an optimized bit.
Plywood Cutting Router Bits
Router bits made for cutting plywood are also sometimes used for Trex. The large carbide tips and specialized geometries are designed to cut dense manmade sheets smoothly and cleanly.
Pros: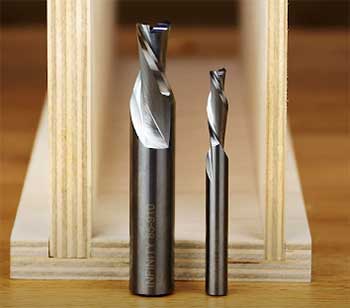 Aggressive cutting geometrybetter suited for composites
Large carbide cutters resist chipping
Available individually for $30-60
Cons:
Still not optimized for Trex density and composition
Higher potential for burning due to fast speeds
Shorter lifespan than true Trex bits
The plywood bits perform better than general purpose options, but still fall short of specialized Trex bits.
Their fast feed rates recommended for plywood can lead to overheating on Trex.
While they offer an incremental improvement, Trex pros will still choose router bits engineered specifically for composite decking.
Freud LU83R010 Trex/PVC Router Bit
This Freud Diablo router bit is designed specifically for cutting PVC and composite decking like Trex. It features a shear angle geometry that slices cleanly through dense materials.
Pros:
Purpose-built for composites like Trex
Cleaner cuts with less chipping
Carbide cutters remain sharper longer
Relatively affordable at around $50
Cons:
Slightly more expensive than general bits
Shear angle not as aggressive as other Trex bits
This Freud bit is a good mid-range option for those who work with Trex regularly. While not as specialized as some other composite bits, its shear angle carbide cutters outperform basic options.
For DIYers andDeckers doing frequent Trex work, it's a solid step up without breaking the bank.
Amana Tool 45792 Trex Router Bit
Engineered solely for Trex and other composite materials, this Amana bit features an extremely aggressive cutter geometry. The large carbide cutters shred through Trex for smooth, splinter-free cuts.
Pros: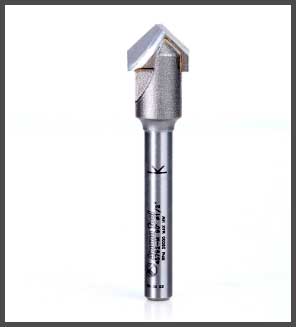 Aggressive cutter design perfect for Trex
Clean, fast cuts without chipping
Carbide cutters maintain sharp cutting edges
Cuts Trex quicker than other bits
Cons:
Very expensive at $90-120
Quick wear if used on non-Trex materials
The Amana 45792 is truly built for Trex. Its specialized cutters rip through the dense material faster than any other bit.
There's no chipping, splintering, or overheating.
For pros doing heavy Trex work, it's worth the hefty price tag to save time and get flawless results. It's overkill for occasional Trex users.
Whiteside UD2103 Trex Router Bit
Like the Amana, the Whiteside UD2103 features an extreme cutter design to power through Trex. It has a large, staggered two-cutting-edge geometry.
Pros:
Aggressively shreds through Trex
No splintering, chipping, or overheating
Carbide cutters retain sharp edges
Long lifespan with Trex-only use
Cons:
Among the most expensive at over $100
Cutter geometry not ideal for non-Trex use
Along with the Amana 45792, the Whiteside UD2103 is one of the most capable bits specifically made for Trex. The unique staggered cutting edges practically pull the bit through Trex with no material buildup or burning.
It's pricy, but worth it for frequent Trex users who prioritize clean cuts above all.
MMCarbide Tools 16120carbide Spiral Router Bit
MMCarbide's rugged spiral bit is built to power through tough composite materials like Trex. The edges remain sharper longer than comparable bits.
Pros:
Tough carbide maintains sharp cutting edges
Spiral design clears debris as it cuts
No burning, chipping, or splintering
Cons:
Not as specialized as Amana/Whiteside geometry
Still requires slower feed rate than top Trex bits
Around $70 which is pricier than basic options
This bit from MMCarbide represents a nice "prosumer" option. While not as specialized as the Amana and Whiteside designs, it still performs better than general purpose and plywood bits.
The spiraled flutes help remove debris without clogging. It's a good choice for DIYers doing medium volumes of Trex work.
CMT Orange Tools 810.628.11 Trex Router Bit
The CMT 810.628.11 features a triple chip grind profile for cutting Trex and other composite materials. The inverted cutting geometry provides a smooth shearing action.
Pros:
Triple chip grind efficiently cuts composites
Creates smooth, clean edge without chips
Long-lasting carbide cutters
Good value at around $65
Cons:
Slightly more expensive than basic bits
Requires taking shallow passes in Trex
With its specialized grind profile, the CMT Orange Tools bit provides a step up for frequent Trex users. The unique inverted cutters slice through cleanly without requiring an overly specialized design. It's a good option for DIYers focused on smooth edges.
Katana KR005310 Trex and PVC Router Bit
Katana's KR005310 bit utilizes a variable helix and shear angle grind to optimize cutting in composites. The staggered carbide cutters resist material loading.
Pros:
Variable helix and shear angle cutters
Slices cleanly through Trex
No chipping, tearout, or overheating
Carbide maintains sharp edges
Cons:
Moderate cost of around $55
Not as specialized as top Trex-only bits
This Katana bit provides robust performance thanks to its unique cutter grind variations. The variable geometry handles Trex smoothly, making it a good choice for frequent composite work.
While not the most aggressive design, it strikes a nice balance of quality and value.
Yonico 16176q Trex & PVC Router Bit
Utilizing a quad helix design, the Yonico 16176q features four-sided cutters to power through dense composites. Large air gaps prevent clogging.
Pros:
Quad helix carbide cutters
Aggressive cutting action
Debris clearing air gaps
Low cost of around $40
Cons:
Heavy feed pressure required
Not as specialized as top Trex bits
Shorter lifespan than pricier options
This affordable offering from Yonico tackles Trex respectably thanks to its quad helix fluted cutters. It bites aggressively and resists clogging. The robust performance comes at a value price, making it appealing for DIYers on a budget.
Frequently Asked Questions (FAQ)
What size is router bit for Trex?
For general routing of Trex, a 1/2″ shank router bit with a 1-1/2″ cutting diameter is recommended. Trex may require a smaller bit for intricate details or a larger bit for tasks like grooves and channels.
Can you cut Trex with a router?
Yes, a router is an excellent tool for cutting and shaping Trex deck boards. Use a router bit optimized for composites. Move the router slowly and take light passes to avoid overheating the Trex.
Is there a less expensive alternative to Trex?
Yes, there are a few budget-friendly composite decking alternatives. TimberTech and Cali-Bamboo are two quality brands that are 20-30% cheaper than Trex. Keep in mind less expensive brands are often less dense and may require different router bits.
Can you router composite decking?
Yes, composite decking like Trex can be routed with carbide tipped router bits designed for dense materials. Always take light passes and move the router slowly to avoid overheating composite boards.
Final Thoughts
When choosing a router bit for Trex, it's worth considering how much Trex work you expect to take on. Occasional Trex DIYers can get by with carbide tipped general purpose bits, but should still take light passes to avoid chipping.
Those who expect to work with Trex frequently should choose a bit engineered specifically for composites. The Amana 45792 and Whiteside UD2103 designs shred through Trex quickly and cleanly, justifying their higher cost for Trex pros.
Freud's Diablo line and the MMCarbide spiral offer good intermediate options.
No matter which bit you choose, apply these best practices when routing Trex:
Take light passes of 1/8″ depth or less
Avoid routing all the way through Trex in one pass
Move the router slowly and steadily
Clear debris frequently to prevent buildup
Keep router bits sharp for best performance
Follow these guidelines and choose a bit suited for your expected Trex workload. With the right router bit, you can achieve clean, professional results routing Trex and other composite decking.