Whiteside and Freud are the two biggest names in the woodworking community for their router bits. Both have good quality router bits that offer excellent cuts and overall performance.
Their main difference lies in the build material, brand value, and price.
But which one should you get?
To know that, you have to stick to this article to the end. I'll show the differences and give you a clear choice. So, let's get this show going.  
A Quick Comparison Table
| | | |
| --- | --- | --- |
| Specifications | Whiteside Router Bits | Freud Router Bits |
| Material | Alloy Steel & Carbide | TiCo Hi-Density Carbide |
| Available Category | 4 Available Category | 7 Available Category |
| Available Sizes | 6 Available Sizes | 2 Available Sizes |
| Sharpness | Excellent Sharpness | Excellent Sharpness |
| Price | $130 for Starter Set | $175 for A 15-Piece Set |
Key Differences Between Whiteside And Freud Router Bits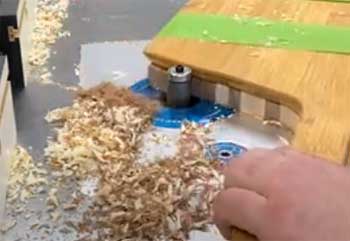 Build Material is crucial for router bits as it determines their strength and durability.
So, router bits that are made from sturdy materials will last longer and provide better performance.
Whiteside routers are made from high-quality solid alloy steel with precision ground that offers proper balance.
On top of that, they are tipped with micro-grain carbide. Whiteside uses thick carbide so that you can sharpen them in the future.
On the other hand, Freud is considered the Cadillac of woodworking tools.  It makes router bits using some of the sturdiest materials.
Freud router bits are made of TiCo Hi-Density carbide and have a red Perma-Shield non-stick coating. They are carefully crafted for superior performance.
The available category represents how many types of router bits are available from each manufacturer.
4 Available categories of Whiteside router bits are Spiral Router Bits, Straight Router Bits, Form Router Bits, and Drilling & Boring Router Bits. Each of these categories has multiple sub-categories. This means, there are a handful of router bit options under each category.
On the contrary, the 8 categories of Freud routers are Straight & Spiral, Trim, Edge Treatment, Architectural Millwork, Joinery, Solid Surface, and Door & Window. These categories have 811 types of router bits in total.
As you can see from the table, Whiteside router bits come in more sizes compared to Freud router bits. The 6 router bit sizes from Whiteside are ½ inches, ¼ inches, ¾ inches, 3/8 inches, 5/8 inches, and 5/16 inches.
In contrast to Whiteside, Freud router bits have 2 sizes. They are ½ inches and ¼ inches. Most manufacturers make router bits in these sizes. So, they are the most common and widely used.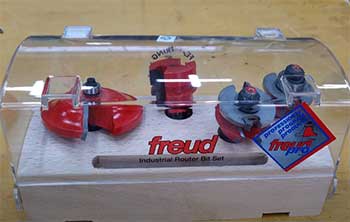 Sharpness is one of the most important aspects of router bits that you must consider while purchasing.
Since both manufacturers use high-quality premium-grade materials, their router bits have excellent sharpness.
Whiteside router bits have micro-grain carbide tipping.
On the other hand, Freud router bits have Perma-Shield non-stick coating. So, you will get excellent sharpness from them.
Freud router bits are more expensive compared to Whiteside router bits. You will have to spend around $175 for a basic ¼ inches 15-piece Freud router set. On the other hand, a ½ inches Whiteside starter router bit set will cost about $130.
Which Router Bits Will Be Best For You?
Both of them represent very high quality and offer excellent performance. But if you are a beginner, you should go with the basic set of Whiteside Router bits.
It has all the necessary bits you need as a beginner and comes cheaper.
But if you are a professional or skilled DIY-lover, I would suggest you go for Freud router bits. They are made for professionals. But if you ask me to pick up one, I would probably go for Freud.
Frequently Asked Question (FAQs)
Are Whiteside Router Bits Good Quality?
Whiteside router bits represent the highest quality. They are made of premium quality metal and their sharpness is quite good. As a result, you will get pretty good performance from these router bits. On top of that, they are a great bang for the buck as well.  
Are Freud Router Bits Worth It?
Freud router bits are considered to be one of the best in the woodworking community. Professionals have highly praised this product from Freud. They are made from one of the sturdiest materials and will last longer.  Besides, you will get excellent woodworking performance from them.
Are Diablo Router Bits The Same As Freud?
Diablo router bits are manufactured by Freud America, Inc. So both of their router bits are made in the same manufacturing plants using the same process. As a result, they have a similar standard in terms of quality. However, Diablo router bits have a gold coating instead of Freud's red.
Where Are Whiteside Router Bits Made?
Whiteside is an American brand, and its manufacturing plant is located in Claremont, North Carolina, USA. Since Whiteside routers are made in the USA, you will get excellent products made from a rigorous process. 
Final Thoughts
Choosing between Whiteside vs. Freud router bits shouldn't be tough for you after reading this article. I have explained the best choice for you in the easiest possible way. Just make sure the selected one fulfills your requirements.
Freud router bits offer excellent value for professionals and skilled woodworkers, and beginners can make out of the best from Whiteside router bits.